An integral part of the huge appeal of Welsh crime drama 'Y Gwyll/Hinterland' is the bleak, beautiful surroundings of this particular pocket of mid-West Wales, bookmarked by sea on one side, mountains on the other.
Stunning to look at, perhaps not so easy to work in – and sure enough, the cast and crew look pretty weary when I meet them, sheltering from the rain on location at a secluded old council building, and counting the hours before these last, over-running scenes on Series 2 are in the can.
Fortunately, there has already been rich reward for such labours, with 'Y Gwyll/Hinterland' – this unique Welsh-English hybrid crime drama with melancholy DCI Tom Mathias at its centre – collecting awards at home and abroad, finding local fans delighted by the tribute to Welsh roots, and international audiences finding it on Netflix and hungry for more.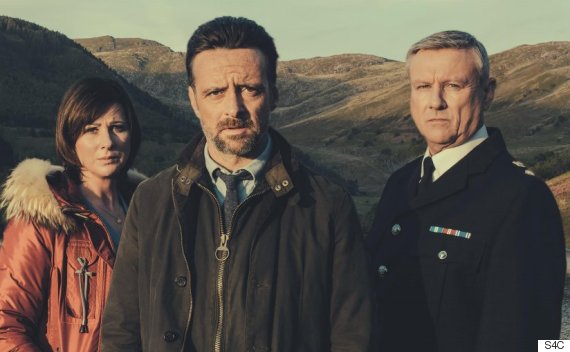 Mali Harries, Richard Harrington and Aneirin Hughes on the set of Series 2 of 'Hinterland'
Every scene of the eight hours of this second series is, like the first, being filmed in both English and Welsh, as the story picks up from the New Year's Day special, which saw the reappearance of Mathias's estranged wife and our discovery of what happened to his beloved daughter. The first series found the policeman holed up in a caravan, joining the local force, with elliptical references to a tragedy that came before, which presumably we'll be learning all about in this follow-up.
That makes for many, many hours of screen sadness for the lead actor Richard Harrington who, when I find him sheltering in his caravan between scenes, has palpably paid the price for giving himself so completely to bringing Mathias to life…
"I don't feel empowered by playing this character at all. I do feel pressure to carry it. I struggle terribly with self-doubt sometimes… would you like a coffee?" He gets up to boil the kettle.
"Playing a manic depressive does rub off on you, and it's been ten months now," he explains. "I've struggled with my emotions while I've been here. Lots went on last year, my mother died, I carried on working, but perhaps I should have stopped.
"I had five days off, came here, and I haven't really processed that stuff yet. I'm all right now, but…
He chuckles. "The more miserable I feel, the happier they are, and I hate them for it. I think they're great people, but it's my job to do that, send them emails if I don't think things are right. I'm not the kind of actor they're going to employ if they want a yes-man who'll just turn up and say it. I'll find the hole in everything, and fill it with vitality."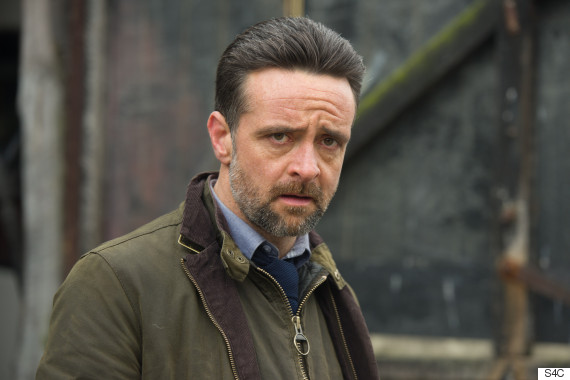 Richard Harrington is feeling the weight of filming for long periods of time in isolated North Wales - "the more miserable I am, the happier they are"
Richard is no diva, though, at pains to assure me it comes with the territory of producing high-quality drama that can stand shoulder to shoulder with the best US imports.
"You can't reinvent the wheel," he reflects of 'Hinterland's place in crime fiction. "It could be a mundane drama, if you don't show its heart. For viewers to invest, actors have to invest. And I'm doing that every day, on every single scene. It has to be as naked as it can be, and we're all at the coal face.
"The thing that I admire about this group is, when it's not right, we deliberate why and we come back to it."
His co-star Mali Harries, who plays his crime-solving partner DI Mared Rhys, agrees it's a testing but ultimately triumphant time for both cast and crew, with production today a LONG way away from the international plaudits they're hoping to repeat.
"There's no phone reception, it's raining, it's windy, there's no phone reception, and on the other hand you get messages from all over the world, saying how great it is, and wanting to know when we're coming back," she tells me, huddled up in a big puffa jacket against the cold. "You just sit on the coalface, just trusting that you're doing something right, and you can repeat it."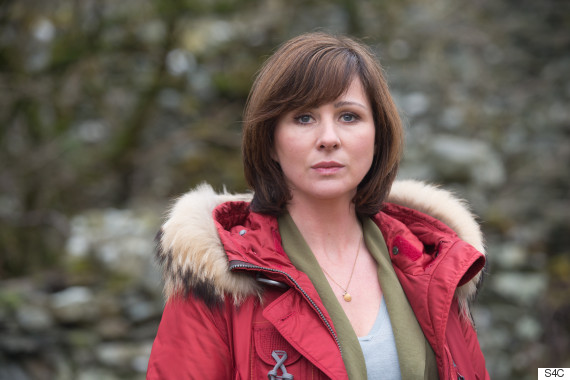 Mali Harries feels the double language of 'Y Gwyll/Hinterland' is a true reflection of contemporary Wales
Filming in two languages no doubt adds another element to the whole challenge. For Mali, it's both authenticity and opportunity.
"If it were just in one language, you'd lose a large element of what it feels like to live in Wales," she ponders. "It's a true reflection of the society we're living in.
"We start in English, but sometimes I find something special doing it in Welsh, and it's great we can go back and do it better again in English. That's one of the joys of working here, where everyone's opinions matter equally."
Richard makes a different point.
"The Welsh scenes feel a lot more melodramatic than in English," is his view. "I've never been terribly comfortable playing the character of Mathias in Welsh, I don't think his character would speak Welsh, so I do have to battle with that.
"I feel Welsh slightly clips him, but there are certain characters who should only be speaking Welsh. There's a spirituality that comes out of them."
'Y Gwyll/Hinterland' has made Richard Harrington a far more familiar face, a celebrity and success that he, by all accounts, has not had the opportunity to cash in or fully enjoy yet.
"The thing is, we're engulfed," he tells me. "Everybody's away from home. I don't have the relationship I want with my children because they have to be in school, away from me. It's pretty antiquated up here. There's no phone signal, and by the time I get home, my children are in bed, so I can't face-time them. Things that like bring me down.
"The producer is one of my oldest best friends, but he's the thorn in my side, and I'm the thorn in his, we've been in car parks pulling each other's hair out. I've never smacked anybody in my life, and I punched him once, he congratulated me as he went down."
By contrast, Mali's logistics seem simpler. Married to actor Matthew Gravelle – aka The Broadchurch One Joe Miller - success on this scale for both her and her husband simply means more complicated childcare arrangements, and people being nicer to her in shops.
It's clear she's proud of the series, however, particularly in terms of the increased profile it's brought to her home nation.
"Our challenge is to make the second series as strong as the first. We didn't know when we started how it was going to go down, but now the bar's really high. We have to make sure it's truthful – that's it, you have to kind of forget it's popular and stay truthful."
Show runner Ed Thomas (the aforementioned thorn in Richard's side) told HuffPostUK last year that he wanted to see a true TV detective for his country, a kind of Welsh Wallander, to take shape on the screen, something that paid tribute to the region, its history, its locals. Watching this buzzing operation, with hundreds of staff involved in a multi-lingual, high-quality creative exercise, it feels like 'Hinterland' just might have made it happen, even with its unique challenges for everyone involved.
In one example that Richard describes to me, "One scene was only meant to be four pages long, but it ended up taking eight hours, and by the end, I just couldn't remember a single word.
"Because we were flipping from one language to another, my brain was completely fried."
Fortunately, his co-star Mali is as robust as is required.
"We all love Rich, and we know that there's an animal to tame in him sometimes, but that's part of the fun," she tells me. "We speak straight, and we're not bland. Even when tempers fray, we don't mind that because it's proof that we all care," she smiles.
"Part of that is being outdoors, having the beautiful backdrop and being so isolated. And the rain. We're blessed."
Y Gwyll/Hinterland Series 2 is on S4C which is available on Sky 104 and Freeview 4 at 9pm this evening. An English language version will be broadcast on BBC Cymru Wales and BBC Four, broadcast dates to be confirmed. Watch the trailer below...
LIKE US ON FACEBOOK | FOLLOW US ON TWITTER