Farrah Abraham and Jenna Jameson made their sensational return to the 'Celebrity Big Brother' house on Sunday night, after two days of stewing in a secret room.
MORE 'CELEBRITY BIG BROTHER':
The pair have spent the past 48 hours watching their housemates' every move from a plasma screen, including Bobby Davro's less-than-flattering impression of Jenna, and a rousing rendition of 'Ding Dong The Witch Is Dead', performed while jumping on Farrah's bed.
Suffice to say, they had plenty to say to their housemates, when they crashed Bobby's birthday party, in scenes to be aired on Monday night.
Storming through the diary room door, Jenna threw a peace sign at her fellow contestants, while Farrah shrieked: "There's no place like home."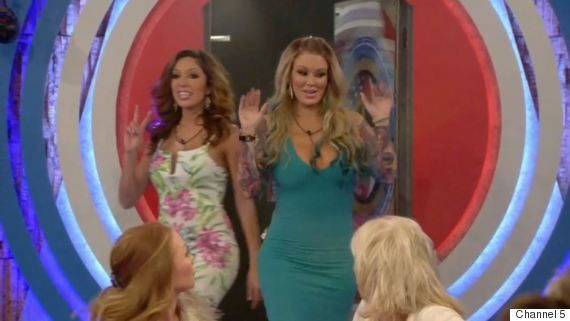 They're ba-ack!
Of course, what Farrah and Jenna don't realise is that things aren't as they seem.
In fact, the rest of the housemates have been in on the act, and were fully aware that the so-called "evictees" were actually lapping up a life of luxury in a secret room just a few feet away from them.
They've even been deliberately trying to get themselves nominated, as this will actually grant them immunity in this week's eviction.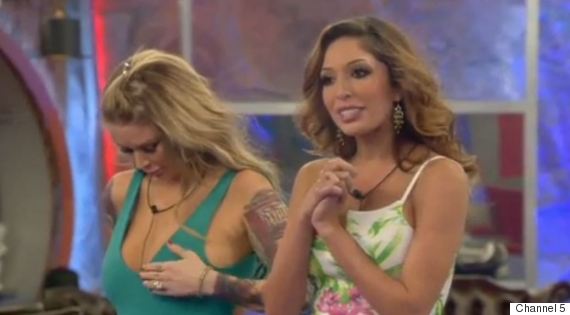 Jenna and Farrah find out the truth
Jenna was unimpressed when she learned the truth, telling the group: "Oh so that's why you guys were mean..? That's not f***ing cool.
"Well it definitely makes sense, because the stuff Sherrie [Hewson] was saying, I was like, 'what is going on?'"
She then started laying into Natasha Hamilton, telling her: "I don't want to start with you, because I don't f***ing like you. You're fake, you're fake. And that's all. Don't take it so serious."
Find out how well Farrah and Jenna settle back into the house in Monday's (14 September) 'CBB', airing at 9pm on Channel 5.
LIKE US ON FACEBOOK | FOLLOW US ON TWITTER