Jeremy Corbyn has taken his place on Labour's frontbench in the Commons for the first time since being elected leader on Saturday.
Corbyn joined new shadow business secretary Angela Eagle, shadow chancellor John McDonnell, shadow housing minister John Healey and shadow international development secretary Diane Abbott as MPs debated the government's Trade Union Bill.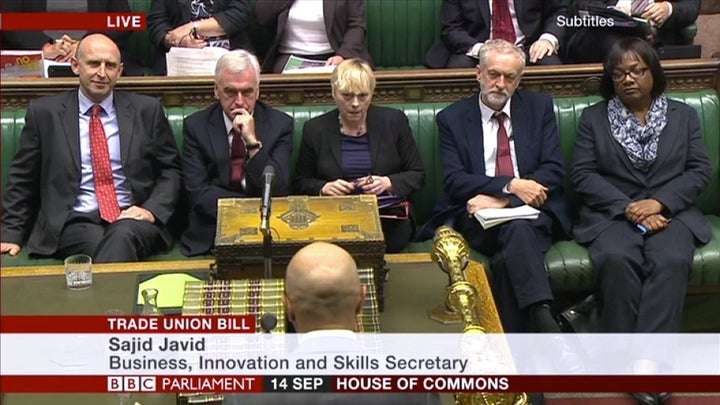 Conservative business secretary Sajid Javid noted there were some "new faces" on the Labour benches. He welcomed Corbyn to the frontbench and congratulated him on his "resounding victory" in the Labour leadership contest.
Corbyn, a backbencher for some 30 years before his election as leader, is known for wearing a more casual style of suit in the Commons chamber than most MPs. He appeared today to be wearing a smarter outfit.
On Monday morning, Corbyn has moved to defuse a row over the number of women in top Labour jobs by appointing his party's first ever majority female front bench.
Angela Eagle was made first shadow secretary of state as well as shadow business secretary and her sister Maria was made shadow defence secretary.
But his decision to hand the important jobs of shadow chancellor to his close ally McDonnell, home affairs to defeated leadership candidate Andy Burnham and foreign affairs to Hilary Benn triggered a backlash.
The Treasury, Foreign Office and Home Office jobs are considered the three great offices of state. Some Labour MPs argued that at least one of those should have been given to a woman.
However Corbyn's team pointed to the fact that 16 of the shadow cabinet are now women and 15 are men. And in a statement issued early on Monday afternoon, Corbyn's team dismissed the criticism as out of date.
"For Labour our proudest achievement is the creation of NHS. We are the party that delivered comprehensive education. We are the party that founded the Open University, and that established and will defend the trade union and employment rights," it said.
"The so called 'great offices of state' as defined in the 19th century reflect and era before women or workers even had the vote, and before Labour had radically changed the state."
He added: "We have delivered a unifying, dynamic, inclusive new Shadow Cabinet which for the first time ever has a majority of women.
Corbyn's shadow cabinet includes 11 MPs who nominated Burnham for leader, eight who nominated Yvette Cooper, one who supported Kendall and three who nominated Corbyn himself.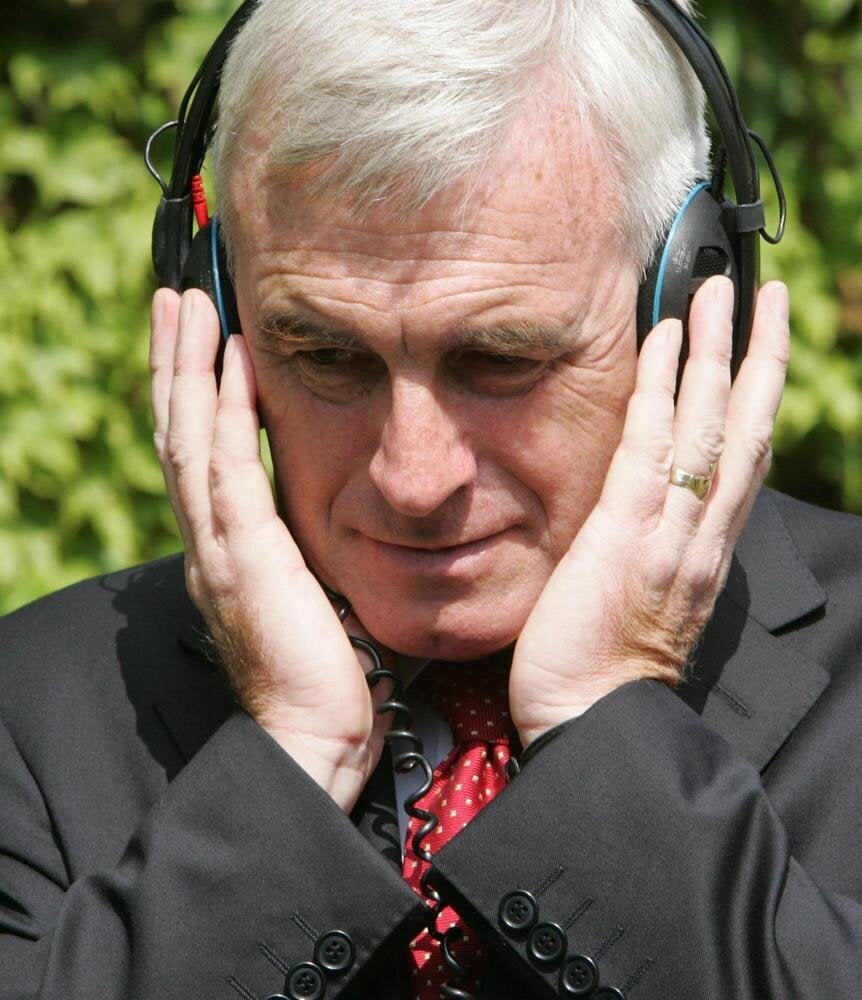 Jeremy Corbyn's shadow cabinet
In recent days it had been suggested Angela Eagle would be made shadow chancellor. Instead she has been made shadow business secretary. She has also been appointed first secretary of state, meaning she will deputise for Corbyn at PMQs when he is away.
The aide added: "We need to do a Mandelson. Let's make Angela shadow first minister of state. Like Mandelson was. She can cover PMQs. Tom (Watson) knows about this. Do the Angela bit now."
Speaking on BBC Radio 4's Today programme this morning, Benn also defended the appointments. "It all depends on your definition of 'top job'," he said.
Labour's new deputy leader is also a man, Tom Watson. He replaced Harriet Harman when he was elected by party members on Saturday.
Corbyn has also accepted a place in the privy council, The Huffington Post understands. This will allow him to receive classified security briefings.
Labour's new shadow chancellor John McDonnell will face George Osborne
Reacting to the reshuffle news live on radio as it filtered through, Labour MP Mike Gapes initially appeared not to believe McDonnell had been appointed to the shadow chancellor job.
"Well, I, hmm, are you sure about that?" he said when told by BBC presenter Carolyn Quinn. "Personally I think that means it is a shame. Because there was speculation Angela Eagle might be a contender. It would mean if that is the case, all the top jobs will be held by men."
He added: "It is unfortunate we don't have any women in foreign affairs, home office, or in the Treasury, in the leader or deputy leader."
Labour MP Jess Phillips told The Huffington Post that she was "very sad" at the lack of women in the top shadow cabinet jobs.
Diana Johnson, who at the time she sent the tweet was a shadow home office minister, expressed her disappointment at the "old fashioned" male dominance of the shadow cabinet.
Diane Abbott, one of Corbyn's most keen supporters, is the new shadow international development secretary.
Heidi Alexander will replace Mr Burnham as shadow health secretary. And Lucy Powell, a close ally of Miliband, has been made shadow education secretary.
Maria Eagle has been appointed shadow defence secretary. Lisa Nandy is shadow energy and climate change secretary, while Kerry McCarthy is shadow environment secretary.
Lilian Greenwood is shadow transport secretary Catherine McKinnell is shadow Attorney General.
Seema Malhotra has been appointed shadow chief secretary to the Treasury under McDonell. And last night it was announced Rosie Winterton would continue as Labour's chief whip.
Other appointments see Lord Falconer remain as shadow justice secretary while Vernon Coaker moves from shadow defence secretary to shadow Northern Ireland secretary.
John Healey has a shadow cabinet job for housing, and Burnham's leadership campaign manager Michael Dugher has been made shadow culture secretary.
Several senior figures who served under Ed Miliband have refused to join Corbyn's team or have not been offered jobs. Chuka Umunna, Yvette Cooper, Liz Kendall, Tristram Hunt, Caroline Flint and others have all moved to the backbenched.