Two years ago, Eleanor O'Neill was working as a junior designer at a well-established Italian knitwear brand.
At first, it seemed like the perfect job for the fashion-lover, who'd completed a degree in knitwear at Nottingham Trent University just a few years before.
But O'Neill, from Yorkshire, soon found herself becoming dissatisfied with certain elements of the industry.
"I felt like there was a lack of creativity everywhere, and on top of that, these massive companies didn't seem to know where their products were coming from," she tells HuffPost UK Lifestyle.
"There was also so much waste that I started to get a little bit frustrated."
O'Neill left her job in 2014 and in March of this year, launched her own sustainable knitwear brand, Study 34.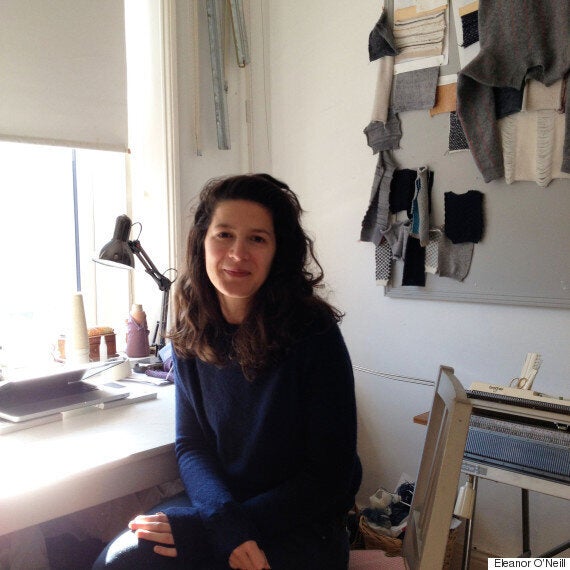 The aim of Study 34 is simple: to produce exclusive and original knitwear that is sustainably sourced and ethically made.
O'Neill, 26, makes all the jumpers herself in her Newcastle studio, using a small selection of machinery.
"When I was working for bigger companies designing, I really missed the hands-on side of manufacturing and I really wanted to get that back into my daily job," she says.
The garments are all made to order using natural fibres - plastics and acrylics are strictly banned. O'Neill also uses wool spun from British sheep and other material that would otherwise be destined for landfill.
"It's important to me to source my yarns in a sustainable way," she says.
"I use a mix of recycled stock. It's mostly yarns that haven't been used by the big fashion companies because maybe there wasn't enough orders of a certain colour, or they dyed the yarn and didn't end up using it.
"There are people who buy up that leftover yarn in bulk and then sell it on to people like me. If you don't buy them then they're going to be thrown away, so it's a good way to save that stuff from going to waste."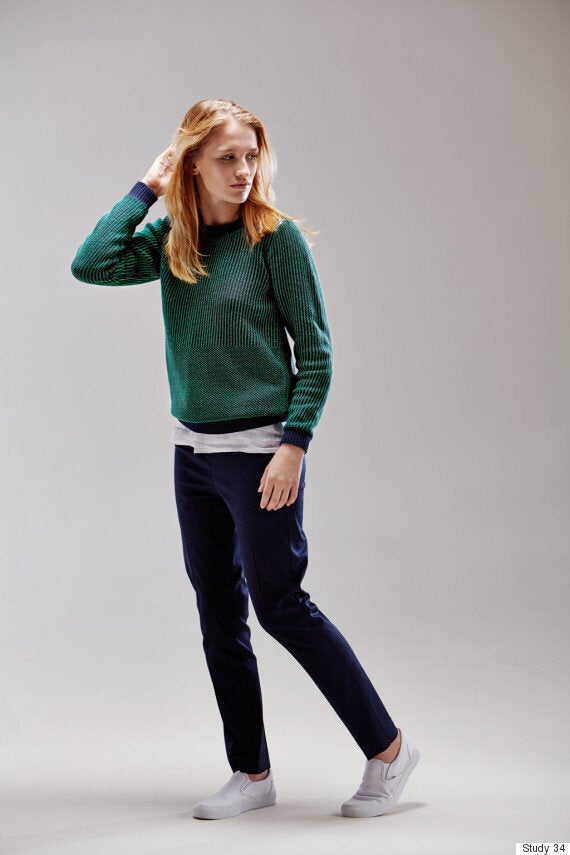 A model wearing Study 34 knitwear
As well as being beneficial to the environment, this method of sourcing yarns means O'Neill is often able to get her hands on very small amounts of luxury materials, such as cashmere and silk.
Sourcing the best quality fibres is particularly important for O'Neill so that her end products match their price tag, which is usually around £180 per jumper.
Because she hand-makes her products, each garment will take O'Neill between six and 10 hours to produce, so her prices must remain fairly high in order for her to make a profit.
Her way of working certainly differs from the "fast fashion" that dominates the British high street, a trend that O'Neill describes as "depressing on so many levels".
"With fast fashion, I think people forget that you actually have to be highly skilled to make these products. Consumers need to refocus on that - they shouldn't be just throwing their clothes away," she says.
"I think there can be too much focus on the end product and the person who is designing the garment, but I think it's important for people to know about everyone who is involved in the manufacturing process.
"Everyone is offering a skill and everyone is adding value, right from the beginning to the end."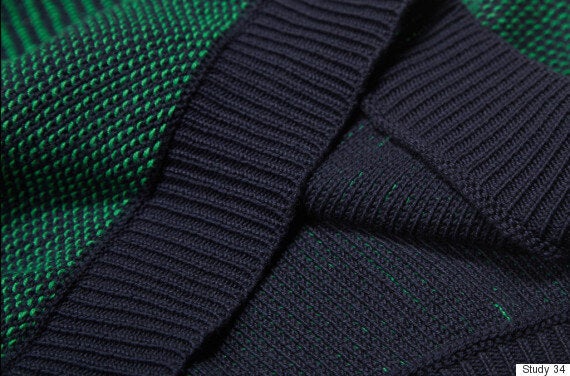 A close-up of Study 34 knitwear
O'Neill believes that if the public understand how a piece of clothing is made, they are more likely to understand the "true value" of it.
"That knowledge needs to be reintegrated into our society because it would really influence how we shop," she adds.
Although the designer believes sustainable fashion is starting to hit the mainstream, she thinks we still have a long way to go before consumer demand brings an end to fast fashion.
"People are becoming more conscious of themselves and their lifestyles and clothing needs to be part of that," she says.
"Food is such a big trend - people seem to care so much more about what they're putting in their mouths these days - yet they don't seem to be bothered that much by what they're wearing.
"I understand that clothes aren't something you put in your body but they are on your body."
When she's not designing and manufacturing in her studio or reading up about the latest trends in sustainable fashion, O'Neill spends her time much like other 26-year-olds. She enjoys running, visiting galleries for inspiration, going to the cinema with friends and cooking dinner with her boyfriend.
Although sometimes she can't resist going to her studio at the weekend, O'Neill is an advocate of the importance of downtime.
"I think when you really work at getting that work-life balance right, you are more yourself, and that's when you feel the most proactive and productive," she says.
Although it's only six months since Study 34 launched, the young designer has high aspirations for the future.
She hopes to be in a position to hire other like-minded designers to help with her hand-made garments, and would eventually like to have a separate sustainable line that's produced in a British factory, in order to keep costs down and make ethical fashion more accessible to the public.
"Those are my ultimate goals, but whether they'll happen or not is a different matter," she jokes.
Judging by O'Neill's infectious passion for sustainable fashion, we think she'll be just fine.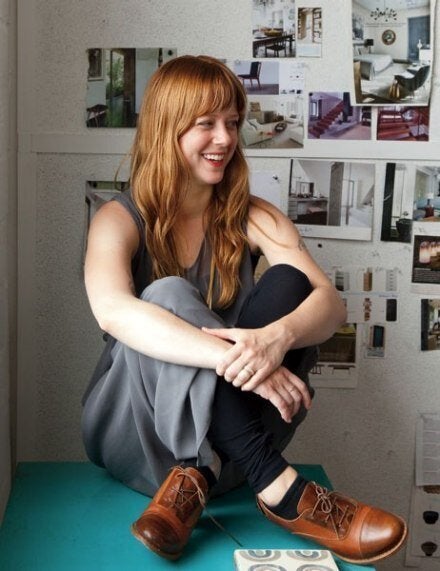 Designers To Watch
Related