US actor and comedian, Steve Rannazzisi, has confessed he lied about escaping from the Twin Towers during the terrorist attacks of 9/11.
The star of 'The League' has often told the story of how he fled the World Trade Centre in 2001 and has even said his success came as a result of decisions he made in the aftermath.
He claimed he had been working on the 54th floor of the south tower when Al Qaeda terrorists flew a plane into the building.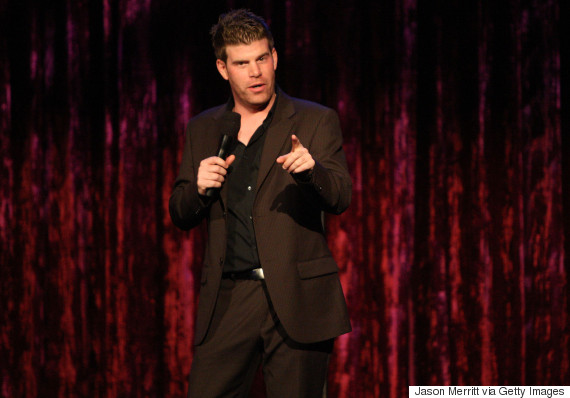 The 37-year-old is also the face of Buffalo Wild Wings in the US
In 2009 Rannazzisi told an interviewer: "I was there and then the first tower got hit and we were like jostled all over the place.
He said the event prompted him to give up his desk job and take up a career in acting.
He added: "I still have dreams of like, you know, those falling dreams."
But his account has been refuted on a number of occasions and The New York Times this week confronted him about his story, eventually forcing a confession which he posted on his Facebook page and Twitter account.
The post reads:
As a young man, I made a mistake that I deeply regret and for which apologies may still not be enough.

After I moved with my wife to Los Angeles from New York City in 2001 shortly after 9/11, I told people that I was in one of the World Trade Center towers on 9/11. It wasn't true. I was in Manhattan but working in a building in midtown and I was not at the Trade Center on that day. I don't know why I said this. This was inexcusable. I am truly, truly sorry.

For many years, more than anything, I have wished that, with silence, I could somehow erase a story told by an immature young man. It only made me more ashamed. How could I tell my children to be honest when I hadn't come clean about this?

It is to the victims of 9/11 and to the people that love them--and the people that love me--that I ask for forgiveness.
Unsurprisingly, many people have expressed outrage at the lie.
@SteveRannazzisi Swiping a candy bar is a mistake. What you did is a psychopathic lie. You should rot in hell.

— John (@heaterman68) September 16, 2015
@SteveRannazzisi want to make right? Donate a very significant amount to a 9/11 related charity would be a great start.

— Adam DeAngelis (@whatadam) September 16, 2015
Apologize all you want. You're still a douchebag! @SteveRannazzisi

— Amy Castellano (@amy91774) September 16, 2015
Never forget...Steve Rannazzisi is a liar.

— Julia Loken (@JuliaLoken) September 17, 2015
this is absolutely the most heinous thing I've ever read who the fuck lies about something like that they need to... http://t.co/DNFraPon7n

— jimmy brady (@iconjimmy74) September 16, 2015
Some have come out in support of the actor, applauding the decision to come clean...
I want to commend @SteveRannazzisi for stepping up and telling the truth with humility. We all make stupid ego mistakes, brother. Well done!

— RainnWilson (@rainnwilson) September 16, 2015
@SteveRannazzisi Politicians do worse everyday. You were profoundly affected, this isn't a contest.

— Ben (@ohnoitsthefuzz) September 17, 2015
LIKE US ON FACEBOOK | FOLLOW US ON TWITTER