A team of miniature horses are helping sick people feel better - and it's the loveliest thing ever.
The tiny horse-shaped heroes work with over 40,000 people each year.
They are part of non-profit charity Carousel Miniature Therapy Horses, which ensures their four-legged friends bring a touch of magic to hospitals, hospice programs, and children who have experienced traumatic events.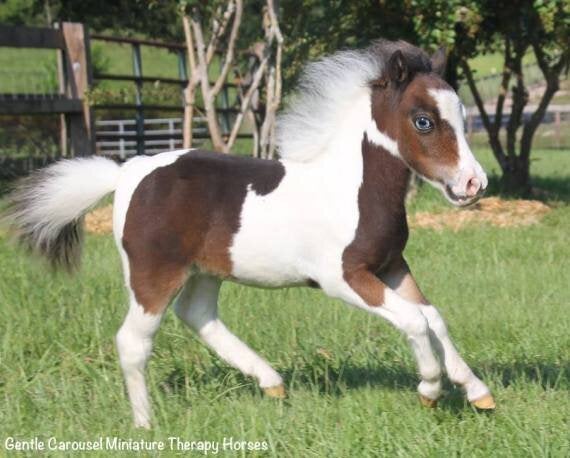 The horses have visited tornado survivors, child trafficking victims and, more recently, kids in Greek orphanages to "bring their special love where it is needed most".
Debbie Garcia-Bengochea, education director of Gentle Carousel Miniature Therapy Horses told The Huffington Post: "While a large horse can be intimidating to a small child or fragile senior, the miniature horses were easier for them to trust and befriend.
"The carefully bred tiny horses have years of training, which means they're well suited to people who want equine experiences but maybe can't ride a horse or travel to a stable."
And the impact they have on their patients is clear to see.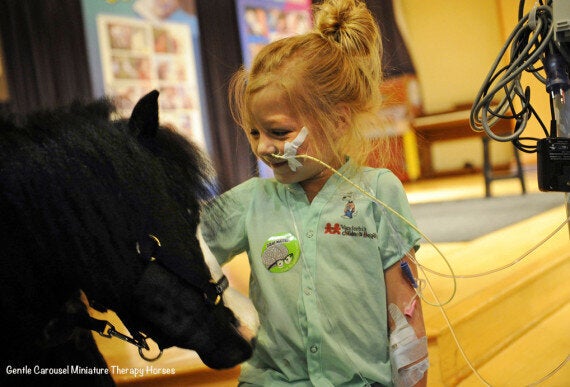 A miniature horse visits a children's hospital
"One little girl who had a heart transplant and leukaemia said therapy horse Magic made her face hurt from smiling so much," Garcia-Bengochea tells HuffPost UK Lifestyle.
"A little boy with a life-ending illness who had been in the hospital most of his life requested a visit from Magic," she adds.
"He laughed and hugged her and was so excited. After the visit his mother said, 'We have never had a happy day, and now our family will always have a happy day'."
Lance Block, chairman for the Governor's Commission on Disabilities in the US, said: "My own daughter, who has Down's Syndrome, has been touched by Magic [the therapy horse].
"I've been able to see first hand what these animals can do just with my own child.
"This program benefits so many different population bases. They can reach the elderly, the terminally ill, children with developmental disabilities, children with needs in reading, there are just so many opportunities to reach so many people in need."
Because the horses are so small, it is easy to take them around hospitals than, say, a full-size horse.
They are also specially trained to walk up and down stairs, ride in elevators, walk on unusual floor surfaces, carefully move around hospital equipment, work in small patient rooms and handle unexpected sounds like ambulances, alarms and hospital helicopters.
And yes, they're also potty trained.
"The horses work with medical professionals in oncology units, the ICU, with veterans at in-patient psychiatric wards and with occupational, speech and physical therapists as part of the treatment teams with patients who have suffered strokes, traumatic brain and spinal cord injuries, amputations and burns," says Debbie Garcia-Bengochea.
These tiny horses are so much more than cute four-legged friends, they're working miracles on a daily basis.