Tess Daly and Rochelle Humes chat about their favourite thing: motherhood, as part of AOL Original Series, Being Mum.
"Talking babies, or about being a mum, is my favourite subject in the entire world," says Daly, who is mum to Amber, 10, and Phoebe, 5, with husband Vernon Kay.
"Is it all you ever want to talk about? Because it's the only conversation that I ever have with people," Humes, who has a two-year-old daughter, Alaia-Mai, with husband Marvin, responds.
The two sit down and discuss inspirational mums, their newfound respect for their own mothers - their favourite sources of parenting tips - and their children in this latest installment from the Being Mum series.
While Humes is currently dealing with Alaia-Mai's "terrible twos," Daly says that her daughters are at the stage where "they can sit quite nicely, in a restaurant, over a pizza and be quite civilised. No more wipes, no more nappies in the bag, no more sterilising bottles... Freedom. I do enjoy that freedom. They're a lot more portable once you get past the age of three."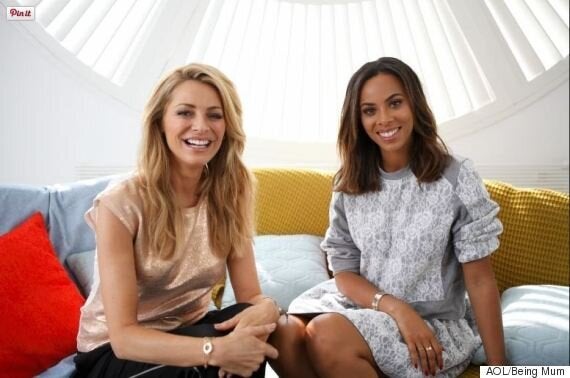 Reflecting on the Being Mum series, which she co-hosted, Daly says:
"Do you know what I've really enjoyed about this entire series? Just talking to other mums about being mum."
"And finding out how other people handle certain situations. We all worry about the same things: are they eating the right things? are they getting enough sleep? It's all the same things that keep us all up at night," adds Humes.
"Being mum is the great leveller because we're all coming from the same place - we just want the best for our children and we want to do the best we can," says Daly.
Daly and Humes also swap tips on the best advice they ever received as parents, from how to feed baby to getting their little ones to sleep through the night.
"If you teach your baby to self-settle, when they come into that light sleep two or three times a night, they will go back to sleep without crying for you, so they have less of a broken sleep and so do you," says Daly.
The two presenters also opened up on why they love being mums.
"I love being mum because nothing gives me the sense of pride that she does, and knowing that you created that and she's all yours. I absolutely love that," says Humes.
"I love being a mum because of the unconditional love you feel for your child... and it's reciprocated," says Daly.
"You feel responsible for these little people - because you are - and turning them into well-rounded individuals. It's a big responsibility... but it's fun!"
The Being Mum series, hosted by Rochelle Humes and Tess Daly, is a beautiful and humbling series that defines what it means to be a mother today.
In each episode Rochelle or Tess will meet a well-known personality, or a mother with a remarkable story, to discuss the ups, the downs, the ins and outs of what being a mother is really like.