It probably won't come as any surprise that, of the hundreds of shows broadcast by ITV during its 60-year history, the show voted the best of all time by the readers of Radio Times is.... 'Auf Wiedersehen Pet'.*
(*Cue sound of record stylus scratching the smoothly-playing record.)
Yes, you read that right. 'Auf Wiedersehen Pet'. A show famous for being inspired by the adventures of a bricklayer from Stockton-on-Tees has been voted the all-time top show on the network celebrating its 60th birthday today, beating 'Thunderbirds' and 'Coronation Street' and a whole bunch of detectives from 'Inspector Morse' to 'Poirot'.
'Auf Wiedersehen Pet' was the story of seven out-of-work construction workers from various parts of England forced to look for work in West Germany, although it focused initially on three men from Newcastle upon Tyne making the journey to Germany, with the others being introduced along the way.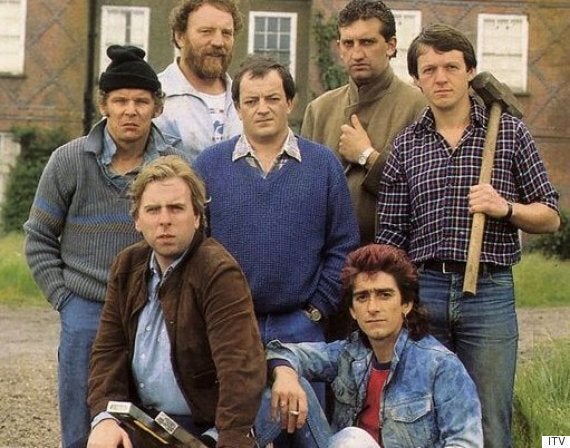 'Auf Wiedersehen Pet' made household names of actors including Timothy Spall, Kevin Whately, Jimmy Nail and the late Gary Holton
The first two series were co-produced by Dick Clement and Ian LaFrenais's Witzend Productions and Central Television and the series were broadcast on ITV in 1983-1984 and 1986. A successful revival of the show saw two series and a Christmas special shown on BBC One (after ITV had failed to re-secure rights for the Network) in 2002 and 2004.
Even the show's creator Dick Clement admits he was surprised, okay "astonished" by its number one spot, adding: "I knew it had a strong following in the North East, but I didn't realise its reach."
Clement's writing partner Ian Le Frenais, explains: "It had a significant social context at the time, because of Thatcherism, and people going abroad to find work. There was a strong contrast between the affluence of some and the have-nots that really resonated, and still resonates today."
Radio Times editor Ben Preston also reflects: "Auf Wiedersehen Pet showed a bunch of Geordies getting on their bikes and finding work for the Germans barely a generation after the end of the war. It showed how Britain's place in the post-war world had changed while making the nation laugh and launching the careers of some of our favourite actors like Timothy Spall, Tim Healy Kevin Whately and Jimmy Nail.
"And, of course, class writers like Dick Clement and Ian Le Frenais were years ahead of their time because the issues thrown up by migrant workers dominate our politics today like never before."
The top ten - LIST BELOW - is dominated by dramas such as 'Inspector Morse' and 'The Professionals' – with the only exceptions being 'Thunderbirds' (2nd) and 'Cilla Black's Blind Date' (9th).
And perhaps reflecting the feeling of nostalgia in a lot of the Radio Times readers, rather than the difference in quality - or perhaps not - the top six shows in the poll all first aired more than 25 years ago, with 'Foyle's War' (7th) and 'Downton Abbey' (10th) the only 21st-century shows.
1 AUF WIEDERSEHEN PET 1983
Radio Times launched the poll in August with a shortlist of 60 programmes chosen by its television critics and over 5,000 people casting their votes.
ITV celebrates its 60th anniversary this week.
Related