The Rugby World Cup will be exhibiting the very best practitioners of the sport in action on the pitch over the next few weeks... fortunately for us, their expert commentators aren't always as skilled.
Below is a list of the top ten rugby commentary bloopers, compiled to celebrate the launch of the Samsung School of Rugby.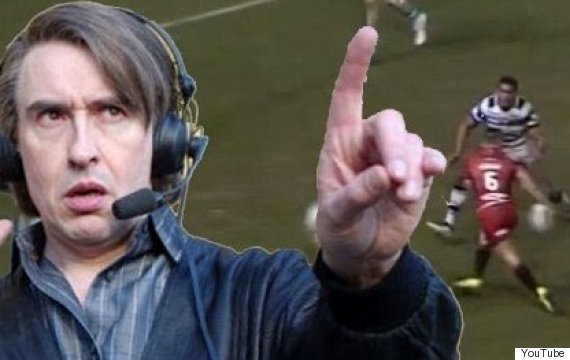 These commentators have all had their moments of Accidental Partridge
The list includes blunders from players, managers and pundits alike. Featuring in the top ten is the late commentator Bill McLaren, known as 'the Voice of Rugby', proving even he was prone to the odd rogue rugby remark, as well as player-turned-pundit Brian Moore. Further slip-ups come from Sonja McLaughlan, one of the BBC's main pitch-side reporters, and Jono Gibbes, the former All Black and now French club coach. But no one features more than New Zealander Murray Mexted.
Just missing out on the top ten is former England player Will Greenwood with "Wales are now staring down the barrel of the wooden spoon" (8%) and former Wales player Gareth Davies with "We've lost seven of our last eight matches. The only team we've beaten was Western Samoa - good job we didn't play the whole of Samoa." (7%)
Here, in reverse order, is the top ten... give us a shout if you hear any corkers over the next few weeks and we'll be sure to include them in our list...
The Samsung School of Rugby aims to give supporters of all levels an insight into the game of rugby like they have never seen before to enhance their enjoyment and understanding of the game... even try-hards like Jack Whitehall, see below:
LIKE US ON FACEBOOK | FOLLOW US ON TWITTER