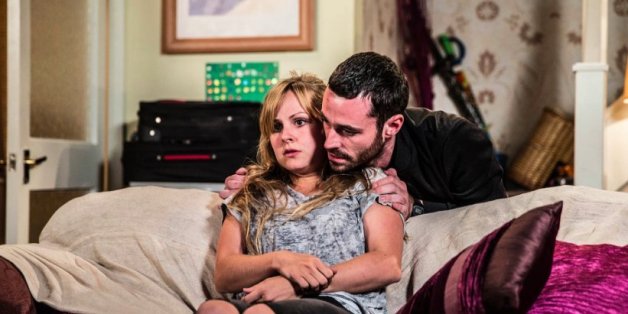 ITV Pictures
'Coronation Street' viewers have praised actress Tina O'Brien, following the ambitious #CorrieLive episode.
The show saw Tina, who plays Sarah Platt, at the centre of the action, as she battled drug dealer Callum, and struggled to cope when Kylie killed him with a wrench.
MORE 'CORRIE':
After the episode, soap fans have applauded Tina for her star turn, along with actress Paula Lane, who plays Kylie Platt:
Gotta say @tinaob is the star of #CorrieLive tonight. Very impressive performance

— Andy Roberts (@AndyRoberts__) September 23, 2015
Paula and Tina are particularly brilliant tonight. Well done to both of them and to the rest of the cast. #CorrieLive#Corrie@itvcorrie

— Diane C. (@Brassylassy) September 23, 2015
This #CorrieLive is quite impressive actually. Tina O'Brien is epic!

— Victoria Daly (@vicky_daly) September 23, 2015
What a great job with the live acting! #CorrieLive#ITV

— Leanne (@lanne90) September 23, 2015
I take my hat off to Tina O'Brien. Superb performance so far. #CorrieLive

— Nathan Lomax-Fay (@NathanLomaxFay) September 23, 2015
This is intense, Tina's acting is soooo good!!👀 #CoronationStreet#CorrieLive

— katie oswald (@katieoswald01) September 23, 2015
Loving #corrielive Tina O Brien is brilliant.

— Sue Kirwan (@Dublinsgem) September 23, 2015
Tina returned to 'Corrie' earlier this year, when her character Sarah returned from Milan with her daughter Bethany.
Within weeks of making her soap comeback, Tina was thrown in at the deep end, and in the months since she's been at the centre of a number of dramatic episodes, alongside Callum actor Sean.
What did you make of the episode? Let us know below...
LIKE US ON FACEBOOK | FOLLOW US ON TWITTER