When you think of Dawn O'Porter you think of a short, heavily-fringed bob and signature sixties style - that means dropped waist, big buttons and bright colours.
But, while O'Porter certainly has a love affair with a bygone era, her penchant is about much more than a look - it's about rejecting the fast-fashion of the high street and encouraging women to discover their unique style.
The journalist and presenter, who has reported on everything from size zero to dating, has now found her niche in fashion. She recently launched her own clothing line BOB, where she sells vintage finds and her own contemporary collection of vintage-inspired clothing.
"I think some of the best clothes that have ever been made, have been made," she tells HuffPost UK Style. "We should let them live on rather than chucking everything away.
"I don't like the high-octane, mass production of the high street. I don't think it's charming, it's not good for the environment and it's not good for how people spend their money."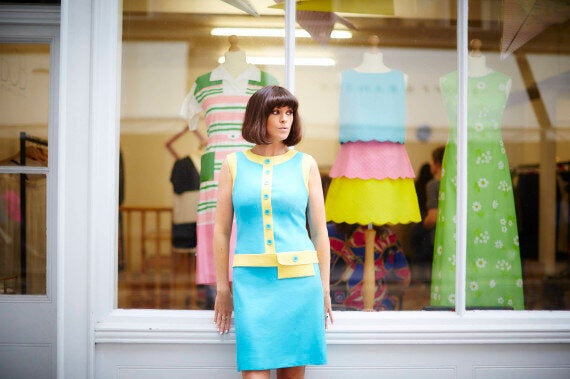 While she'll happily buy essentials (tights, underwear, T-shirts) from Topshop, Cos or American Apparel, when it comes to clothes she "wouldn't even think about high street".
"I'd rather go around vintage shops and discover something that I love rather than buy something from the high street that four million other people will have," she says.
O'Porter says she is "instinctively drawn" to 60s. It was a significant decade for female emancipation (the pill was introduced in 1961), and she feels this is echoed by fashion.
"There was no corsetry, no waistlines and skirts got really short," she says. "It was about fun, freedom, flirtation and power - looking to the future, not the past."
Since becoming a mum - her and husband Chris O'Dowd welcomed their son, Art, in February - O'Porter has brought other decades into her wardrobe.
Now, she's just as comfortable in the high waists of the 50s or boho 70s-style. "Maybe it's something to do with becoming a mum and remembering my own mum in seventies gear," she ponders.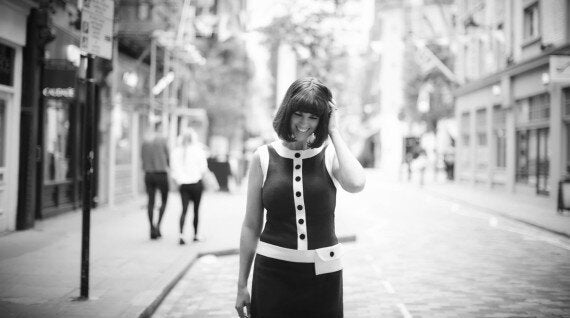 But she wasn't always such an individual in the style stakes.
While at university, O'Porter says she "dressed like everyone else", racking up huge debt on high street store cards and wearing clothes because they were in fashion rather than because they really suited her.
But when she moved to London in her mid-twenties, she fell in love with vintage shopping and would happily spend hours rummaging around to find something special.
For her, this was like a homecoming. She grew up in Guernsey, where there were few high street stores and more independent local shops and was raised by her aunt and uncle, who worked in the retail industry and had a passion for clothes.
"They've always talked about fashion and the way it used to be," she says. "So I always had this idea that a woman would go shopping, walk down a cobbled street into a boutique and find one item of clothing that she would fall in love with and keep her whole life."
This romantic nostalgia is what drove her to set up her own label. While BOB is mostly available online, O'Porter also runs a few pop-up shops a few times a year.
No stranger to a hard day's graft, O'Porter works each day of a pop-up - our interview has to fit around when she was needed at the current Carnaby Street pop-up.
"I work everyday," she says. "It's hideous, I'm the busiest person ever. I usually work between 11am-4pm at the shop - I have the baby in the morning, get home for bath time and then I write in the evenings."
For a woman with such an eclectic career, she's certainly found her calling.
"If an interesting writing or presenting opportunity comes up I'll take it," she says. "But this is definitely where I see myself now."
Dawn O'Porter will be hosting Stylist Live, a four-day event taking place in Islington on 15-18 October 2015. For more information visit Stylist Live. For more information on BOB by Dawn O'Porter.