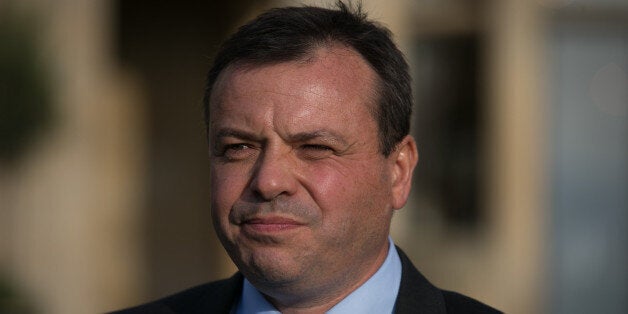 Ukip donor Arron Banks has described Douglas Carswell, the party's only MP, as being "borderline autistic with mental illness wrapped in."
The multi-millionaire businessman made the comments after being told that Mr Carswell did not believe his group, Leave.eu, would be given the official 'out' camp designation ahead of the EU referendum.
Earlier today, Mr Banks and Mr Carswell had exchanged words after the Clacton MP claimed the businessman wanted him deselected from his Clacton seat.
After Mr Banks made the comments, an aide urged him to say the remarks were "off the record" but Mr Banks just laughed it off.
The only journalists present for the remarks were from The Huffington Post UK and Buzzfeed.
Mr Banks later apologised for the comments, saying: "Douglas Carswell was appallingly rude and provocative towards me today which does not justify my comments for which I apologise."
The row comes just hours after Ukip leader Nigel Farage announced the party would be joining with Leave.eu to campaign to get the UK out of the European Union.
In a press conference this afternoon, Mr Farage said Mr Carswell had "residual loyalty" to his former Tory colleagues.
When asked about the initial row between Mr Banks and Mr Carswell, the Ukip leader said: "If there's a degree of personal conflict between the two, that's life.
"I don't think Mr Banks should or could purport to represent Ukip in anyway, he doesn't. He's been a donor to Ukip, but he's never held a position within Ukip."
He added: "Douglas may have a slight problem with him, Douglas may have this residual loyalty to his old friends in the Conservative Party but frankly they haven't made their minds up [on the EU referendum] so that isn't very relevant."
Mr Banks first hit the headlines last year when he increased donated a million pounds to Ukip. The former Tory donor originally pledged £100,000, but increased it after William Hague called him a "nobody".
After being told about the comments by The Huffington Post UK, Mr Carswell said: "I don't think I should dignify those words with a response.
"It's not for me to engage in those."
When asked if he still felt he had a place in Ukip given the day's events, Mr Carswell said: "I feel there's a tremendous place for me in Ukip.
"I have never had such fun as I have had [in the party]."
Mr Carswell confirmed he will still address the conference as planned tomorrow morning on "The Case for Political Reform".
He said his speech would be full of "positivity".
The row is the latest gaffe to hit Ukip's conference events. In 2013, then-MEP Godfrey Bloom was sacked from his frontline role after hitting Channel 4 reporter Michael Crick on the head with a conference agenda.
Related