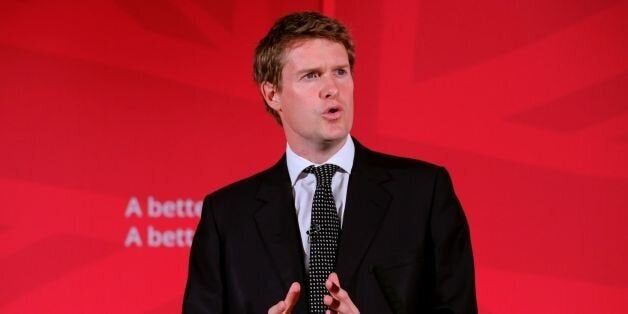 'Moderate' Labour supporters feel like the "inside of a pigs head" Tristram Hunt joked on Sunday evening, as MPs and activists in the centre and on the right of the party gathered to console themselves at Jeremy Corbyn's leadership victory.
The former shadow education secretary told a rally held by the Blairite Progress group at Labour's conference in Brighton that Labour did not lose the election because it was not "left wing enough".
The meeting was addressed by a string of centrist Labour MPs including Chuka Umunna, Ivan Lewis, John Woodcock, Caroline Flint, Mary Creagh and Stella Craesy. Shadow cabinet ministers Andy Burnham, Heidi Alexander and Lucy Powell also spoke.
Liz Kendall, the Progress candidate for the leadership, warned there was a "widening gulf" between the position taken by left wing members of the party and what the voters wanted. "We have got to face up to that to have a hope in hell of winning again in 2020," she said.
But she told the Blairites not to give up or be pushed out. "It's our party and we're not going anywhere," she said.
In a reference to allegations about what David Cameron may or may not have done with a pig while at university, Hunt joked to laughter: "We might all be feeling like the inside of a pigs head after a Piers Gaveston Society meeting. We need to pick ourselves up, get a taste of defeat out of our mouths, and focus on renewal."
Hunt said supporters of Corbyn who believed Labour lost the general election in May because it was not left wing enough or not anti-austerity enough were wrong. We lost that election because we weren't trusted on the economy," he said. "You win general elections from the centre ground and then when you are in office you move the centre ground in progressive directions."
He also joked he was a "god-fearing, national anthem singing, roast beef-eating" Labour politician. Corbyn is non-religious vegetarian who was attacked for failing to sing the anthem.
And Hunt told Labour members in the centre and on the right of the party: "Don't let ever let some fly-by-night Trot say we aren't Labour."
Umunna used his speech to criticise those on the left of the party for branding he and others Tories. He said the party needed to realse that there was not "some wonderful glory in opposition" and reject the idea that everything previous Labour governments had done was "Tory too".
Flint said under Ed Miliband, and for longer, Labour had been a "party in denial" that refused to listen to their concerns about the economy and immigration. "Almost every time we tired to refashion their concerns that was more palatable to us," she said.
Lewis, the former shadow Northern Ireland secretary who was sacked by Corbyn, noted how he was kicked off the frontbench by the new leader. "14 years on the front bench ended by text, telling me that my job was being offered to someone else. Comrades that is no way for socialists to treat working people," he said. After insisting it was a joke, he added "not so much of a joke".
Hunt repeated his pig joke at a separate event later in the evening. It can be watched below thanks to The Spectator.
Related