The 'Teen Mom' star is also considering taking a lawsuit out against Janice Dickinson, who allegedly threw a chair at her during the incident.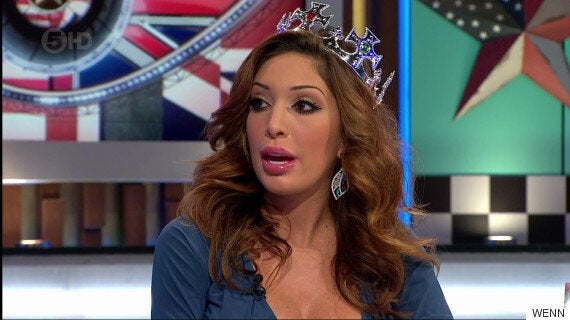 Guest Vicki Michelle was injured in the bust up on Tuesday (22 September) night's edition of the spin-off show, as she got caught in the crossfire when Farrah reportedly threw a glass across the studio and it hit her in the head.
"I was assaulted twice by Aisleyne Horgan Wallace and Janice Dickinson," she said in a statement.
"After speaking with the police and my lawyer, I have pressed charges against Aisleyne and am considering issuing a lawsuit against Janice.
"I can confirm that Aisleyne did assault me and it is now in the hands of the police."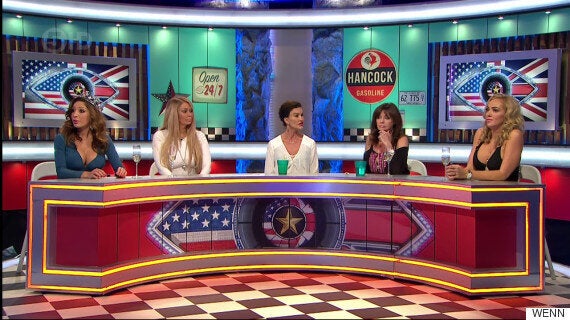 The brawl happened on 'CBBBOTS' on Tuesday night
Farrah then claimed that police had no charges to make against her following Vicki's complaint.
"In regards to Vicki pressing charges against me, I can confirm I was neither arrested nor convicted of anything," she said.
"To clear my name, of my own free will, I explained to the police what really happened with Vicki. They looked over the BB BOTS video footage in detail and said no crime had been committed and therefore no charges were made against me."
Admitting she did throw a glass across the studio, she insisted it was not aimed and anyone, and was sorry Vicki got hit by it.
"I was deeply shocked and traumatised following the initial attack by Aisleyne and was very frightened she was going to attack me again or glass me, so my natural instinct was to jump up and do something to defend myself to make Aisleyne back-off," she said.
"As a defence mechanism, I threw an empty Champagne glass towards the wall and unfortunately Vicki got caught in the crossfire 100% by accident. It was apparent from the BB BOTS' footage that the glass was not aimed at Vicki or anyone else, I would never throw a glass directly at someone or deliberately want to cause them harm."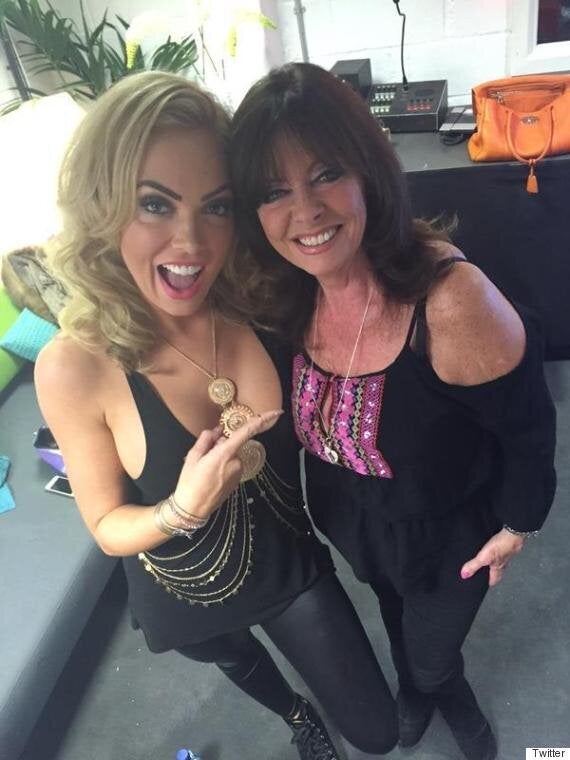 Vicki and Aisleyne backstage at 'Bit On The Side'
Denying Vicki's claims that she could have been blinded by the flying glass, Farrah said: "The Champagne glass did not go anywhere near Vicki's eyes or front of her face, she was in no danger of being blinded.
"I'm very confused as to how such a lightweight glass could be heavy enough to cause whiplash or concussion - but thankfully Vicki tweeted immediately after the show that she was OK. I had presumed Vicki was OK before she tweeted though because a member of BB BOTS team informed my manager within minutes of the incident that Vicki, along with Janice and Aisleyne, was allegedly happy to continue filming the show."
"Absolutely, I'm deeply sorry [Vicky was caught in the crossfire]! I may speak my mind and come across as opinionated sometimes, but I would never want to harm anyone intentionally."
Despite insisting she was attacked twice by Aisleyne, Farrah failed to reveal how, but claimed the 'BB7' star's actions were premeditated.
"I will say though that I believe Aisleyne's attack on me was premeditated because of some Tweets she put on Twitter a few days prior to BB BOTS, which she has since removed. I'm convinced she wanted to cause me harm and start trouble," she said.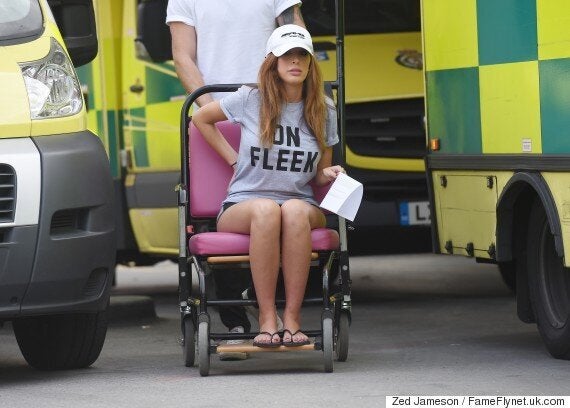 Farrah claimed she needed medical attention
"A medic attended to me immediately backstage after the incident at BB BOTS," she explained.
"As a result of my injuries, I was still in a lot of pain the next morning though so my manager took me to hospital to receive further medical attention. The Big Brother team offered to send me to a private doctor but I was in so much pain that I didn't want to wait for them to sort an appointment and chose to go to A&E instead."
She also posted a picture of a dark bruise, but her face cannot be seen in the picture, nor is it confirmed the bruises were caused during the brawl.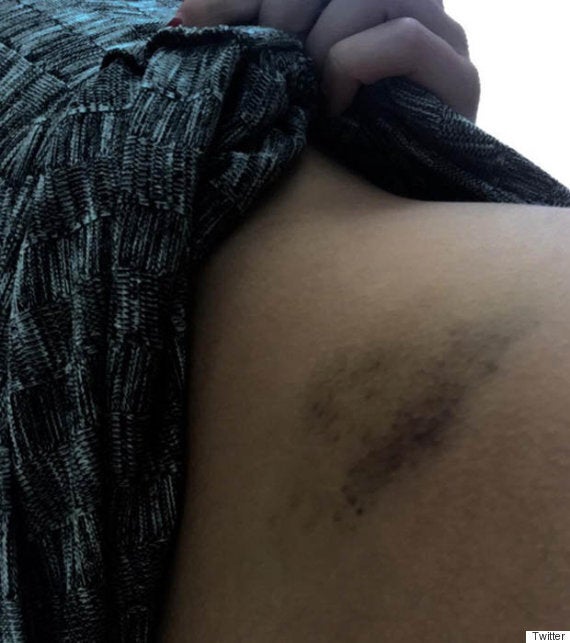 Farrah claims she was left with this bruise after the incident
Janice is yet to speak out about the incident.
"I take full responsibility that I did throw half a glass of champagne towards her," she said.
"In retrospect I should have realised that she is so unstable... I thought she was going to throw the champagne back at me, which I could have dealt with. To actually pick up glasses and direct them and aim them to try and cut my face…"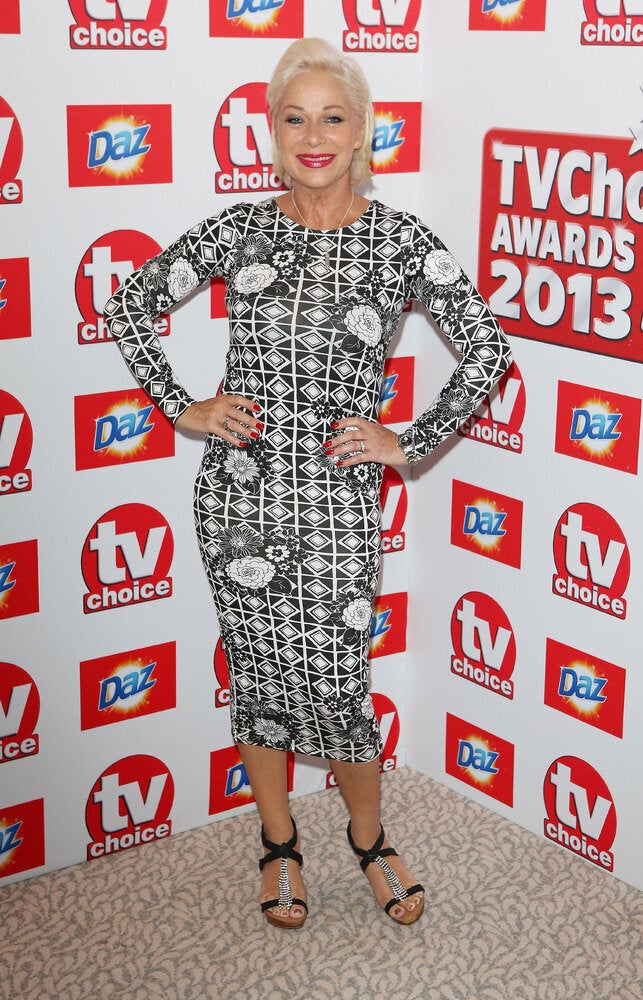 'Celebrity Big Brother': Where Are They Now?