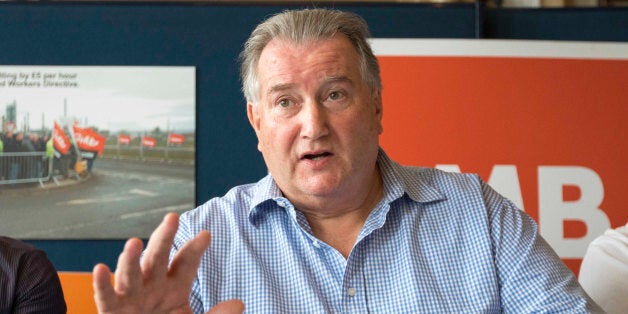 Labour "blindly embracing" the campaign to stay in the European Union will encourage David Cameron to negotiate away workers' rights, one of Britain's leading trade unionists warned today.
Paul Kenny, General Secretary of Britain's third largest trade union, the GMB, used a fiery speech to delegates at the Labour conference in Brighton to hit back at those who believe the party should campaign to stay in at any cost.
Mr Kenny claimed such a position would embolden Mr Cameron and others in the business community to "offer up" employment and workers' rights as part of his renegotiation ahead of a referendum before the end of 2017.
Labour leader Jeremy Corbyn had previously suggested he may campaign to leave the EU, but within a few days of winning the party leadership election announced he wanted the UK to stay part of the institution.
Addressing the delegates in Brighton this morning, Mr Kenny said: "A British Prime Minister has been creeping his way round European governments, offering up, indeed begging, for those people working in Britain to have employment and social rights taken away.
"Frankly, people in our own party, by blindly embracing a Europe at any price merely encourage Cameron and the CBI to push for even more attacks on working people."
Mr Kenny went on to warn that if Labour did campaign to remain in the EU, it should not share a platform with any Tory groups also in favour of staying in.
He said: "It's a ridiculous and stupid suggestion that we as a movement facing vicious attacks on trade union and democratic freedoms as well as moves to destroy the very funding base of our party - how could we possible know all that but campaign alongside the same people who attack our very existence?"
Some of the rights introduced into UK work places through the European project include maternity leave rights, minimum paid annual leave and equal pay.
Prior to Mr Kenny's speech, Mr Johnson told the conference that even if the Tories gave away these rights, Labour would need the EU to get them returned.
He said: "The only way to restore any rights the Tories negotiate away is to get rid of the Tories and win them back.
He added: "If we can't defeat the trade union bill in parliament we may well need the European Court of Human Justice to restore the basic democratic rights of British workers that this bill removes."
Today's debate over the EU comes as a YouGov poll for The Times showed 40 per cent of voters backed the UK leaving the EU, with 38 per cent wanting to remain.
Some 16 per cent did not know – suggesting the referendum is all to play for.
Popular in the Community