Strangers are raising money to pay for the funeral costs of a baby who died after his family became homeless.
In July the boy's parents, whose names haven't been released, were reportedly evicted from their rented house.
Their two-month-old son Donald, who was born prematurely, died after sleeping in the car. The cause of his death is not yet known.
Claire Matthews, who runs Hope for Food, a soup kitchen in Bournemouth, has set up a crowdfunding page to try and raise £3,000 for the funeral and headstone costs.
She told HuffPost UK Parents: "We've never done anything like this before because we've never had this situation, but we want to give as much help to the family as possible.
"We can't bring the little one back but we can help pay towards the costs of the headstone and funeral."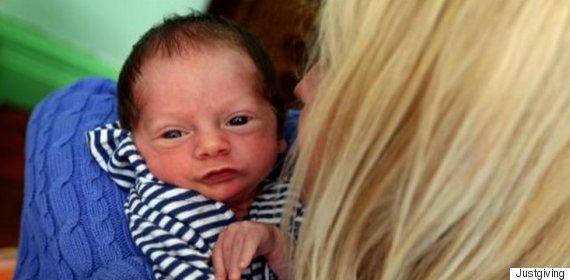 Baby Donald
Matthews said Donald's parents were "grief stricken".
She added: "We knew the couple before. They attended our soup kitchen and we've helped them.
"They're not aware of the fundraising page.
"We want to get everything together and then go and take it to them so they don't need to worry.
"We'd like to raise more than £3,000 and ideally as soon as possible.
"We don't want any other parent to go through what they are going through."
Matthews said the couple are currently living in Kent, but would not comment on their current housing status.
The crowdfunding page is at 3% of the target at the time of writing.
SEE ALSO:

Child Poverty Report Reveals Almost Two-Thirds Of Poor Children Are From Working Families

Children From Poor Families Are More Generous Than Their Richer Counterparts, Study Finds
The Independent reported that the had been living in Kent before their son was born, but are thought to have left the area due to an ex-partner.
They moved to Bournemouth but were evicted from a property the mum was renting and could not afford a deposit on a new home. They mainly stayed in B&Bs, but had no option but to spend two nights in their car with baby Donald.
Both Poole Borough Council and East Dorset District Council were contacted for comment after it emerged the mum had contacted their housing departments for help in the past.
Ben Tomlin, housing services manager at Poole Borough Council, told the Bournemouth Daily Echo: "Borough of Poole was contacted by the mother and though she was not eligible, she was provided with as much support and guidance as possible.
"She last approached us in May and hadn't returned to Poole for help after her baby was born. Our deepest sympathies are with her at this time."