UPDATE: Oklahoma Governor Mary Fallin issued a 37-day stay due to an issue with the execution drugs around the time Glossip was due to be killed.
Sir Richard Branson has penned an open letter demanding a man on death row not be executed by the state of Oklahoma.
Published in the Oklahoman newspaper on Wednesday -- the date of Richard Glossip's execution -- the Virgin chief appealed for the life of a "father, son and fellow human being," whom he notes was convicted 17 year ago despite a "breathtaking lack of evidence."
Branson during the Visa London ePrix at Battersea Park, London
Branson follows Pope Francis, who earlier this month attempted to intervene on behalf of the inmate by writing to the state's governor Mary Fallin. On behalf of the pontiff, Archbishop Carlo Maria Viganò said that execution should be reserved only for "very rare" cases of "absolute necessity."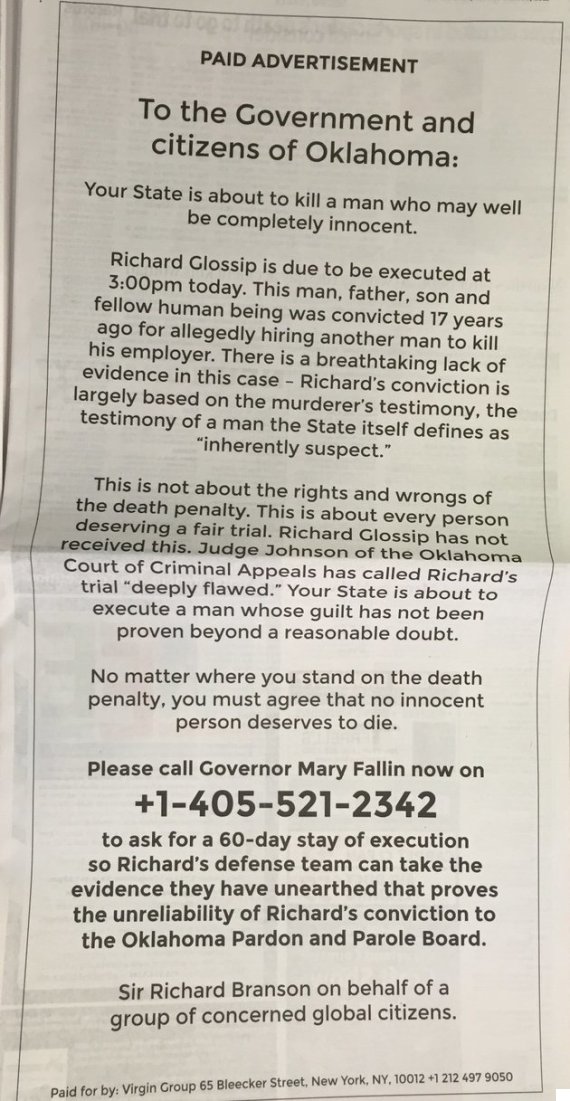 Arguing that Glossip's trial was "deeply flawed," Branson wrote: "This is not about the rights and wrongs of the death penalty. This is about every person deserving a fair trial."
Glossip was convicted of first-degree murder after being accused of paying Joseph Sneed to kill his boss. Sneed beat the victim to death with a baseball bat, but was spared the death penalty after rolling over on Glossip.
Based on the sole testimony of Sneed, a man with every reason to lie, Glossip was convicted and sentenced to death. Sneed has subsequently said he would recant his original testimony.
JUST IN: Here's the letter @Pontifex sent to Gov. Fallin regarding today's execution of #RichardGlossip @NEWS9 pic.twitter.com/JN1xJdpdwY

— Justin Dougherty (@DoughertyNews9) September 30, 2015
Fallin said earlier this week that she would not intervene in the execution unless a federal or state court grants a new trial.