Smoking in a vehicle with children under 18 will be illegal from Thursday 1 October 2015, in a move that aims to protect children from the dangers of secondhand smoke.
Under the new law, both the driver and the smoker could be hit with an on-the-spot £50 fine.
If you're driving and smoking, you could be fined twice.
Winding down the windows or opening the sunroof will not help you escape from the fine. However the law does not apply to a convertible car with the roof completely down.
The ban will also apply to 17-year-old drivers with a provisional licence.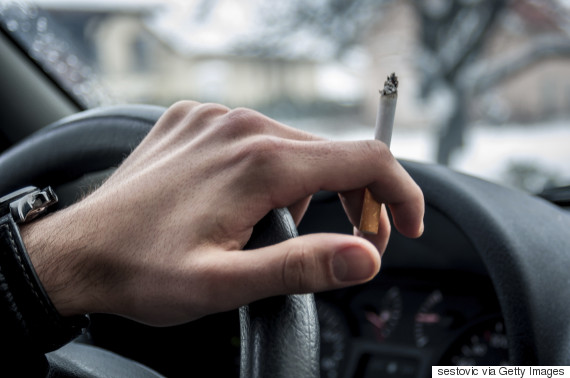 Channel Mum has worked with Public Health England to produce a video for parents about the new rules, and Channel Mum founder Siobhan Freegard fully supports the move.
She told HuffPost UK Parents: "Adults have the choice whether to smoke or not - but a child sitting in a car with a smoker is forced to breathe in a cocktail of killer chemicals at very close range.
"Even with vehicle windows open, children take in dangerous particles 100 times higher than recommended safety guidelines with every breath.
"No parent wants this for their child, which is why the vast majority of mums and dads will back the new rules.
"You can't see the damage secondhand smoke is doing, but the statistics are scary. Exposure results in over 300,000 GP consultations and an estimated 9,500 hospital admissions in the UK each year.
"Keeping your car smoke-free will mean your whole family can breathe a little easier."
Freegard's isn't a lone voice. The majority of adults in the UK also support the ban, according to a recent YouGov poll, which found that three in four (77%) of British adults agreed smoking should be banned in cars with passengers under 18 years old.
And it's not just a case of non-smokers coming out in force, two-thirds of smokers polled also agreed with the ban.
Dr Clare Morrison, GP at online doctor MedExpress.co.uk is strongly in favour of the ban.
Explaining the effects of secondhand smoke, she told HuffPost UK Parents: "It increases the risk of meningitis, sudden infant death, asthma, chest infections and ADHD (Attention Deficit Hyperactivity Disorder).
"In fact, passive smoking also increases the risk of cancer, particularly lung and throat cancer, heart disease, stroke and COPD (chronic pulmonary lung disease).
"Smoking in the car with kids is particularly harmful because there is no space for the smoke to disperse and it will build up in the back of the car.
"Toxins in the smoke will become concentrated, even with the windows open."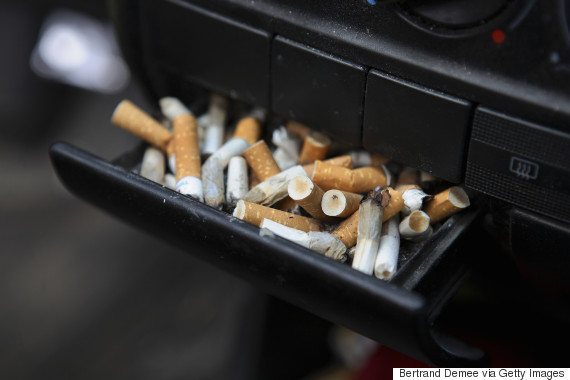 It's clear the dangers of passive smoking are less widely understood.
This is something Dr Nitin Shori, NHS GP and medical director of the Pharmacy2U Online Doctor service felt strongly about.
"Cigarette smoke contains 4,000 chemicals that can affect your body in many ways – some of which are cancer causing toxins," he told HuffPost UK Parents.
"Those who regularly breathe secondhand smoke can be at higher risk of lung cancer and heart problems.
"Passive smoking significantly raises the risk of cot death in babies and it can also increase the likelihood of children developing breathing problems, coughs, colds and ear infections."
She added: "The smoke can be an irritant, which can trigger asthma symptoms in some people."
Dr Nigel Carter, chief executive of the British Dental Health Foundation, adds that as well as the above, passive smoking also has an impact on children's dental health.
He said: "Everybody is aware of the dangers of smoking to our health but often overlook the effects on our mouth, gums and teeth. Secondhand smoke can lead to gum disease, tooth loss, and in more severe cases mouth cancer.
"Smoking is the leading cause of mouth cancer, which kills almost seven thousand people in the UK annually."
SEE ALSO:

Smoking Ban Considered For Brighton Beaches

Smoking And Drinking Among Children Aged 11-15 Is At Its Lowest For 30 Years, And They Barely Know What Legal Highs Are
Dr Morrison suggests parents who smoke should take this as an opportunity to quit altogether, adding: "Not only will quitting improve your health, and that of your children, but it will set a good example to your kids who will be less likely to smoke when they are older."
Nicotine replacements.
Dr Shori advised those who don't believe they can break the habit on willpower alone to find nicotine replacements.
He told HuffPost UK Parents: "People find nicotine replacement like patches, inhalers and gum help.
"I've found that e-cigarettes have become very popular, although some patients prefer to stop their desire for nicotine completely using the prescription-only treatment Champix tablets, which relieve cravings and withdrawal symptoms."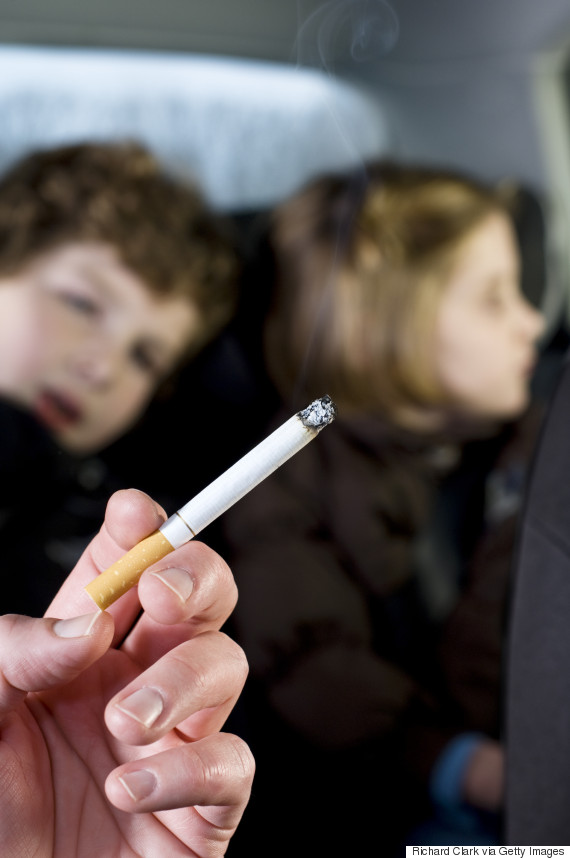 Face-to-face support.
Rather than suffering in silence, Stuart Gale, chief pharmacist at Frost Pharmacy Group, advises parents to seek support.
He told HuffPost UK Parents: "If face-to-face support is what you are looking for, pharmacists are ideally placed, on every high street and in every community.
"With no appointment needed, there are often local schemes to support people looking to quit.
"Pharmacies are also a convenient access point for Nicotine Replacement Therapy (NRT) which, research has shown, can make you twice as likely to succeed in kicking the habit."
Similarly, the NHS have specific stop smoking advisers that are trained to help support you if you want to quit.
Use resources from Stoptober.
The introduction of the new law coincides with the first day of Stoptober - a NHS campaign urging smokers to quit during the month of October.
Gale suggested parents should use the information and advice provided free of charge by the campaign. He added: "Stoptober provides support and advice in the form of help and information which is easily accessible online and over the phone."
To get support for Stoptober, sign up here. Outside the month of October, you can order a free quit kit online through the NHS.