When Amanda Scarpinati was a baby, she was left severely burned after falling on to a steam vaporiser and being covered in boiling liquid.
She was immediately taken to Albany Medical Centre in New York where a young nurse, Susan Berger, then 21 and fresh out of university, took good care of her.
For the medical centre's annual report, the nurse was photographed holding baby Scarpinati who was covered in bandages.
Now, almost 38 years later, Scarpinati has finally had the chance to meet the nurse who looked after her. And it was an emotional reunion.
Susan Berger and Amanda Scarpinati holding the photograph from the medical report
"I don't know how many nurses would be lucky enough to have something like this happen, to have someone remember you all that time," former nurse Susan Berger told Associated Press.
"I feel privileged to be the one to represent all the nurses who cared for her over the years."
Scarpinati was left badly burned after falling off her living room sofa onto a steam vaporiser.
Following the incident, Scarpinati's parents kept the cover of the report and, as she grew older, Scarpinati found comfort looking at the picture.
She says that because she was disfigured by the burns, she was bullied and picked on throughout her school life.
"I'd look at those pictures and talk to her, even though I didn't know who she was. I took comfort looking at this woman who seemed so sincere, caring for me," she said.
Scarpinati - who has since had several operations to repair the damage from the burns - tried to track down the unknown nurse in the photograph for several years, but to no avail.
Then, in September, a friend recommended she put the photos on Facebook to see if anyone recognised the woman.
It was then that she struck gold. The Facebook post was shared 5,000 times and was even featured on the local news. In the short space of 24 hours, someone had identified the nurse in the picture as Susan Berger.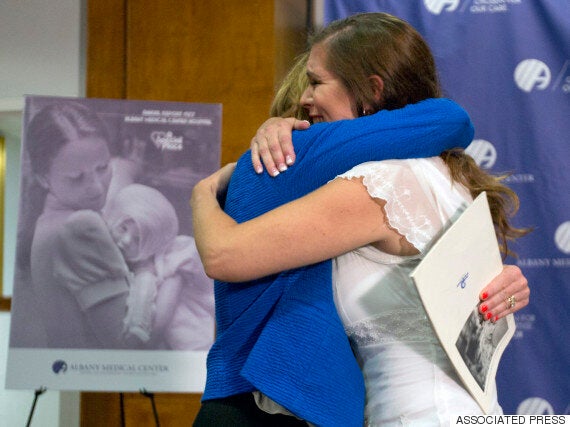 The emotional moment Scarpinati meets the nurse who cared for her
Scarpinati took to Facebook to express her feelings of gratitude to those who had shared her post.
"I am over the moon right now," she wrote. "In a million years I would have never guessed this would grow to be as big as it is or that I would in fact be able to put a name to the face that I looked at for all these years.
"I had the amazing pleasure to speak with Sue Berger this evening. She's just as sweet and caring as I could have imagined her to be."
The pair finally met face-to-face in an emotional reunion on 29 September.