Peeple is a new app that will let everyone rate and review each other - including you and there's nothing you can do about it.
The app's current terms and conditions prevent people from opting-out from the service, meaning anyone can have a profile created for them and receive ratings and even 'reviews' both positive and negative.
In awarding a person 'star rating' between 1 and 5, people will be able to provide TripAdvisor-style reviews for everyone in their phonebook or in their extended social networks.
In a bizarre twist on the LinkedIn endorsement, Peeple says it is a "positivity app for positive people" but that "negative" ratings of two stars or less will also appear on profiles. There will even be a dating function.
The app's frequently asked questions have to be seen to be believed.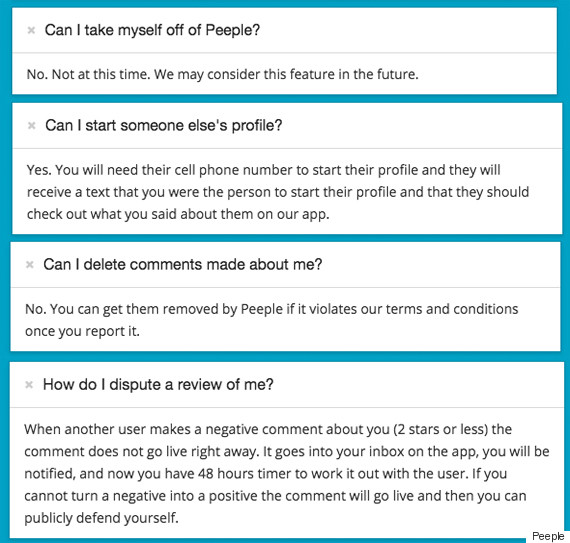 And the weight of public opinion appears to be against the app in its current form.
So the people who developed a mass surveillance social app got 50k from the government? Not suspicious at all. #Peeple

— Just Call Me Mister (@MisterMetokur) October 1, 2015
Dear @EFF please ensure #peeple never makes it off the ground. This is a sick dangerous idea. cc @agcrocker @ncardozo pic.twitter.com/UHwtmGDXdc

— Mandy Stadtmiller (@mandystadt) October 1, 2015
Wait, you're upset that someone wrote something about you without running it by you first? Irony just died. #Peeple pic.twitter.com/885UThdUxE

— Lily Bailey (@LilyBaileyUK) October 1, 2015
Fundamental flaw with #Peeple: The only kind of people who would want to "rate" other people are the Exact people who shouldn't be able to.

— Rex MURRAY (@RexMundane) October 1, 2015
so #peeple is what happens when two popular mean girls from your high school grow up & decide to make a slam book for the entire world?

— Sara Schaefer (@saraschaefer1) October 1, 2015
Founders of #Peeple getting upset about strangers on the internet being judgemental. THAT MUST BE AWFUL. https://t.co/nwsR5Cl4rT

— Frances Cook (@FrancesCook) October 1, 2015
People with anxiety, depression, PTSD will be harmed by the #Peeple app. It's NOT okay to stalk and "rate" people.

— Ana Mardoll (@AnaMardoll) October 1, 2015
It's very clear that the folks involved in #Peeple either have never known anybody who was stalked, or just don't give a damn.

— Tom Head (@_tomhead) October 1, 2015
Its obvious #peeple did no research, but really. Class action waiting to happen. http://t.co/MRWzxaIwJu

— Courtney Milan (@courtneymilan) October 1, 2015
Just a heads up #Peeple, the 1st review that gets forwarded to my phone also gets forwarded to my lawyer.

October 1, 2015
Here's a great point I saw raised about #Peeple: how on Earth do they monitize this without becoming even MORE horrifying?

— April Daniels (@1aprildaniels) October 1, 2015
And as a result, changes are expected before the app is released to the public.
The founders, wrote on Facebook on Wednesday: "We hear you loud and clear.
"You want the option to opt in or opt out. You don't want the ability for users to start your profiles even if you would only get positive reviews if they did (Our app does not allow negative reviews for unclaimed profiles)
"People are genuinely good even though Yelp has over 47 million reviews and all the users are anonymous and in that 47 million reviews there are 79% positive reviews. (We are not anonymous as users of the Peeple app which should make our positivity even higher than Yelp)
"You want this available on Android too (We are building it now)"
HuffPost UK has reached out to the founders for comment.