The five things you need to know on Friday October 2, 2015...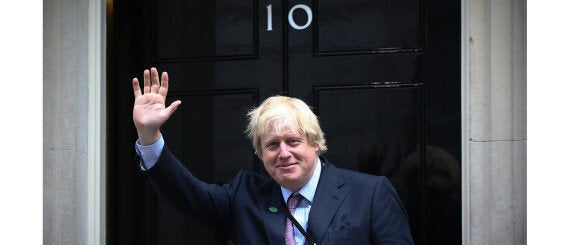 George Osborne heads to the Tory conference in Manchester looking every inch the most powerful man in Whitehall, basking in the glow of an impressive general election campaign and a continued economic recovery. He's not just powering much of the EU renegotiation, he's also globetrotting his message everywhere from Beijing to Bradford. Early this morning, he's parked his tanks on another Labour lawn, with the announcement of a second 'northern Powerhouse' with a Sheffield City region.
But never forget that the Chancellor is also grappling with possibly the most stringent public spending review ever. And central to those cost savings is his plan to save billions from the welfare budget in tax credit cuts. The downside to such big ticket cuts, as opposd to salami slicing, is the political pain they can cause and some Tories are very worried indeed.
Now the Sun reports that Boris Johnson has joined those Conservatives calling for the Chancellor to show some of his political nous and act in the Autumn Statement to ease the impact of the tax credit cuts. A friend of Boris said: "He supports George's reforms but strongly believes it must not be done on the backs of the working poor."
Only two Tories rebelled and one abstained on the tax credit vote last month, not least due to a heavy-duty whipping campaign (the old and the sick were nodded through). A larger group voted for the measure with gritted teeth and are keen for the Treasury to recognise the political fallout of HMRC letters dropping just before Christmas to millions of workers spelling out just how much they'll lose next April. Frank Field has today written to the Chancellor to ask for a secondary earnings threshold paid for by a steeper withdrawal rate. And Boris is backing him.
Treasury sources tell me they are very robust about all this, convinced that childcare changes will net workers thousands of pounds in savings and that the national living wage's impact hasn't properly been factored in by think thanks or Labour. The bottom line is the huge savings the tax credit cuts deliver. To paraphrase Liam Byrne, there is no more money left to spray around in the Autumn Statement. Expect more cuts, not fewer.
Still, Boris heads to Manchester himself buoyed by two opinion polls putting him ahead of Osborne as the voters' choice as next Tory leader. Yet while IpsosMORI gives Osbo a slight lead among Tory supporters, our own HuffPostUK/Survation poll gives Bojo a healthy lead among Tory voters (30% to 25%) as well as the wider public (25% to 15%).
Crucially his biggest lead of all is among 'C2'/White Van Man skilled manual workers (33% to Osbo's 9%) vital for any majority in marginals. Even up north, despite that 'Powerhouse', Boris is ahead by 19% to 15%. And among UKIP voters, Boris trounces Osbo by 38% to 16%.
In the Telegraph, Fraser Nelson points up the irony that Osborne's economic success tempts some Brits to think we don't need to be tied to a stagnating Europe. He says that the biggest threat to the Cameron/Osborne transition is not a self-harming Labour party but Brexit from the EU. 'Neither could survive losing the referendum', he says. Fraser adds that if Osborne is serious about getting to No10, he needs some 'wriggle room' in the EU renegotiation to allow him to recommend an 'Out' vote.
Don't forget our HuffPost WaughZone Live event at conference is with Nicky Morgan at 12.45pm on Sunday in Manchester Central, Exchange 4/5.
The Times Higher Education had a little-noticed scoop during Labour conference that Shadow minister Gordon Marsden had declared the party was reviewing rather than scrapping its tuition fees policy. Marsden (who don't forget was with Andrew Smith the 34th and 35th MPs to get Corbyn on the ballot) said there would be a 'consultation process'. The FT and Times today run hard with the likely shadow ministerial opposition to Corbyn's plan.
Of course, on one level it's a statement of the obvious that tuition fee policy has to be reviewed rather than scrapped straight away. That's how policy making works in Labour, not by leader's fiat but by consultation. But Corbyn allies know that if they can get members to control the policy process, this is indeed a policy which will prove popular among the grass roots and he will have the ability to drive it through opposition. How the black hole in funding would be plugged is another matter.
Welsh Secretary Stephen Crabb last night used Question Time to stick the boot into Corbyn over nukes, saying it was a 'massive' failure of leadership. But note Stephen Kinnock, while opposing his leader's opposition to Trident, said it could even be a vote winner: "It may well be that enough people vote for him on the basis of that policy in our manifesto if that is the policy that is decided on by the Labour Party."
The Sun/YouGov poll meanwhile says Corbyn failed to get a Brighton bounce, with just 31% to the Tories' 37%. His minus 8% personal ratings are also the worst of any new leader since polling began.
Zac Goldsmith is today set to be unveiled as the winner of the Tory selection contest for the Mayor of London race next May. ConHome had a poll last night giving Zac 62%, way ahead of Syed Kamall on 27%. That's a Corbyn-style 'huge mandate'. (But the Sun reports Labour sources last night claimed that as few as 15,000 Tory party members may have voted, despite the ballot being open to all who wanted to pay £1 to register.)
Zac and Sadiq Khan will each think they now have the perfect opponent. Zac is hoping he can replicate Boris's broad Everyman appeal to non-political, Labour, Lib Dem and Green voters and portray 'JezWeKhan' as part of the leftward lurch of Labour. Sadiq thinks in a contest of a bus driver's son against an old Etonian son of a billionaire, there's no contest.
Next Tuesday, Zac will appear on the big stage at the Tory conference. But he'll be introduced by Boris. Just a day after Osborne's own big speech, the Mayor will be box office again despite all the claims that his career is stalling. I remember too that he once threatened not to turn up to Tory conference when told he would be relegated to a Sunday graveyard slot, insisting on a Tuesday appearance instead. He got his way.
BECAUSE YOU'VE READ THIS FAR...
Arron Banks may have an odd way off spelling his first name, but today in a Telegraph interview he spells out clearly that he would prefer Nigel Farage to head the 'Out' campaign rather than remain UKIP leader before the referendum.
"Nigel had to play his part". He said: "I would rather he was totally focused on the 'out' campaign and delivering it...If he decides to step down I would definitely be supportive. He's the biggest beast in the jungle on this front. To make it non-political would be wonderful. But that is a decision for him. If that's the way, you decide to go that would be great."
The handbags were out among the Outers yesterday. Mr Banks and two other millionaire backers of Leave.EU - Richard Tice and Jim Mellon - told Lord Lawson to "shut up". "It would be better if the Eurosceptic Tories just 'shut up' as they are going to alienate the vast majority of people who will look at this campaign as a Tory stitch-up."
Meanwhile, the FT reports one of the City's highest fliers saying the EU is a 'flawed concept' and the downsides of Brexit have been exaggerated. "It's like people saying they would up sticks and move to Frankfurt — it didn't happen when we didn't join the euro," said Helena Morrissey, chief executive of Newton Investment Management.
Open Europe have tried to guess Tory MP's current views of Brexit: 22 are in the 'firmly out' camp, 47 'leaning out', 203 'swing voters', 44 'leaning in', and 14 'firmly in'.
We have a fresh Survation/HuffPostUK poll finding on the Tories and the EU later today.
There's an anniversary today that will cheer Labour and depress many Tories: 15 years since Blair's Human Rights Act. To mark the day, Charlie Falconer has blogged for HuffPost on just why it's mistaken to try to replace it with a 'British bill of rights'.
Liberty and the British Institute of Human Rights also blog for us with a 'What Have the Romans Ever Done For Us?' style article on the benefits of the act.
If you're reading this on the web, sign-up HERE to get the WaughZone delivered to your inbox.
Got something you want to share? Please send any stories/tips/quotes/pix/plugs/gossip to Paul Waugh (paul.waugh@huffingtonpost.com), Ned Simons (ned.simons@huffingtonpost.com), Graeme Demianyk (graeme.demianyk@huffingtonpost.com) and Owen Bennett (owen.bennett@huffingtonpost.com)
Popular in the Community