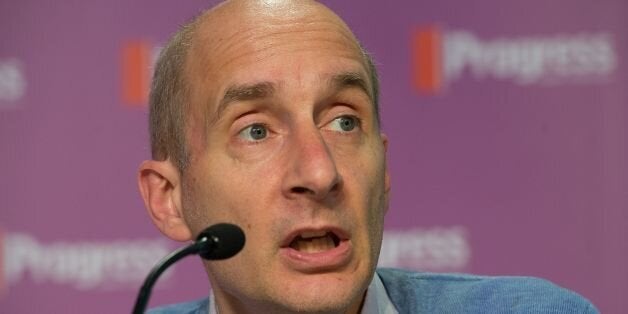 George Osborne has persuaded former Labour Transport Secretary Lord Adonis to chair a new independent commission to oversee major road, rail, housing and power projects.
In a significant PR coup on the second day of the Tory party conference, the Chancellor said he and Lord Adonis would be 'working together in the national interest" with the creation of the National Infrastructure Commission for long-term building schemes.
The peer, who was an adviser to Tony Blair and made a Cabinet minister by Gordon Brown, has resigned the Labour whip to become a non-affiliated member of the House of Lords.
Among the projects that could be speeded up by the new body are the 'HS3' north-south rail link, Crossrail 2 in London, large housing developments and new nuclear power plants.
The creation of the infrastructure commission - which was a policy in Labour's manifesto at the 2015 general election - also fuels speculation that the Tory Government will now accept plans to build a third runway at Heathrow airport.
The third runway was recommended earlier this year by the independent Davies Commission, which Treasury sources said was the model for the new national body. If Downing Street were now to reject its findings, the credibility of the new independent infrastructure commission would be undermined.
Other Labour peers Chris Smith and David Triesman have resigned the whip to chair the Environment Agency and Football Association respectively in recent years.
But the move to get Lord Adonis on board is a classic piece of political theatre on the day of Mr Osborne's speech to conference and part of his and David Cameron's bid to occupy the 'common ground' they feel has been vacated by Labour's leftward shift under Jeremy Corbyn.
Several leftwingers immediately dubbed Lord Adonis 'a red Tory'.
And the SNP's Pete Wishart pounced too.
Yet Labour will point out that the Conservatives have stolen their own policy that was attacked just a few months ago. In another move to poach Labour policy, Mr Osborne has also revealed he will give working grandparents shared parental leave.
Asked by the HuffPost UK why Mr Osborne was now backing a policy he had opposed just a few months ago, a Treasury source said: "The Chancellor is open to good ideas. And Lord Adonis is someone he has admired for some time."
The National Infrastructure Commission was part of a four-point plan to be unveiled by the Chancellor in his conference speech.
Another big announcement is the pooling of 89 local authority pension funds to create six new British Wealth Funds to invest £25bn in infrastructure.
Mr Osborne said: "Where would Britain be if we had never built railways or runways, power stations or new homes? Where will we be in the future if we stop building them now?
"I'm not prepared to turn round to my children – or indeed anyone else's child – and say: I'm sorry, we didn't build for you…
"We have to shake Britain out of its inertia on the projects that matter most. "
Lord Adonis said in a statement: "Without big improvements to its transport and energy systems, Britain will grind to a halt.
"I am pleased to accept the Chancellor's invitation to establish the National Infrastructure Commission as an independent body to advise Government and Parliament on priorities.
"Major infrastructure projects like Crossrail and building major new power stations span Governments and Parliaments. I hope it will be possible to forge a wide measure of agreement, across society and politics, on key infrastructure requirements for the next 20 to 30 years and the assessments which have underpinned them."