A man got a "disgusting" surprise when he took a bite into his wrap and discovered that he was chewing not ham, but a plaster.
He said: "I thought, 'that's a bit chewy for ham' then I took a plaster out. I was shocked. It's disgusting - every time I think about it the worse it is."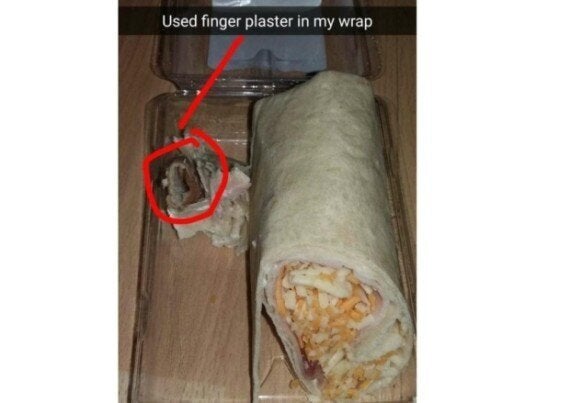 A customer found a 'disgusting' surprise in his food'
The Peterborough man discovered the used finger plaster in the wrap he bought from Bretton Caterers, in Peterborough, the local paper reports.
After he made unfortunate discovery, he contacted Bretton Caterers of Fairweather Court, Peterborough, who reportedly offered him £25 as compensation or £40 in store credit.
Not satisfied with the offer, Leon proceeded to post this on Twitter:
Tim Asplin, co-owner of Bretton Caterers, told the local paper that he apologised for what happened, adding: "We are truly, truly sorry. We are really gutted."
Peterborough City Council said they received a complaint about the caterers and carried out a formal visit. Additional hygiene measures have been put in place.
Popular in the Community