NEW YORK -- Tensions surrounding Russian military airstrikes in Syria escalated on Monday after it was revealed Moscow's warplanes twice violated NATO airspace over the weekend. Russia was chided by NATO for its "irresponsible behavior," after two aircraft entered Turkish airspace, once on Saturday and once on Sunday. Turkey, which is a member of NATO, warned that any future intruder would be treated as an enemy.
The incident shows the likelihood of a flashpoint between Russian and Allied aircraft, which are both flying operations over the Syrian war-zone. NATO denounced the incursions, but a Russian Defence Ministry spokesman dismissed the incident, noting that on Saturday a SU-30 accidentally entered Turkish airspace for "several seconds" en route to its base 20 miles south of the Turkish border.
According to Moscow, the pilot was forced to take a wider arc for landing due to bad weather. Major-General Igor Konashenkov said he knew nothing about the second incursion on Sunday, but noted that measures "to prevent any such incidents in the future" had been taken.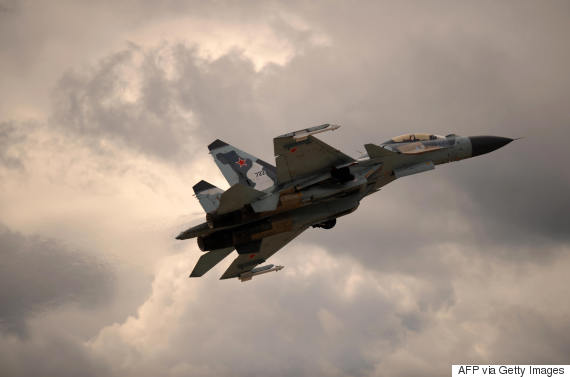 A Russian Su-30 violated Turkish airspace on Saturday
NATO Secretary-General Jens Stoltenberg called the incursions "unacceptable violations of Turkish airspace." A NATO statement released after an emergency meeting said: "Allies also note the extreme danger of such irresponsible behaviour. They call on the Russian Federation to cease and desist, and immediately explain these violations."
White House spokesman Josh Earnest also expressed concern over the incident. "Given the stakes and sensitivity around the Russian military action in that region of the world, I think our concerns are well-founded," he said. Later on Monday, US Secretary of State John Kerry said that Turkey could have shot down the planes, adding that Russia must act within international standards.
According to AP, Turkish Prime Minister Ahmet Davutoglu said: "They [Russia] said they are respectful of Turkey's borders and that it would not happen again." However, Davutoglu warned that Turkey would enforce its rules of engagement should there be any repeat. "The Turkish armed forces have their orders… even if it's a bird that violates Turkey's border… our rules of engagement are clear," he said.
SEE ALSO: