The five things you need to know on Thursday October 8, 2015...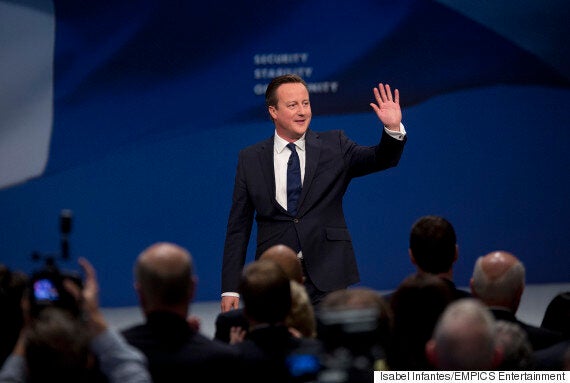 Today' Waugh Zone is edited by Ned Simons. Next stop, the privy council. Paul is away.
David Cameron is "rattled" by Jeremy Corbyn, Labour said in response to the prime minister's brutal attack on the "Britain-hating" leader of the Opposition. If he is, he doesn't look it. The prime minister may as well have hopped into a hammock and lit up a cigar on the conference stage.
With a promise to tackle the "scourge of poverty", a supremely relaxed Cameron casually strolled into the centre-ground of British politics yesterday afternoon. This was a prime minister who, liberated by his election victory, was able to tell his party that the journey he took them on to appear "modern" and "compassionate" had been the right one. And that this was the only way to win in 2020. The FT's Janan Ganesh has a nice anecdote that points to this. One top Downing Street aide was inspired in the speech writing after listening to George Michael's 'Freedom' while on holiday and "ran with the theme of a man freed by success to be himself".
Cameron's conference speech was littered with references to equality, Gay Pride and social mobility. Labour lawn? Meet giant rhetorical tanks.
It is, of course, the gulf between rhetoric and reality that is the real test. For the prime minister, Wednesday's speech may turn out to be the high point of his second term. Labour will cry foul at the PM for claiming to want to tackle poverty at the same time as cutting tax credits. The Guardian makes this point today. In its front page it carries a report from the Resolution Foundation that concludes the planned welfare cuts will lead to an increase of 200,000 working households living in poverty by 2020. There is trouble ahead. And that's before the small issue of the EU referendum is mentioned.
Oh also, the prime minister made a joke about having sex with his wife Samantha. Which you can watch here (the joke, you can watch the joke, get your mind out of the gutter).
In 2010, the Tories moved quickly to define Ed Miliband as weird and weak. Labour, Cameron claimed, was to blame for the financial crisis. The tactic worked. And the prime minister is pursuing a similar strategy with his second Opposition leader. Corbyn, he told voters yesterday, is a "security-threatening, terrorist-sympathising, Britain-hating" man who can not be allowed anywhere near Downing Street. Subtle.
Is it fair? Alastair Campbell, hardly Corbyn's biggest fan, thinks not. However in an interview with The Huffington Post, Tony Blair's former spin doctor warned Labour it was likely to be "effective".
"I said before Corbyn was leader that now he's in the big league, he'll discover the past is not a foreign country and everything he's done and everything he said is going to be brought up." Campbell said. "We've seen there how they are going to attack him. And the reality is there is quite a lot to attack."
Also interviewed on HuffPost Live last night was Danny Boyle. The director said while Corbyn was a "very admirable MP" it would be "tough" for him to win an election. He added: "We have to make sure that the Labour Party ... is electable."
We decided to see how effective the attacks are being. A snap poll for The Huffington Post carried out by Survation following Cameron's speech has found that more than one-third of voters agree that the Labour leader has, deep breath, a "security-threatening, terrorist-sympathising, Britain-hating" ideology. Some 38% of all people polled agreed with the prime minister's nuanced attack, while 31% disagreed and 31% didn't know. The online poll was conducted between 7pm and 11pm yesterday. There were 1,034 respondents.
4) TELL THE QUEEN I'M BUSY
The criticism of Corbyn continues. The Daily Telegraph reports this morning that the Labour leader has "snubbed" the Queen. According to the paper, Corbyn will seek to join the privy council without meeting the monarch. He is said to want to use the process set up for members of the privy council who live abroad and would find it hard to travel to London - such as prime ministers of Commonwealth countries. A source close to Corbyn insisted the Labour leader was unable to attend the meeting with the Queen due to prior engagements and it was "not a snub".
"We've been going through this for years. If we don't want to strengthen Europe, then there's only one road. I heard what Mr Farage say that the only road is for those who are not convinced of Europe is to leave Europe," Hollande said. "There is no other way. It's a horrible path, but it's a logical path. Leave Europe, leave Schengen and leave democracy. Do you really want to participate in a common state? That's the question."
If you're reading this on the web, sign-up HERE to get the WaughZone delivered to your inbox.
Got something you want to share? Please send any stories/tips/quotes/pix/plugs/gossip to Paul Waugh (paul.waugh@huffingtonpost.com), Ned Simons (ned.simons@huffingtonpost.com), Graeme Demianyk (graeme.demianyk@huffingtonpost.com) and Owen Bennett (owen.bennett@huffingtonpost.com)
Popular in the Community