It is a "ridiculous concept" that a woman on trial for murdering 16-year-old Becky Watts was in "blissful ignorance" of what her boyfriend had done, a court has heard.
Nathan Matthews, 28, admits he killed his stepsister but denies hatching a plot with 21-year-old Shauna Hoare to murder the teenager, the Press Association reports.
He insists that his girlfriend "was nothing to do with it" when Becky died at her home in Crown Hill, Bristol, on February 19 this year, Bristol Crown Court heard.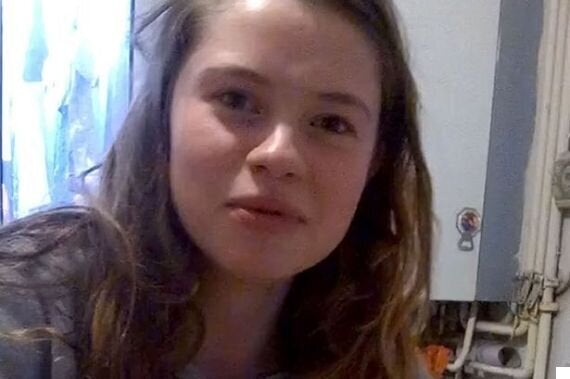 Becky Watts went missing in February. Her body parts were found in March
But prosecutors allege the pair embarked together on a sexually motivated plan to kidnap and murder Becky.
William Mousley QC told the jury: "The prosecution submit that before Becky Watts was killed, there was a plan between Nathan Matthews and Shauna Hoare to kidnap her and when she was killed Shauna Hoare was actively involved in that killing, it being following on from the plan they had in which she had the necessary foresight to realise that serious injury would be caused to Becky Watts.
"In respect of what happened in the house on February 19, the prosecution only have the account of the two adults in the house at the time and they are both defendants.
"The prosecution say that what they were doing on that day and before that day strongly indicate two people working together."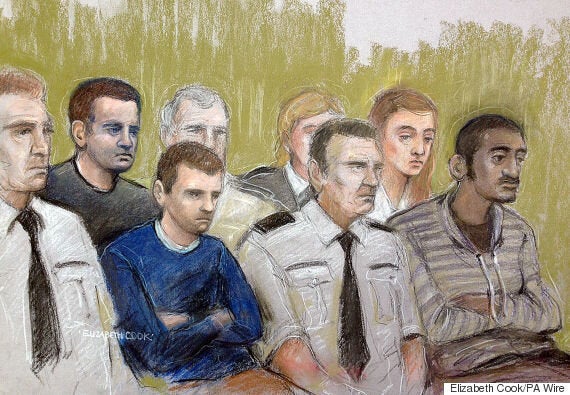 Left to right back row: Nathan Matthews, two dock officers, Shauna Hoare (front row left to right) dock officer, James Ireland, dock officer and Donovan Demetrius at Bristol Crown Court
Mr Mousley said Matthews had pleaded guilty to Becky's manslaughter and the issue for jurors to decide was, when Becky died, did he "intend to kill her or that she should be caused some serious harm?"
Matthews told police after his arrest that he alone packed Becky's body into the boot of the couple's Vauxhall Zafira car without his girlfriend knowing.
They then drove home to Cotton Mill Lane, Bristol - with a child in the vehicle - and when Hoare had gone to bed, Matthews took the body from the car and into their house.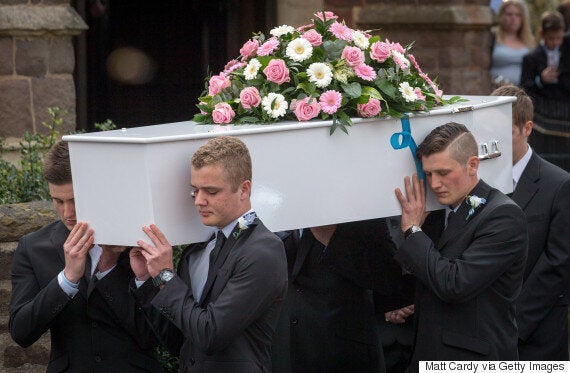 Becky's funeral took place in April
"As far as Shauna Hoare is concerned the issue is quite simple, as it is for all the charges - she said she had nothing to do with it," Mr Mousley said.
"The prosecution says she was jointly responsible with Nathan Matthews and the evidence allows you to conclude that she was jointly involved in it and took part in it, either intending that Becky Watts would be killed or caused serious injury, or foresaw as part of a plan to kidnap her, serious injuries would be caused to her.
"You can be sure this was no accident when he killed her - this was not something that just went wrong. You can be sure that Nathan Matthews is guilty of murder and her proximity, her involvement and her behaviour and the sheer implausibility of her version of events on the evidence which is available and the ridiculous concept that she was in blissful ignorance of what was happening at the time."
Matthews, of Hazelbury Drive, Warmley, South Gloucestershire, denies murder and conspiracy to kidnap.
He has pleaded guilty to perverting the course of justice, preventing burial of a corpse and possessing a prohibited weapon.
Hoare, of Cotton Mill Lane, Bristol, denies murder, conspiracy to kidnap, perverting the course of justice, preventing burial of a corpse and possessing a prohibited weapon.
Donovan Demetrius, 29, of Marsh Lane, Redfield, Bristol, and James Ireland, 23, of Richmond Villas, Avonmouth, each deny a charge of assisting an offender.
Karl Demetrius, 29, and his partner Jaydene Parsons, 23, both of Barton Court, Bristol, have pleaded guilty to assisting an offender after Becky's body was discovered in their shed. Both maintain they were unaware of what the packages actually contained.
A friend of Becky told jurors he became "worried" after she failed to reply to his text messages or return his calls on February 19.
The 17-year-old, who cannot be named for legal reasons, spent the previous night with Becky at his father's home.
They spent the afternoon playing on Xbox and watching films before going to a skittles evening with his father and grandfather.
The boy said Becky did not play skittles at the event, at Barton Hill Rugby Club, but sat "on her phone listening to music and texting".
On the way back, the pair bought chips and then headed back to stay overnight with the boy's father.
"We were just very close friends," the boy said. "It was just speaking, listening to music and chatting.
"She seemed happy. We were just having a laugh really, as we always did."
In the morning, the boy's father gave Becky a lift home to Crown Hill.
During the journey, she phoned her stepmother, Anjie Galsworthy, as she did not have her key.
"It was quite quiet in the car because we were both tired," the boy added.
"We were up all night speaking. She told me she was going to go home to sleep, shower, then meet her friend.
"I went home and fell asleep but when I woke up I had a text off Becky. I did reply when I woke up but I didn't get anything back. It was unusual.
"I did text her and phone her. I didn't get any answer."
Mr Mousley asked the boy how that made him feel.
The teenager replied: "Worried."
Sarah Webb, a next-door neighbour of Matthews and Hoare, described the couple as usually "very, very quiet".
"They were never friendly and didn't want to talk," she said.
She described hearing noises in the evening of February 18 - the day before Becky went missing from her home.
"There was shouting and screaming between Shauna and Nathan," Mrs Webb said.
"It was early evening, I was putting my little one to bed so it was between 6 and 7 maybe. It was for more than half an hour. It was very unusual.
"They were very, very quiet people. We never heard bumps or banging or people on the stairs. We often thought that they weren't actually in."
The following day, in the afternoon, Mrs Webb said she heard further noises from the flat.
"There was lots of running up and down the stairs very, very quickly, banging, slamming doors, scraping, furniture being moved, a suitcase being rolled across a wooden floor which was upstairs," she told the court.
"I remember thinking it was annoying because I wanted to put my little one down for a nap and with the banging she was finding it difficult to sleep.
"There was one voice at one point, a man's voice. He said one single word, I couldn't work out what it was.
"It sounded like the bed was being lifted across the floor, like something heavy was being dragged. It was unusual, we never heard anything from them."
Mrs Webb said she believed the noises happened between 11am and 2pm on February 19.
She described Hoare as "very withdrawn, she was very shy".
"She didn't want to make contact, she didn't want to make friends," she said.
"When I spoke to her she wouldn't reply, she would look away."
Another teenage friend of Becky, who cannot be identified, told the court that on the day of the teenager's death he went to her home because she was not replying to several text messages he sent her.
"I am not aware that Becky had any problems or anxieties about anything. On a day-to-day basis she always seemed happy. She wasn't moody," the boy said in a written statement read to the court.
"I last saw her on Tuesday February 17. I went around to her house after I finished college. I went up to her room and played on the X-Box. She was playing a game on my iPad. She seemed normal.
"We were texting all day on Wednesday February 18. She was replying quickly until I said I was going to sleep. She said she was in a happy mood. The conversation ended at 11.19pm.
"We continued texting the following day and everything seemed fine. The last text I sent was at 11.21am."
The court heard the witness say he had a dental appointment in the morning of Becky's death, then went to a barber shop to get his haircut, leaving at around 3pm.
"In this time I had made a few attempts to contact Becky by texts. None of which were delivered," he said.
"It was unusual for Becky not to reply so I walked to her house. I knocked on the door and Shauna answered the door.
"I asked if Becky was there, she asked Anjie, Becky's step-mum, who replied that she didn't think so.
"They looked in Becky's room and she wasn't there, so Anjie said she would let Becky know I had knocked when Becky was home."
He added that he remained on the doorstep the whole time.
"I think Anjie said to me it was strange that Becky was not replying to my text messages," he said.