Chilling footage of killer Nathan Matthews in B&Q carefully choosing the circular saw he used to dismember his stepsister's body has been released.
The 28-year-old former Territorial Army soldier is seen pacing around, pausing and meticulously studying the different saws on offer at the chain store in Bristol before selecting an £80 MacAllister saw.
During the shopping trip - the day after Matthews allegedly smothered Becky Watts to death - he also bought gloves, face masks and goggles, totalling £88.40.
The CCTV footage also shows him querying the price of the saw with a member of staff at the checkout. But because he needed it that day he eventually paid the full price and left the DIY store.
Over the subsequent days, Matthews, allegedly with his 21-year-old girlfriend Shauna Hoare, made further shopping trips to buy black bags, rubble sacks, rubber gloves, tape and rolls of clingfilm.
Prosecutors say all these items were used by the pair to dismember 16-year-old Becky's body in the bath of their house in Cotton Mill Lane, Barton Hill, Bristol, after she had been murdered in the bedroom of her home on February 19 this year.
It is claimed that with four other people - Donovan Demetrius, 29, his brother Karl, 29, girlfriend Jaydene Parsons, 23, and James Ireland, 23 - they put the packaged body parts in a nearby garden shed.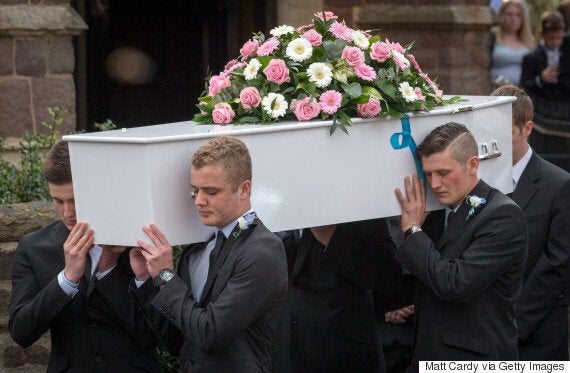 Becky's funeral took place in April
Matthews admits he killed Becky but insists Hoare had nothing to do with it and that he alone packed her body into the boot of their car and later dismembered her.
But prosecutors say the pair embarked together on a sexually motivated plan to kidnap and murder Becky.
Bristol Crown Court also heard that Becky's boyfriend, Luke Oberhansli, knocked on the door of her home after her death - while her body lay in the boot of Matthews and Hoare's Vauxhall Zafira parked on the drive.
Hours before she died, Becky texted the 18-year-old college student and told him: "I love you so much."
After sending several text messages to his girlfriend, which remained unanswered, Mr Oberhansli went to Becky's home, speaking to both Hoare and Becky's stepmother Anjie Galsworthy - Matthews' mother.
"They looked in Becky's room and she wasn't there, so Anjie said she would let Becky know I had knocked when Becky was home," he told the jury.
"I think Anjie said to me it was strange that Becky was not replying to my text messages."
Matthews and Hoare's next-door neighbour, Sarah Webb, said the pair were normally "very, very quiet" but described hearing noises coming from their house the night before Becky died.
"There was shouting and screaming between Shauna and Nathan," Mrs Webb said.
The following day, in the afternoon, Mrs Webb said she heard further noises from the property.
"There was lots of running up and down the stairs very, very quickly, banging, slamming doors, scraping, furniture being moved, a suitcase being rolled across a wooden floor which was upstairs," she said.
"It sounded like the bed was being lifted across the floor, like something heavy was being dragged. It was unusual, we never heard anything from them."
The court also heard the 999 call Becky's father, Darren Galsworthy, made to police reporting her missing on February 20.
When police visited their home they noted that Mr Galsworthy, his wife, and Matthews and Hoare, who were also present, "all appeared genuinely concerned about her disappearance and that it was out of character".
Matthews and Hoare helped in the search for the teenager by compiling a list of her friends, choosing a picture of her to use for an appeal on Facebook and answered police inquiries.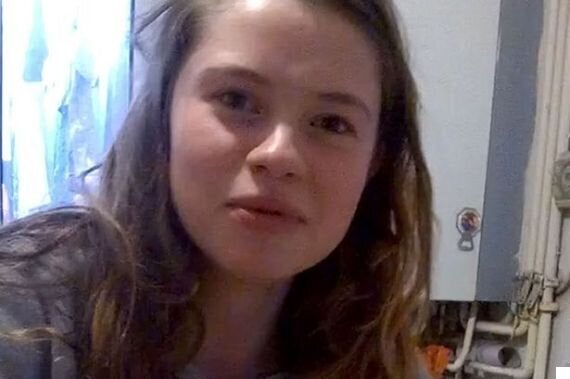 Becky Watts went missing in February. Her body parts were found in March
Detective Constable Clare French told the court of a conversation with Matthews: "He said about two weeks before they had been in the kitchen and they were bitching about Darren. Becky said that Darren had threatened to kick her out of the house.
"He advised me that sometimes Darren would overreact about things if he had a bad day at work.
"I asked if he got on with Becky and he said he did and he didn't. He said they clashed and Rebecca was very similar to Darren and was very quick to snap but Nathan thought that he and Rebecca had a normal relationship."
Hoare told Detective Constable Haley Matthews: "I remember she gave me a bit of background as regards to Rebecca Watts. She lost some weight and suffered from anxiety.
"She discovered at that point, being slim, she attracted more male attention and she didn't believe Rebecca was as shy as she made out and used her appearance to get what she wanted."
Matthews, of Hazelbury Drive, Warmley, South Gloucestershire, denies murder and conspiracy to kidnap.
He has pleaded guilty to perverting the course of justice, preventing burial of a corpse and possessing a prohibited weapon.
Hoare, of Cotton Mill Lane, Bristol, denies murder, conspiracy to kidnap, perverting the course of justice, preventing burial of a corpse and possessing a prohibited weapon.
Donovan Demetrius, 29, of Marsh Lane, Redfield, Bristol, and James Ireland, 23, of Richmond Villas, Avonmouth, each deny a charge of assisting an offender.
Karl Demetrius, 29, and his partner Jaydene Parsons, 23, both of Barton Court, Bristol, have pleaded guilty to assisting an offender after the teenager's body was discovered in their shed. Both maintain they were unaware of what the packages actually contained.
The trial was adjourned until tomorrow.
Popular in the Community