The mother of murder suspect Shauna Hoare joked with her that she was hiding from police because she had kidnapped missing teenager Becky Watts, a court heard.
Lisa Donovan became suspicious after her daughter began spending so much time at her home after having no contact with her for nearly four years following an argument over a car.
Mrs Donovan explained that Hoare, 21, and her boyfriend Nathan Matthews, 28, rang up out of the blue on February 23 – four days after 16-year-old Becky died – and arranged to visit that night. Becky Watts went missing in February. Her body parts were found in March
The pair – who deny murdering the student – called at Mrs Donovan's home in Southmead, Bristol, repeatedly over the following days, the Press Association reports.
Bristol Crown Court heard Mrs Donovan became suspicious and confronted her daughter after discovering she knew the teenager.
"I was joking because I found out she knew Becky," she told the jury. "I said 'I know why you are at my house all the time – because you are running away from the police because you kidnapped her'.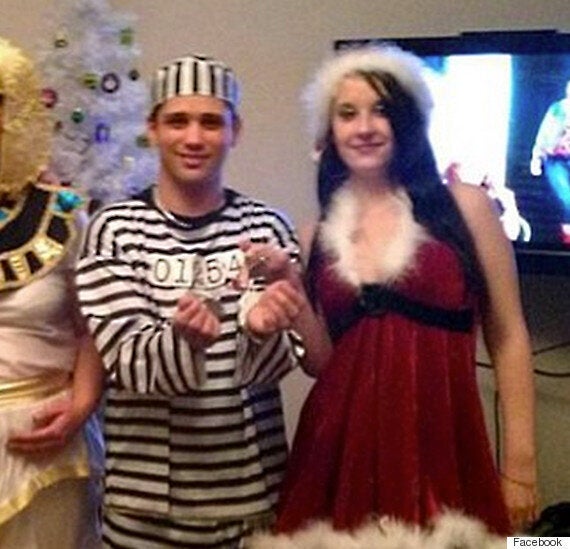 Nathan Matthews pictured with his girlfriend Shauna Hoare at a Christmas fancy dress party
"Nathan wasn't there. At first she just asked me how I knew she knew Becky. She said 'no'."
Mrs Donovan, a mother-of-eight, said she had earlier asked Matthews and Hoare about their sudden reappearance – thinking they had money worries.
"I asked if they were in trouble. They said no. They asked me why I asked and I said because I thought it may be money troubles," she said.
"They said no, there weren't no money troubles."
Mrs Donovan said Matthews was "very controlling" of her daughter and described the night the pair turned up out of the blue.
"Nathan was the same old Nathan. Shauna was what I was expecting. I hadn't seen her in years," she said.
"At the time I had seen her when she was with Nathan he was wearing her down and the time she came with Nathan she was down.
"She wasn't like what she was when she first met him. He was very controlling and she would shut up and get on with it."
Mrs Donovan told the court she was not happy when her daughter began a relationship with Matthews.
She said that when her daughter was 15, Matthews would make sexual comments and claimed Hoare would have to do him a sexual favour if she asked him to do anything.
Asked about that behaviour, Mrs Donovan replied: "I'm not sure whether it was a joke. I thought it was a joke when he made remarks to me but I was later told it wasn't."
Mrs Donovan added: "He seemed alright as a person but I didn't like him with Shauna.
"He just didn't seem to have changed one tiny bit. He was very flirty with everyone, sexually oriented, very overpowering.
"He would make sexual comments all the time. He rubbed himself against my other daughter.
"He was overpowering to Shauna. If she said something and he didn't like it, he would say no and she would immediately change her plans to go with him."
When asked if she was bringing up these observations now to help her daughter, Mrs Donovan replied: "Shauna is going to get what she gets. What I say is going to make no difference at all."
Mrs Donovan's partner, Kevin Stone, told the jury that after Hoare telephoned to arrange visiting, Matthews rang and asked for a favour.
"I thought it was a bit strange. He said 'If anyone comes for me can you tell them that we are going out for a meal because we are supposed to be going out with someone and don't want to'," Mr Stone said.
Prosecutor William Mousley QC asked whether they did go out that night.
Mr Stone replied: "No. We just stopped in."
Yesterday, a detective told the court that she had wanted to search Matthews and Hoare's home in Barton Hill, Bristol, that evening but the pair had said they were going out for a meal with Mr Stone and Mrs Donovan.
The pair stayed at their house on the night of February 27 and were arrested there the following morning on suspicion of kidnapping Becky.
"Me and Nathan were playing on the PlayStation 4 and there was a knock at the door and someone went to the door and the police were at the door and Nathan and Shauna were arrested," he added.
Matthews, of Hazelbury Drive, Warmley, South Gloucestershire, denies murder and conspiracy to kidnap.
He has pleaded guilty to perverting the course of justice, preventing burial of a corpse and possessing a prohibited weapon.
Hoare, of Cotton Mill Lane, Bristol, denies murder, conspiracy to kidnap, perverting the course of justice, preventing burial of a corpse and possessing a prohibited weapon.
Donovan Demetrius, 29, of Marsh Lane, Redfield, Bristol, and James Ireland, 23, of Richmond Villas, Avonmouth, each deny a charge of assisting an offender.
Karl Demetrius, 29, and his partner Jaydene Parsons, 23, both of Barton Court, Bristol, have pleaded guilty to assisting an offender after the teenager's body was discovered in their shed. Both maintain they were unaware of what the packages actually contained.