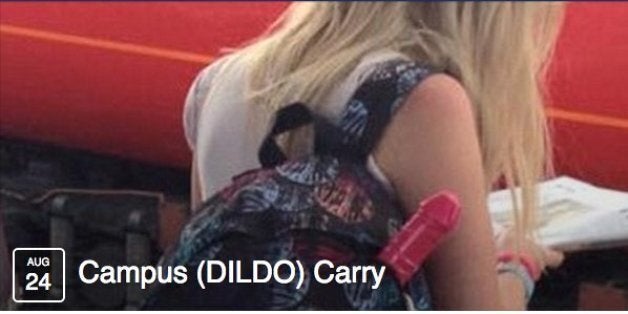 Hundreds of students in Texas are planning to strap dildos to their backpacks to protest against a new law which allows people to carry guns on campus.
Jessica Jin, a student at Austin's Texas University, launched the Facebook page 'Campus (DILDO) Carry' event to encourage her peers to campaign against the law, which came into place earlier this year.
Writing on the Facebook page, Jin says: "The State of Texas has decided that it is not at all obnoxious to allow deadly concealed weapons in classrooms, however it DOES have strict rules about free sexual expression, to protect your innocence. You would receive a citation for taking a DILDO to class before you would get in trouble for taking a gun to class. Heaven forbid the penis..
"Just about as effective at protecting us from sociopathic shooters, but much safer for recreational play."
Nearly 4,000 people have signed up to the event, which will take place on the first day of autumn term later this month. Although students were previously allowed to carry guns on campus, they were not allowed to take them inside campus buildings. Students will only be able to carry guns if they have a concealed carry license.
Even the University of Texas' own chancellor William McRaven has publicly expressed his opposition to the law.
The former Navy SEAL admiral, who led the raid which killed Osama bin Laden, told CNN: "I've spent my whole life around guns. I grew up in Texas hunting. I spent 37 years in the military. I like guns, but I just don't think having them on campus is the right place.
"I have been shot at before. And so I know what and how people react when they are being shot at. So if you aren't trained in that environment you probably aren't going to react the way people think you will react naturally.
However Allison Peregory, chairwoman of the Young Conservatives of Texas, added: "I don't think UT will suddenly become the Wild West with open carry and guns flying. It's not a foreign concept. Campus carry is not this new radical thought process."
Popular in the Community