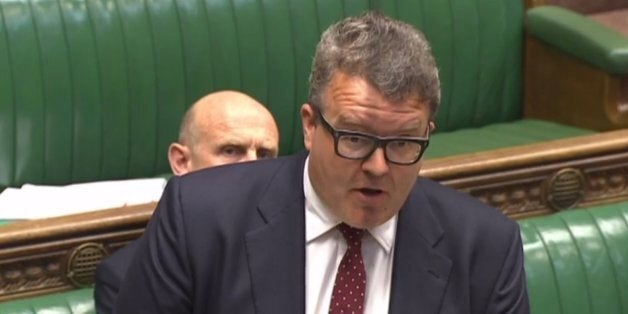 Labour's Deputy Leader Tom Watson today said all MPs needed to "examine their consciences" as he defended his role in the Leon Brittan sex abuse row.
Speaking in the House of Commons this afternoon, Mr Watson hit back at criticism over his role in the investigation into the former Home Secretary, who was accused of raping a 19-year-old student in 1967.
This morning, David Cameron said Mr Watson had to "examine his conscience" over whether his apology for repeating the claim Lord Brittan was "close to evil" went far enough.
Responding to a Point of Order in the Commons this afternoon, Mr Watson was defiant.
He told MPs "it was right to demand" the claims were investigated, and added: "Earlier the Prime Minister has said I should examine my conscience. Well I think we all need to examine our consciences in this House.
"We presided over a state of affairs where children have been abused and then ignored, dismissed and then distained.
"If anyone deserves an apology, it's them."
Cries of shame came from the Tory benches as Mr Watson sat down after delivering his short statement.
Mr Watson later faced a grilling on the Channel 4 News, where he again defended his actions and said it was "not unreasonable to expect the criminal justice system does its job".
Asked whether he would speak to Lord Brittan's family, he said he was "not entirely certain whether that would be productive" and also signalled he would not be apologising to them: "I need to be honest to myself and people. I believed I was helping victims have their voice heard. I don't want to cause more distress than has already been caused."
The Crown Prosecution Service found in July 2013 that there was not enough evidence for a prosecuting Lord Brittan, but the decision was never passed on to the peer.
The case was reopened last year after Mr Watson wrote to the Director of Public Prosecutions and Lord Brittan was interviewed under caution, when he was seriously ill.
"There has been a sea change in the climate surrounding rape, historic cases in particular. Why is it that the tide has not reached this case?," Mr Watson wrote.
Writing for The Huffington Post UK last week, Mr Watson detailed his position, writing: "In October 2012 I asked a question in Parliament about a network of paedophiles. An investigation into their activities had been closed down before reaching a conclusion. Two of them have now been convicted and they are serving long sentences. I have passed more information to the police since then and a third man has also been sent to prison partly as a result of this. My motivation throughout has been to help victims as best as I could.
"In 2014 I wrote to the Director of Public Prosecutions asking her to look into serious allegations that had been made against Leon Brittan. Let me set out as clearly as I can why I wrote that letter. I had been told of multiple allegations about Leon Brittan and I had met some of the people making those allegations at their request. I did not and could not know if they were true but I did believe their claims should be fully investigated.
"I felt the testimony of one of those people was particularly compelling. But it was for the police and the Crown Prosecution Service to reach a judgment on that after examining all the available evidence. That is the approach I have always followed when contacted by people who claim they are victims of child abuse or other serious sexual crimes.
"I have said in the past that I am sorry for the distress Leon Brittan's family experienced as they grieved for him. I still am. But I wanted the claims made against him properly investigated. I think most people would assume that when an individual is facing multiple allegations of sexual crimes from people who are independent of each other, the police would want to interview them. As it happens, I think that Leon Brittan would have been interviewed even if I hadn't intervened because the DPP made it clear in her reply to my letter that the police investigation into him was ongoing."
Popular in the Community