#NoBraDay is supposedly meant to raise public awareness about breast cancer, but not everyone is convinced that taking a nipple selfie is the best way to open discussion about a life-threatening disease.
The campaign has been slammed for "sexualising" breast cancer and "objectifying" women who take part.
Yet a lot of ladies are still keen to support the cause, posting images like this on social media:
It is unclear who started #NoBraDay and there doesn't appear to be a registered charity associated with the campaign.
However, a Facebook page named No Bra Day For Breast Cancer Awareness reads: "Ladies, free your breasts for 24 hours, our perkiness should not be hidden. It is time that the world see what we're blessed with.
"Your breasts might be colossal, adorable, miniature, full, jiggly, fancy, sensitive, glistening, bouncy, smooth, tender, still blossoming, rosy, plump, fun, silky, jello-like, fierce, jolly, nice, naughty, cuddly, sexy, perky, or drag the ground...YAY for boobies!"
Karen Dobres, who runs Loose Debra - a website featuring tips on how to look stylish while braless - does not think this Facebook page is the right way to raise breast cancer awareness.
She has a history of breast cancer in her family and finds the idea of #NoBraDay offensive.
"There seems to be a running theme this October, that as long as breast cancer awareness is mentioned, it doesn't matter what you do. The end (funding or added awareness) always justifies the means," she tells HuffPost UK Lifestyle.
"The writer appears to be very excited about the 'jiggly' nature of 'boobies'. I'm sorry but someone please tell me where taste and judgement come into this, because right now it sounds like a thinly veiled attempt to objectify women using the platform of breast cancer awareness. How low will we all sink?"
Dobres isn't the only one to criticise the campaign. Many others have accused #NoBraDay of "sexualising women" on social media.
The backlash against #NoBraDay comes after M&S's #ShowYourStap campaign - which encourages people to snap a selfie with their bra strap on display and donate £3 to cancer research - received criticism from breast cancer survivors who said the disease "isn't pink and fluffy".
Feminist blogger Louise Pennington notes that both campaigns "reinforce the hyper-sexualised objectification of women's bodies".
"Women are already perfectly aware of their risk of breast cancer. There are countless campaigns exhorting women to check your breasts and there are massive amounts of fundraising from Moonwalks to Asda's pink branded eggs," she tells HuffPost UK Lifestyle.
"Men are squealing excitedly on Twitter about the possibility of seeing erect nipples on #NoBraDay. They certainly aren't interested in breast cancer research or how many women die each year from it.
"And, let's be honest here, these men don't want to see images of women who have actually had breast cancer - of mastectomy scars, hair loss or grieving families."
She goes on to say that we'll only really learn more about breast cancer by listening to women speak about the disease.
"Going without a bra or posting pictures of erect nipples isn't the reality of breast cancer," she says.
"If people want to raise awareness, talk to the women who have experienced it. Share their stories, not porno-fied images of the bodies of very young, thin women."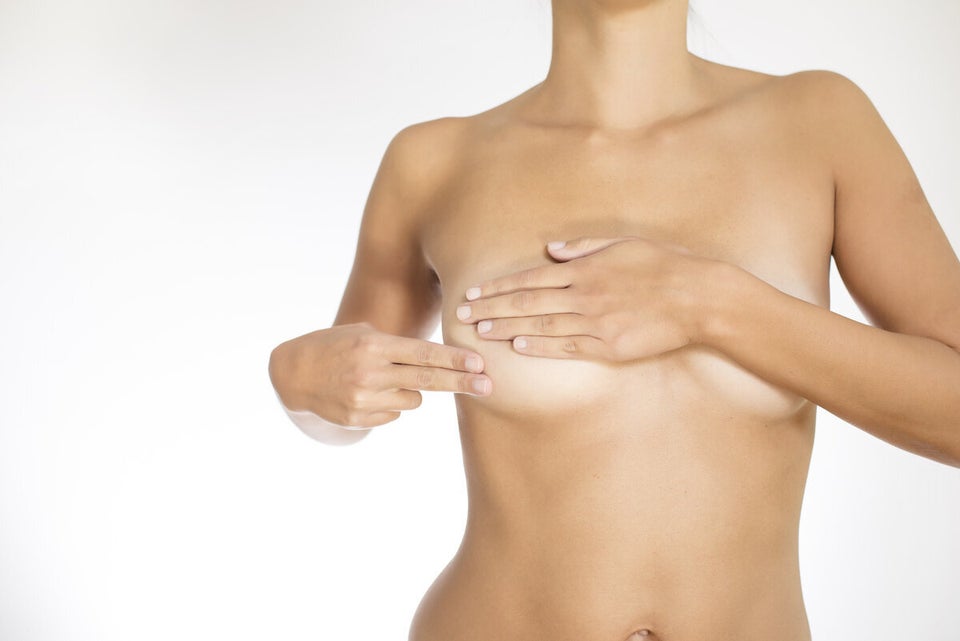 Breast Cancer Signs And Treatment