A YouTuber has gone to extreme lengths to prank his long-suffering girlfriend, releasing a video where he pretends to blow up their son.
Roman Atwood executed the deception by pretending that their child, Kane, was driving a quad bike which catapulted over a ramp before bursting into flames.
He meticulously executed the plan which lead his partner to break down in what appeared to be severe shock.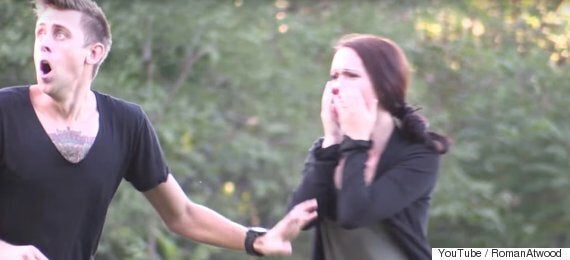 Roman Attwood and his girlfriend Brittney Smith, looking shocked as the quad bike crashes
The well-oiled plan began with Atwood creating a replica of Kane in dummy form and placing it onto the remote-controlled quad bike.
He then ushered his son to hide as his girlfriend, Brittney Smith, approached the scene.
Placing the dummy onto the bike, a bystander used the remote from a hidden location, speeding the vehicle off uncontrollably into the distance.
Smith screamed as her son appeared to zoom over a ramp and fly into an explosion, as Attwood held her back from the flames.
After the initial shock, Smith investigated the site and realised she'd been fooled. "It's not funny, that's not funny," she said as she kicked out at the YouTuber.
Attwood is no stranger to controversy and has previously attempted pranks involving his child.
Popular in the Community