A 103-year-old woman has proven that age is just a number when it comes to birthday outfits.
Mary Cotter celebrated her birthday in superhero style by rocking a Wonder Woman outfit, while volunteering at a elderly people's home.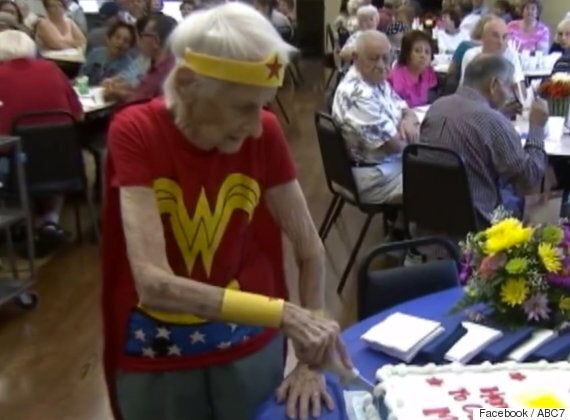 Mary Cotter celebrated in style
Cotter regularly helps out at the Montclair Senior Center, in California, and has been doing so for 25 years.
"They call me the barmaid because I'm serving drinks," she told a local news team.
The centenarian said that her outfit choice was a fitting gift from her friends, who describe her as a real life Wonder Woman.
It's not hard to see how Cotter has such a good reputation, and even at her grand age she drives to and from the center to help out five days a week, rain or shine.
When asked what the secret to growing old healthily is, she shrugged and replied simply: "Just keep busy I guess."
Cotter has always lived life to the full and in the 1930s, she helped her high school win the state swim championship.
During her 60s she went on to teach swimming to children and by her 90s she was helping rescue sea turtles.
While those who surround her marvel at her lasting energy, only Cotter remains unfazed by her years.