Holidays are coming! That's how you know it's nearly Christmas - the iconic Coca Cola advert with the rosy-cheeked Santa Claus comes on the TV, featuring the well-lit Coca Cola Christmas truck storming through a snowy village.
Well, the holidays have come a little early this year thanks to Lincolnshire pensioner Barrie Hall, who has converted his mobility scooter into a miniature version of the classic vehicle.
Barrie, 73, has been pimping his ride for the last eight months in between trips to the hospital to receive treatment for leukaemia.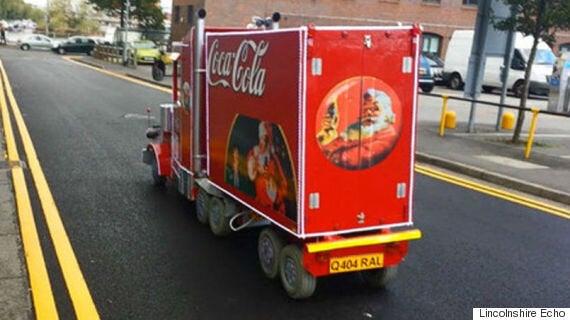 Living with leukaemia for the past five years, Barrie hopes his new ride will help him collect donations for cancer research charities.
"It has taken more the last eight months to get it finished and I have had the help of a lot of local companies who have been fantastic to me," he told the Lincolnshire Echo.
"I cannot thank them enough for their generosity. I want to raise awareness of Leukaemia and raise money for more research into the disease."
MKM Building Supplies Lincoln, T.R Weston & Sons Limited, Seacroft Mobility Limited and Showcase Signs all donated time and materials to help Barrie in his charity quest.
Barrie plans to travel around his local area collecting money for charity from November 4, so look out for him if you're in Lincoln.
Popular in the Community