In news that will probably not make you declare 'yippee-ki-yay!', a sixth film in the 'Die Hard' franchise is reportedly in the works.
Proving that sometimes you can have too much of a good thing, Deadline have reported that Bruce Willis is currently gearing up for 'Die Hard 6', which will see him once again taking on the role of John McClane.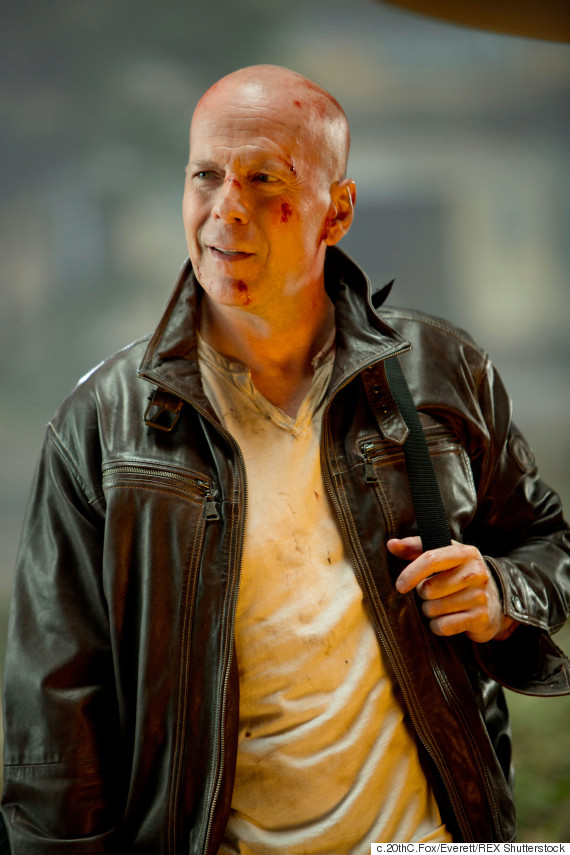 Bruce Willis in 'A Good Day To Die Hard'
Since the original 'Die Hard' film in 1988, you might think you've seen John McClane do it all - from death-defying stunts to tackling obstacles in his personal life, so surely there's nothing left for him to do, right?
Well, think again, because the new film will reportedly act as both a sequel and an origin story, with the tentative title, 'Die Hard: Year One'.
Deadline claim that "much of the action will be set in 1979", while also allowing scope for Bruce Willis to play the role he's become synonymous with over the past 25 years.
Unsurprisingly, film buffs on Twitter have had mixed feelings about the upcoming film, collectively branding it unnecessary because 'Die Hard', well, already is an origin story...
20th Century Fox: You know what the world needs? A Die Hard origin story.

The World: no we don't

— spooky potato (@guttersnipero) October 15, 2015
A Die Hard prequel. Because the first thing i thought when watching the film was "So why was the marriage struggling in the first place?"

— Paul Sinha (@paulsinha) October 15, 2015
I like Die Hard. Also, stop making Die Hard.

— DänielNöthing (@DanielNothing) October 15, 2015
Die Hard origin film?! They already did one, it was called Die Hard. The point of the first film is he was an ordinary guy in wrong place.

— Bessemer (@Bessemerband) October 15, 2015
Die Hard IS Die Hard Year One, ffs

— Robbie Collin (@robbiereviews) October 15, 2015
As has been pointed out by a few of you, the Die Hard origins movie has already been made.

It's called Die Hard.

— Den Of Geek (@denofgeek) October 15, 2015
I hope the Die Hard prequel dies hard.

— Hercules Mulligan (@cristela9) October 15, 2015
Meanwhile, other tweeters have at least tried to see the funny side, offering their own witty takes on what the new film could involve...
I like this idea of Die Hard 6 with Bruce Willis narrating a 1979 story, but only if it's set when he's 12 and done like The Wonder Years.

— Mark Millar (@mrmarkmillar) October 15, 2015
I think Die Hard 6 is being pitched as a prequel so we can watch Bruce Willis grow hair instead of the other way around

— Eric Vale (@ericvale) October 15, 2015
They're making a Die Hard prequel. Where a teenage John McClane goes on holiday to Frankfurt and annoys a young German waiter called Hans.

— Dave Turner (@mrdaveturner) October 15, 2015
Honestly, if we're doing a Die Hard prequel/origin movie, doesn't The Gruber Bros. make a lot more sense than John McClane?

— Eric Goldman (@TheEricGoldman) October 15, 2015
Closing moments of a Die Hard prequel pic.twitter.com/PJ90xu6mpK

— Celluloidical (@Celluloidical) October 15, 2015
If Die Hard 6 is a prequel, I hope it's just a quiet, character-study drama about the slow dissolution of John and Holly's marriage.

— Ken Tremendous (@KenTremendous) October 15, 2015
Wouldn't a DIE HARD prequel just be an hour and a half of John McClane being a pretty bad husband?

— Saladin Ahmed (@saladinahmed) October 15, 2015
The last 'Die Hard' film, 2013's 'A Good Day To Die Hard', centres around John McClane trying to bust his son out of a Russian prison, but inadvertently involving himself in a terrorist plot.
It was met by almost unanimously scathing reviews, with the New York Post claiming it was done "by the numbers" and Rolling Stone calling it, simply, "total crap".
LIKE US ON FACEBOOK | FOLLOW US ON TWITTER