The 'Deal Or No Deal' banker gave away £250,000 on Thursday, when pensioner Ann Crawford triumphed on the show.
However, her success didn't come easy, and a huge blunder almost saw her leave with nothing.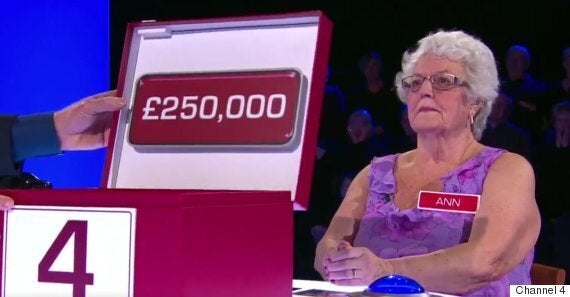 Anne nearly lost everything
By the time Anne had two boxes left, it was just the 50p and £250,000 boxes left, and the banker attempted to outsmart her, by making an unusual offer.
Unsurprisingly, Anne was feeling rather nervous and when the banker explained that if Anne agreed to swap her box for the other, he'd add £10,000 to the prize money, she attempted to decline, but stumbled on her words, saying "deal no", instead of "no deal".
Luckily, the banker was feeling uncharacteristically sympathetic, and asked the question again, to which she replied: "No deal."
It was then time for the big reveal, and a delighted Anne discovered that she'd been in possession of the £250,000 box all along.
Host Noel Edmonds congratulated the 75-year-old on her win, telling Anne: "This has been one of the most amazing hours of my whole life.
"It's an extraordinary game at the best and worst of times but then someone comes along and plays the game so much their own way that it literally takes your breath away."
Anne is just the eighth person to scoop the show's top prize in its 10-year history.
Popular in the Community