It was Charlize Theron's own idea to shave her head and transform herself into Furiosa, the great Amazonian warrior of the latest 'Mad Max' film, according to her director George Miller.
George, whose reboot 'Mad Max: Fury Road' brought the 36-year-old franchise kicking, screaming and air guitaring into the 21st century when it stormed the box office in the summer, tells HuffPostUK: "Charlize had the stature and the discipline. She was constantly saying, 'I'm not doing this like a girl, am I?' And then she made the decision to shave off her her hair. She decided her character wouldn't be messing about with her hair in the desert, so we thought, fair enough."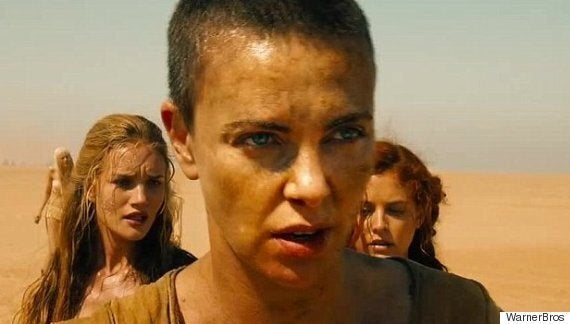 Charlize Theron transformed herself into Amazonian warrior Furiosa for 'Mad Max: Fury Road'
George Miller admits now that the last thing he felt like doing was another 'Mad Max' movie, but somehow the story for his reboot in 'Fury Road' just would not go away with ideas constantly popping in his head – "mostly on a long aeroplane trip from Los Angeles to Sydney, one long night. Two thirds of the final movie was written that night in my head."
Once he'd convinced himself to do it, the veteran director, whose debut was the genre-defining original 'Mad Max' but who eventually claimed an Oscar for the slightly less brooding 'Happy Feet', was able to recruit Tom Hardy, on form but nearly outgunned by the Amazonian Charlize Theron, plus a rictus-grinning Nicholas Hoult and a bunch of half-dead punks chasing them to anthems provided by a blind, deaf rock guitarist chained to the front of the pursuing vehicle. All of this is impossible to describe, you just have to see this extraordinary visual feast for yourself.
However, despite his complete vision for his fourth outing with the lone policeman turned post-Apocalyptic warrior, George Miller had two main concerns.
'Mad Max: Fury Road' is a huge, visual feast of a film, which brought its own complications during filming
"My biggest apprehension was safety," he tells HuffPostUK. "This is not a movie which defies the laws of physics. It has real people in real cars crashing in a real desert.
"Doing that for 138 days in a remote South African desert is like a military exercise and, somewhere deep down in the pit of your stomach, you're thinking to yourself, 'If we're not on top of this, we could lose someone.'
"Fortunately, we had veterans who'd done the Olympics in Sydney and Beijing, keeping everyone safe. There were endless meetings preparing for stunts, but…" he knocks on the table… "touch wood, no broken bones."
George admits his other anxiety was something which turned out to be the backbone of the film, its deceptively simple narrative, of one group of people chasing another group across the desert in a straight line.
"It meant you're relying on very small moments and the audience to pick up the characters, the back story, the world and all the detail on the run," he explains.
"You don't have time for expository dialogue, which is often boring anyway, and you don't know until the whole of the mosaic is put together whether that's been effective, which is quite late in the experience. But you have to trust the process."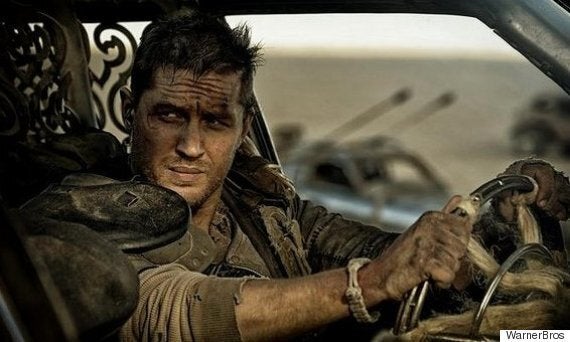 Tom Hardy replaces Mel Gibson in the title role for this fourth outing
Fortunately, the reviews and the ticket sales, when they came in, vindicated every decision. George smiles. "I couldn't believe it. I thought those critics… they completely got inside my head, and saw what I was trying to do."
It's been nearly four decades since George steered an almost unknown Mel Gibson on a tiny budget, on location in Melbourne University car park on a quiet weekend. But it seems his capacity for storytelling remains undimmed.
"That's habitual, ever since I was a kid," he reflects. "If I'm a guy with a wheelchair, in a nursing home, staring at the ceiling, that'll be all I can do.
"The great wonder here was to be able to revisit this kind of action movie with the new technology, with agile cameras, so small, so cheap, and with much higher resolution. That was a treat."
Coupled with this is surely his own canniness, hard-earned wisdom shared by his veteran directing peers Clint Eastwood, Ridley Scott, Martin Scorsese? George chuckles and refers to his favourite Kiwi rugby player as an example.
"There is a kind of efficiency when you've done it enough," he agrees. "Richard McCaw is 34, possibly the greatest player who ever lived, and one of the things that makes him great now is he knows where to put the effort.
"When I made Mad Max 1, there was a lot of energy expended, a lot of young men's fluff. Hopefully there's less of that now."
'Mad Max: Fury Road' is now on release on Blu Ray, Blu Ray 3D, DVD and 4film anthology.
Popular in the Community