Third-year student Teriba, who is a member of the NUS' black students' committee, and a gay rights campaigner, posted a statement on her Facebook page announcing her resignation from the roles, alongside a confession.
"At this year's NUS Black Students' Conference, I had sex with someone," Teriba wrote. "The other party later informed me that the sex was not consensual. I failed to properly establish consent before every act. I apologise sincerely and profoundly for my actions."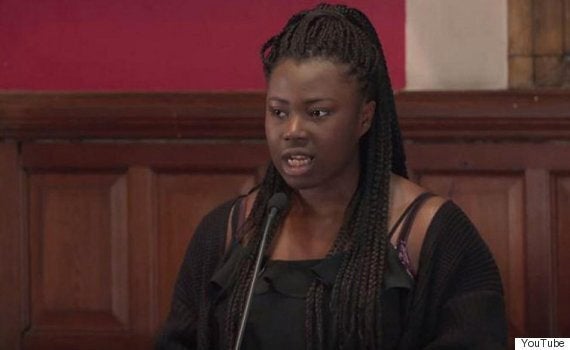 Annie Teriba speaking at an Oxford Union debate
She added: "In a separate incident, in my first year of university, I was alerted to my inappropriate behaviour whilst drunk in a club, where I had touched somebody in a sexual manner without their consent. Therefore this is not an isolated incident. I apologise sincerely and profoundly for my actions."
Now, an anonymous online post, claiming to be written by Teriba's alleged victims says the assault on one of them at the NUS conference was in fact rape.
Posting on Tumblr, the pair claim they cajoled Teriba into releasing a statement about her actions, but that the Oxford student later changed the statement they had agreed upon and "tried to paint herself as the victim".
"It took approximately three weeks for the statement to be finally released, which shows Annie has been hell-bent on dragging out this ordeal for us," they wrote.
"In the original drafts of both statements, the word 'rape' was included in the trigger warning, and was later on included in the first paragraph of the second statement, as the survivor was very insistent about this," the statement reads. "The survivor was told from intermediaries that if the statement contained the word "rape", the police would be prompted to investigate, and that there would be potential legal implications for all parties involved.
They also claim Teriba avoided using the word rape due to "potential legal implications".
"Whilst both the survivors had limited knowledge on such legal implications, Annie had the upper hand with more knowledge due to prior events at Oxford, so we reluctantly decided to compromise and allowed for the word 'rape' to be omitted, because we did not want the police to get involved."
The statement continues: "Whilst we absolutely believe she must be held accountable, we have little faith in the police and 'justice' system, and we are sadly all too aware of how very few rape and/sexual assault cases actually result in convictions.
"Reporting rape & sexual assault can be very difficult, intrusive and triggering- all at the risk of not achieving the desired outcome..
"However, let's be clear: Annie Teriba is a rapist. After having experienced flashbacks and connecting to their conscious memory, the survivor was able to piece together the events in a more coherent manner, and would like it to be known that Annie Teriba committed two counts of rape in the most recent incident her statement refers to."
Thames Valley police declined to confirm if they were investigating allegations of rape or sexual assault by Teriba. Oxford University and Teriba's college both declined to comment.
Oxford's student union have been contacted for comment but have yet to reply. Teriba could not be reached for comment.
Rape Crisis services for women and girls who have been raped or have experienced sexual violence - 0808 802 9999
Survivors UK offers support for men and boys - 0845 122 1201
Popular in the Community