The five things you need to know on Thursday October 22, 2015...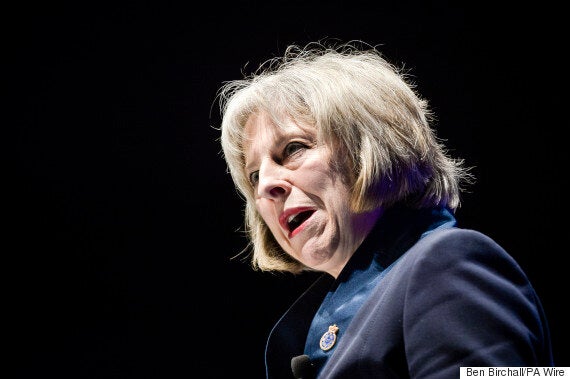 While the PM is set to host President Xi at Chequers (and accompany him on a fish n chip sesh), Theresa May is doing the most political heavy lifting today. Speaking to the National Black Police Officers Association, the Home Secretary will say that four forces - Cheshire, Durham, Dyfed-Powys and North Yorkshire - do not have a single black officer of African-Caribbean origin.
But it's her direct attack on Britain's most senior policeman that really catches the eye. In words briefed overnight, Mrs May will slam Bernard Hogan-Howe's claims that cutting stop and search had led to a rise in knife crime.
The Met Commissioner said this summer that "If we are getting to the stage where people think they can carry knives with impunity, that can't be good for anyone." But Mrs May will say it is "simply not true that knife crime is rising because the police are no longer stopping and searching those carrying knives".
The May v Boris leadership prism is never far away either. Her speech raises the prospect that she could overrule Bojo in reappointing Hogan-Howe for a fresh three year term. And the top cop is backing a legal challenge against Home Office cuts. Will this end up as a zero-sum game or is there a way out for both of them?
It's getting close to crunch time in the great Commons v Lords tax credits row. Molly Meacher caved to pressure and Labour has a 'poison pill' motion that may or may not prove workable. And now the Lib Dems have a full-fat, no-holds-barred 'fatal motion' down for a vote next Monday.
David Cameron issued his own storm warning yesterday. He signalled that he was prepared to flood the Lords with Tory peers, declaring Jacob Rees-Mogg had made an 'important point' in raising the issue of the Grey and Asquith plan to create scores of Liberal peers way back in 1911. The PM made a Back to the Future gag in PMQs, but lots of Tories are muttering darkly that the Lords risks a serious backlash if its oversteps its powers.
Minister had been quietly satisfied that they'd seen off the worst of the Lords threat once the Meacher and Hollis motions emerged. But that Lib Dem fatal motion tabled yesterday reignited the whole issue. The ball is firmly in Labour's court now: will they swallow their pride and whip their peers to back the Lib Dem motion? Given how important 'usual channels' and informal conventions are in the Lords, will Baroness Smith want to do something Jeremy Corbyn has vowed not to do: press the (constitutional) nuclear button? The Lib Dems think their motion will force ministers to retable the statutory instrument in the Commons and simply keep the pressure on. But even Speaker Bercow warned the Commons will have to 'look after ourselves'.
As it happens, Labour and the Lib Dems teamed up effectively in the Lords last night to defeat the Government on plans to cut onshore wind subsidy. Before the defeat, Tory peer Lord Bourne issued his own warning about breaching the Salisbury-Addison convention on peers not overturning manifesto policies, adding ominously that that would be "a very serious pivotal moment for the House of Lords."
But Labour's Baroness Smith was on the warpath herself. Referring to HuffPost's report that the Tories are even thinking of suspending the Lords in retaliation for any tax credits block, she told peers last night: "That is nothing short of outrageous and appalling. Parliament does not belong to the Government." Baroness Jay writes in The House magazine this week that many Labour peers are 'downcast' about the Corbyn leadership, but on tax credits the party is more united than ever. Let's see how it holds up.
The Guardian reports that Cameron faces further challenges beyond the Lords vote on Monday. The work and pensions select committee is to hold an evidence session from leading experts from the Institute for Fiscal Studies and Resolution Foundation. The Times sniffs the first differences between No.10 and No.11 on tactics, with Cameron's team hinting at extra help for the worst affected. Is it just a coordinated 'good cop, bad cop' routine?
In the old days, the sad news of an MP's passing would at least allow a week's, or several days', grace before anyone publicly mentioned the B-word. But in this internet-frenzied, 24-hour world, Michael Meacher's death prompted pretty swift speculation about a by-election in Oldham West and Royton. What used to be said only behind closed doors by party strategists is now discussed by academics and pollsters on social media.
On the face of it the seat has a substantial Labour majority of 14,738 from May. But UKIP will be hoping that it can turn its distant second place into a shock victory. Could it pull off another Heywood and Middleton-style scare? The two seats are pretty similar in many ways (and not far apart). Without being too crude about it, the Asian vote has long been pretty solid Labour, but the white working class vote has had a temptation to flirt with something different, from the BNP to UKIP.
It may be too soon in Jeremy Corbyn's leadership but don't forget that for some Labour MPs the loss of a safe Labour seat to UKIP would be valuable ammo in any attempt to oust him. Dan Jarvis is very much not on manoeuvres, but I recall that during our HuffPostLive event at Labour conference he said Ed Miliband would have faced 'a lot of pressure' if he'd lost Heywood last year. A win in Oldham would also give Farage the perfect boost for his Brexit campaign.
What critics see as the Corbyn disconnect with working class voters was underlined for several Labour MPs by the appointment of Seumas Milne as his strategy and comms chief. And the unease continues. One senior Labour source told me yesterday that Milne repeated specific phrases that only Moscow uses on international affairs.
The Sun meanwhile reports on Guardianista discontent, citing columnist Suzanne Moore saying "This is a man who can't speak to me and pretends I am not there, when I am. I f***ing hate these public school leftists. C*** central. Bye bye Labour". Robert Harris tweeted: "Council-house born. Comprehensive-school educated. Voted Foot, Kinnock. But not for private-school apologists for IRA and Stalin. Sorry". Some Corbynistas think that in fact their straight-talking opposition to Tory cuts and defence of workers rights and tax credits will play well with core voters. Milne and Corbyn will have their first test in Oldham, whenever that byelection is called.
BECAUSE YOU'VE READ THIS FAR...
4) FEAR 'N' LOATHING IN WEST LOTHIAN
At around 11.30am, Chris Grayling will outline plans to change Commons standing orders to make 'English votes for English laws' a reality. But his solution of adding an extra committee stage to bills for English - or English and Welsh - MPs has left few happy. To be fair to the Leader of the House, this was a hospital pass from William Hague who left behind a thin plan that offers more scrutiny but nothing like a veto for non-Scots MPs. This morning, Graylo was telling the Today programme that the reforms will let English MPs 'control their destiny' more.
The SNP still hate it because they argue it creates two classes of MPs, Tory radicals think it's not so much EVEL as downright benign. Labour's Chris Bryant (fresh from telling John Hayes to 'grow up' on live telly yesterday) says this is a ridiculously complex solution that will politicise the Speaker as he has to decide which bill is eligible for the reform. The infamous West Lothian Question (why should MPs in a devolved nation vote on matters that are devolved?) isn't getting a straightforward answer, that's for sure.
As well as unhappy MPs, the Tories are facing unhappy peers. Crossbencher Lord Butler last night lambasted the Government for not taking up an offer by the Lords to create a joint committee with the Commons on the issue. He claimed the Lords had not experienced such a rebuff for 104 years.
And former Tory Cabinet Minister Lord Forsyth added the Government's approach was a "scandal of the first order". "I am coming to the conclusion it doesn't matter a damn what I say, it doesn't matter a damn what this House does - it's just going to be ignored and the Government will charge on regardless." Forsyth even had an Alfie moment last night: "I wonder why are we here, what are we doing at 8.40pm, what is the point?" We may find that out next week...
The Guardian had the scoop last week that junior doctors are claiming Jeremy Hunt misled Parliament with repeated references to 11,000 weekend deaths being down to too few medics on duty.
Today, it and other papers seize on the latest embarrassment for the Health Secretary as the editor of the British Medical Journal (BMJ) says he misrepresented key findings about death rates. Fiona Godlee took issue with him repeatedly claiming that there are 11,000 "excess" deaths among such patients within 30 days of their admission, and blaming that on understaffing at weekends.
Hunt quotes a Bruce Keogh study but critics point out the study itself said it would be 'rash and misleading" to conclude that an exact number of the deaths could have been avoided. Ben Gummer has been defending his boss, saying there's other independent evidence. It's all a salutory lesson in 'evidence based policy': has a massive organisational change been based on a flawed understanding of statistics?
Meanwhile, there's more trouble for Hunt over the 'sugar tax' report. Andrew Tyrie wants it published, while Boris has signalled he was 'on a journey towards backing a tax', the Times reports. The Mail suggests Cameron has been 'got at' by the food lobby.
The PM's Sunday Trading gung-ho remarks at PMQs have emboldened critics such as David Burrowes. This morning, he has blogged for HuffPost on why David Cameron is wrong.
If you're reading this on the web, sign-up HERE to get the WaughZone delivered to your inbox.
Got something you want to share? Please send any stories/tips/quotes/pix/plugs/gossip to Paul Waugh (paul.waugh@huffingtonpost.com), Ned Simons (ned.simons@huffingtonpost.com), Graeme Demianyk (graeme.demianyk@huffingtonpost.com) and Owen Bennett (owen.bennett@huffingtonpost.com)
Popular in the Community