A masked-murderer in Sweden who killed two people at a school on Thursday has been identified as Anton Lundin Pettersson as police confirm the attack was "racially motivated".
The 21-year-old, who was wearing A Nazi helmet and what appeared to be a Star Wars Darth Vader mask, was shot dead by police after stabbing four people at Kronan school in Trollhattan, with a sword, killing a 17-year-old male and a teacher assistant.
The student has been named by local media as Ahmed Hassan. The teacher is said to have been Lavin Eskandar.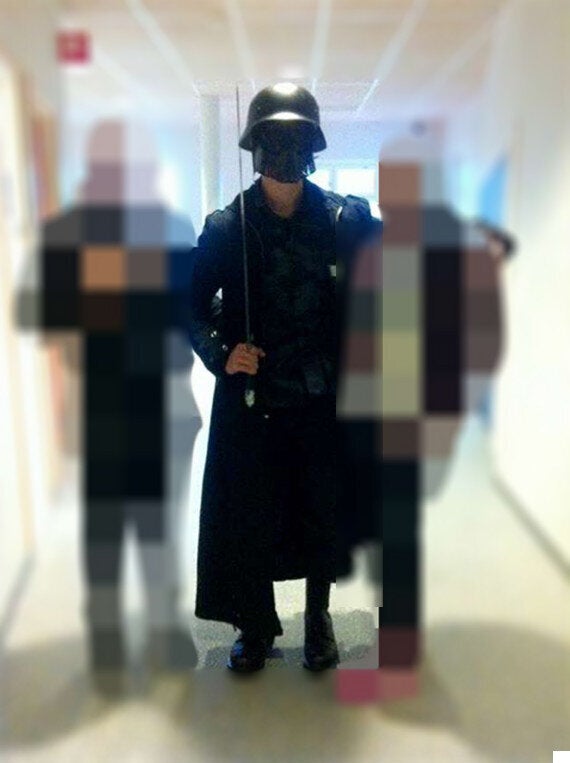 A photo made available to Dagens Nyheter shows the assailant posing with students in the hallways prior to his attack
A day before his attack, he 'liked' the song When Evil Speaks by the Belgian electro-industrial group Suicide Commando and he also watched a video collage of Nazi military footage from the Second World War.
A 14-year-old boy and a 41-year-old teacher remain in hospital in critical condition after the incident near Goteborg, Sweden's second-largest city, which is the deadliest incidence of school violence for more than half a century.
"We can confirm that this was a racially motivated hate crime partially because the man chose his victims based on the colour of their skin," Police Chief Niclas Hallgren told Swedish public service radio. "We have reached this conclusion based on what we found when we searched his apartment and his behaviour during the act, and also on the basis of how he selected his victims."
Police had earlier said they were able to piece together the killer's movements "by following the blood on the floor" that dripped from his weapon - Pettersson is thought to have carried more than one weapon, including "at least one knife-like object".
Before launching the killing spree, Pettersson posed for pictures with students who reportedly assumed he had dressed up as a Halloween prank.
Prime Minister Stefan Löfven called the attack "a black day for Sweden" and added that it was "a tragedy that hits the entire country".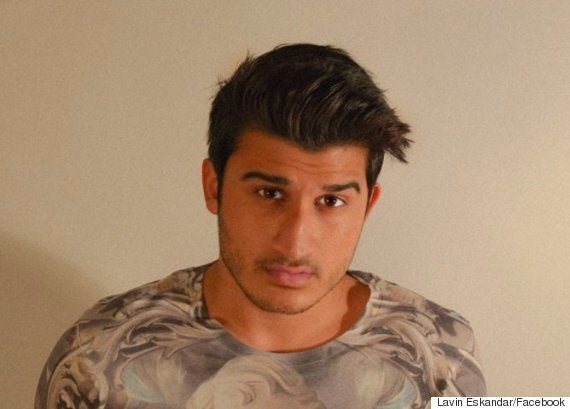 One of the victims has been named as teaching assistant Lavin Eskandar
He said: "My thoughts go out to the victims and their families, the students and staff, and the whole community that has been affected.
"No words can describe what they are going through right now."
Löfven cancelled his scheduled programme and rushed to Trollhättan where he placed a bouquet of roses outside the front door of the school. He has reportedly declined to comment on Swedish media reports that Pettersson had right-wing sympathies, saying that police were still trying to establish his profile.
On Thursday evening, dozens of people gathered to pay their respects outside the school, whose 400 students range in age from pre-school to high school, many of them the children of immigrants.
Anti-racist organisation Expo, citing reliable sources, said it knew the identity of the attacker, who "during the past month showed clear sympathies with the extreme right and anti-immigration movements", The Guardian reported.
The newspaper quoted Fourteen-year-old student David Issa who said he saw Pettersson stab his teacher while he was sitting at the school's cafe.
He said: "This guy came up who was wearing a mask and carrying a sword and he stabbed my teacher. I panicked and ran away."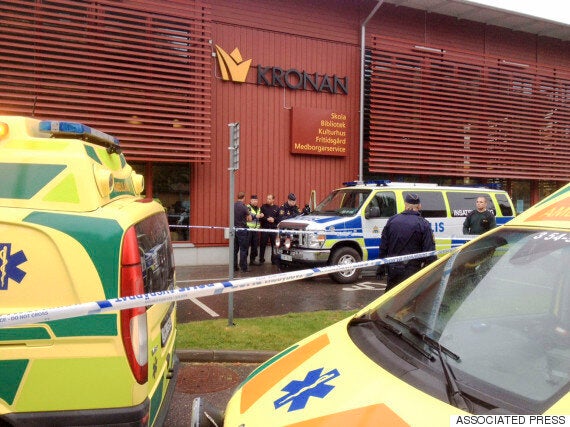 Emergency services at the school on Thursday morning
Ahmed Hadi, a 25-year-old mathematics teacher at the school, said: "I saw a masked man wearing black clothes coming up the stairs, he was carrying a sword covered with blood.
"He moved to another classroom. The kids were scared. We turned the lights off, and put desks behind the door. We asked the kids to sit down and be calm. They're only 10 years old," he said. Pettersson was shot by police in the hallway outside Hadi's classroom.
The newspaper also quoted Amal Ahmed, who said her seven-year-old daughter has been terrified by the horror she witnessed.
Ahmed said: "My daughter ... has been crying and talking the whole day about the blood she saw," she said. "We are from Iraq. We left our country for security here in Sweden. We don't want violence, especially for our kids," she added.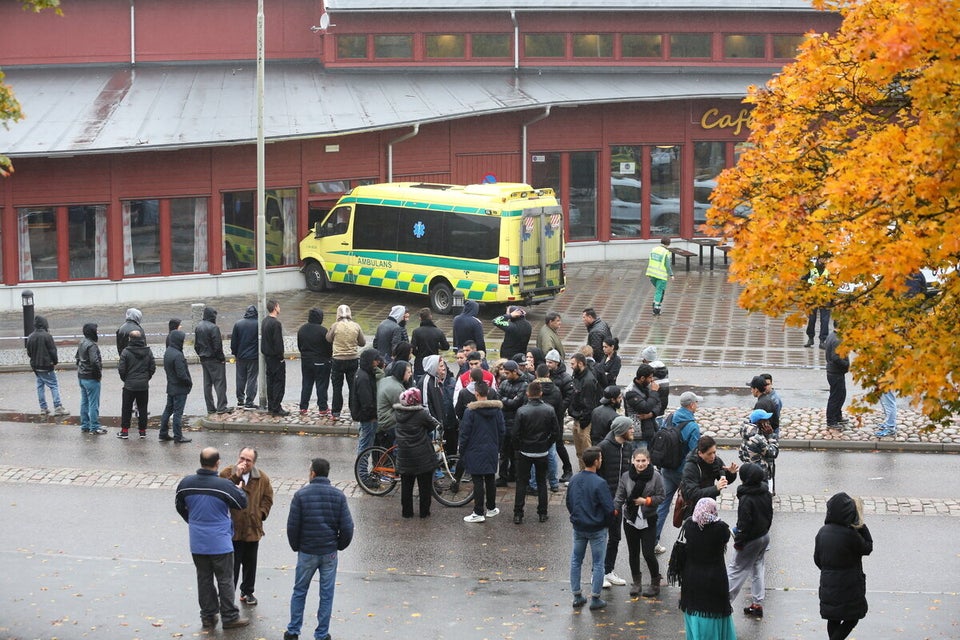 Sweden School Attack
Laith Alazze, a 14 year-old student at the school, on Thursday told how he thought Pettersson had dressed up for Halloween.
"One of my friends walked over to him to challenge him, but when we saw he stabbed him (the teacher), we ran away," Alazze told Sweden's TV4.
Another student, Sara, who took a photograph with the attacker said she had no idea that the blood on the large knife he was holding was real, The Telegraph reported.
"You are scaring the children, get away from here," she reports her teacher telling the killer.
"He just nodded, then he plunged the knife into the teacher's right side," she said. "The last thing I heard him say was 'call an ambulance'".
"After that he hunted us through the school. He was playing strange music and didn't say a word. It was terrifying music, sort of Halloween music."
Dr Lars Spetz of Norra Alvsborgs Lanssjukhus hospital which treated the casualties, told reporters the wounded teacher had been stabbed in the abdomen while the two students were stabbed in the abdomen, liver and chest.
The attacker, who was also at the hospital, had gun wounds to his lower chest, he said.
Swedish media have reported that the school held a meeting Thursday morning to discuss teachers' worries that the school was too open, with a cafe for adults that meant the school could not control who comes in.
Popular in the Community