So, Facebook is changing things, again. This time, it has everything to do with your notifications.
In an effort to make the app more personalised, the social media giant is rolling out a feature that will allow you to get more updates from pages you've liked, friends and location-based information including weather conditions and local eateries.
The update will be good news for the social bunnies among us who are constantly on Facebook to check-in, RSVP to events, and wish friends happy birthday.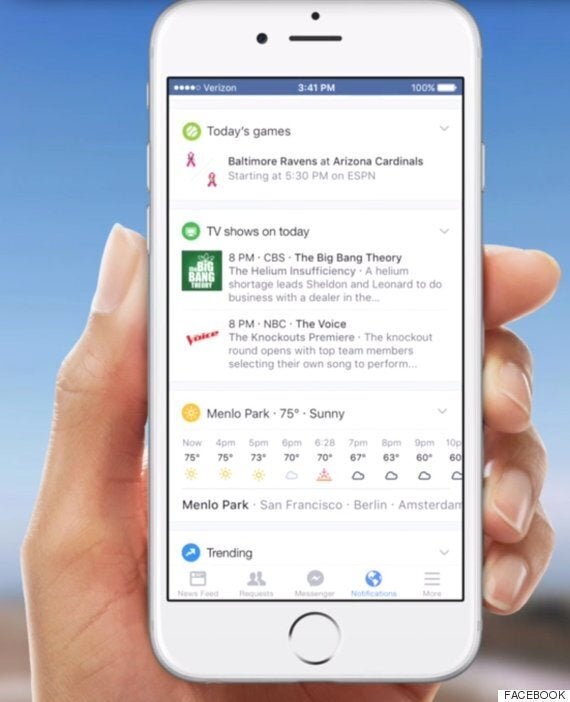 Each reminder will appear in the form of a card, telling you if your favourite team has an upcoming game or if a public figure, whose page you've liked, is appearing at an event.
According to Mashable, 15 different cards will should appear in your notifications tab, giving you more options to scroll through including friends' life events and new movies in local theatres.
However, in order for the location-based alerts to work, you will need turn on your location history -- a relief to those of you who don't want Facebook tracking every move you make.
The cards aim to move the social media platform closer towards having its own personal assistant.
While the cards are an entirely separate entity to M -- Facebook's hybrid personal assistant service that runs using both AI and real human operators -- it definitely places the platform on the same playing field as Apple's Siri and Microsoft's Cortana.
For those of you who are averse to having your phone go off every time someone celebrates a birthday, Facebook says these new features can be modified in settings.
The "personalised options" will gradually roll out for Android and iPhone in the US and you should be able to opt out of the endless card list by tweaking your settings. Cue sigh of relief.
Popular in the Community