Halloween is almost here, which means people across the globe are using orange gourds to show off their witty, artistic sides. Here's a collection of the funniest and most impressive pumpkins we could find:
The Donald Trump:
My mother is a very skilled pumpkin carver and does about 100-200 pumpkins a year. A friend gave her this idea and she had to do it.
Or, the Trumpkin:
View post on imgur.com
Aaaand Trumpkin Mark III: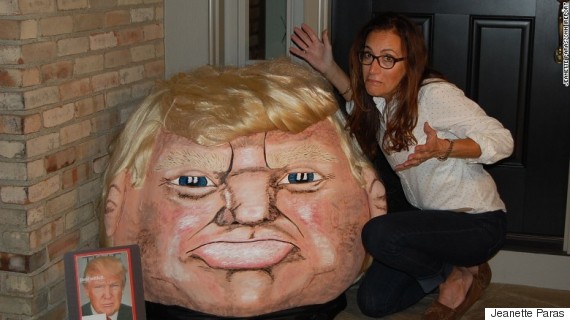 The Harry Potter Patronus Pumpkin:
Expecto Pumpkin! pic.twitter.com/SuwIiD8vmA

— The Boy Who Lived (@HalfBloodTweet) October 27, 2015
The Face Swap:
View post on imgur.com
The Millennial Horror:
Scariest Halloween pumpkin ever pic.twitter.com/suYtol35iM

— Relatable Quotes (@RelatableQuote) October 21, 2015
The viral internet cat Lil Bub:
I'm sorry but I'm really proud of my Lil Bubkin.
The Pugkin:
Move over Jack-O'-Lantern, the Doug-O'-Lantern is in town! Download the pumpkin stencil: https://t.co/Xd8LG5wgn2pic.twitter.com/R65mg3frwd

— Doug The Pug (@itsdougthepug) October 26, 2015
The Bernie Sanders:
Not my design but can be bought for $3 with instructions for carving craft or real pumpkin at http://etsy.com/shop/custompunkinstencils
The Cannibal Pumpkin:
View post on imgur.com
Or The Zombie Pumpkin:
My friend made this. She found the big pumpkin that looked wierd and turned it into a zombie.
The Partick Thistle Mascot:
Scariest pumpkin carving goes to #GFOP Joshua Watson for his rendering of Partick Thistle's mascot, Kingsley. pic.twitter.com/haGTKGCqao

— Men in Blazers (@MenInBlazers) October 26, 2015
The Star Wars:
BB-8 by Brittain C Scott
My BB-8 Pumpkin (idea from CaptCash)
The Gamer Geek:
Light it up - check out the #BlackOps3 pumpkin carving from @riseofthejack: pic.twitter.com/qR864WykS9

— Call of Duty (@CallofDuty) October 27, 2015
The Lonely Island, based on this viral YouTube hit:
Proud of my submission for the office pumpkin decorating contest today
And obviously we thought we'd throw our hat in the ring with a spooky pumpkin:
Our effort for #Halloween this year... pic.twitter.com/arulbvj1S4

— HuffPost UK Comedy (@HuffPostUKCom) October 27, 2015
SEE ALSO: