Ricky Gervais may have offended half the A-listers in the room on the three occasions he previously presented the Golden Globe Awards, but it seems they're ready for some more, with the comedic all-rounder warming up for his fourth stint at the podium.
Ricky Gervais says of his Golden Globe hosting duties: "It's not a spectator sport"
This may come as a surprise to readers of his blog following his last outing, when he wrote in 2012: "Thank f**k that's over. I've told my agent to never let me be persuaded to do it again though. It's like a parachute jump."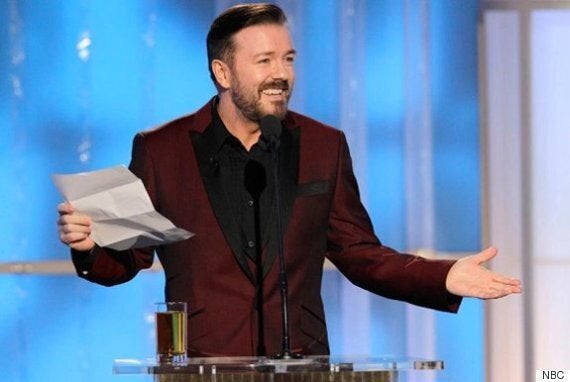 Ricky has offended a few, but delighted many, with his balloon-pricking hosting of the Globes
It seems the man is for turning, with NBC chief Robert Greenblatt confirming Ricky's booking for the next event in January 2016, with his warm appreciation for the "disarming and surprising" host, telling viewers to "fasten your seatbelts".
Ricky was on duty for the years 2010 to 2012, during which time he managed to offend most of Hollywood's elite, famously telling them on his first crusade, "Looking at all the wonderful faces here today reminds me of the great work that's been done this year… by cosmetic surgeons."
And he poked their self-importance, saying, "Actors aren't just loved here in Hollywood, they are loved the world over. You could be in the third world and get a glimpse of a Hollywood star and it could make you feel a little bit better. You could be a little Asian child with no possessions and no money. But you could see a picture of Angelina Jolie and you'd think, 'Mummy!'"
2011 saw him take on Scientology, with the veiled comment about the film 'I Love You Phillip Morris': Jim Carrey and Ewan McGregor, two heterosexual actors pretending to be gay. So the complete opposite of some famous Scientologists, then. My lawyers helped with that joke."
"I'm acting for the bloke watching at home"
His third outing in 2012 saw a remarkably toned-down Ricky on display, although he did take a pot-shot at Jodie Foster's sexuality, and also Madonna's personal life, something the pop star swiftly dealt with. "Ricky, if I am just like a virgin why don't you come over here and do something about it?" was her response.
"It's part of my responsibility as a comedian to say exactly what I want, not even what I believe. A lot of jokes are lies. You credit the audience with enough intelligence for them to know what's based in truth, what's being honest, what's being reflective, what's satirical, what's ironic, and what's being silly, naughty and stupid, and when you're being the butt of the joke.
"Outside that, you make certain decisions, do I pander to the 200 people in the room or the 200 million watching at home? No contest. It's not a spectator sport. If they wanted somebody to do more mutual backslapping to these most privileged people in the world, then get someone else."
Of course, the situation is made more complex because Gervais is one of those 200 special people himself, with a fortune bursting with Office royalties, homes on both sides of the Atlantic and a speed-dial that now takes in half of Hollywood. He doesn't pretend anything else for a minute.
"It looks like I'm pretending to be this Christ-like figure who goes in there and pricks the bubble of pretension. I'm like them! I am them! A lot of them are my friends. I admire a lot of them, and a lot of the times, I feel as spoilt as they are.
"When I'm the comedian on stage, I'm playing a role, I have to be the outsider. I can't go, 'hey, great doing that film together, see you after for a drink.'
"I'm acting for the bloke watching at home."
The last couple of years have seen Tina Fey and Amy Poehler take on the role, with their wit and inequality-aware slant catching the zeitgeist of Hollywood's current discomfort over differing salaries and treatment of women in the industry. Tina Fey's most memorable remark last year came courtesy of George Clooney and his lawyer wife Amal...
"Amal is a human rights lawyer who worked on the Enron case, was an advisor to Kofi Annan regarding Syria and was selected for a three person U.N. commission investigating rules of war violations in the Gaza Strip. So tonight her husband is getting a lifetime achievement award."
Ricky Gervais will be in Golden Globe Award action on 10 January 2016.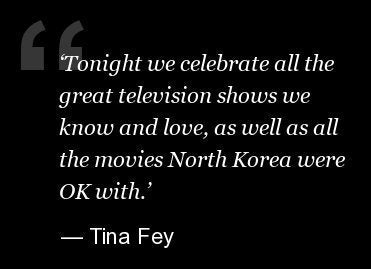 Tina Fey and Amy Poehler Golden Globes jokes
Popular in the Community