Finding out you have cancer is a daunting experience, and the last thing anyone needs is the added stress of feeling insecure about what they look like.
The appearance related side-effects of chemotherapy can be demoralising and feel overwhelming, taking their toll on self-esteem and confidence.
That's why we've enlisted the help of cancer beauty experts, charities and bloggers who've been through it themselves to share their top skincare, nailcare and makeup tips to keep you looking and feeling your best.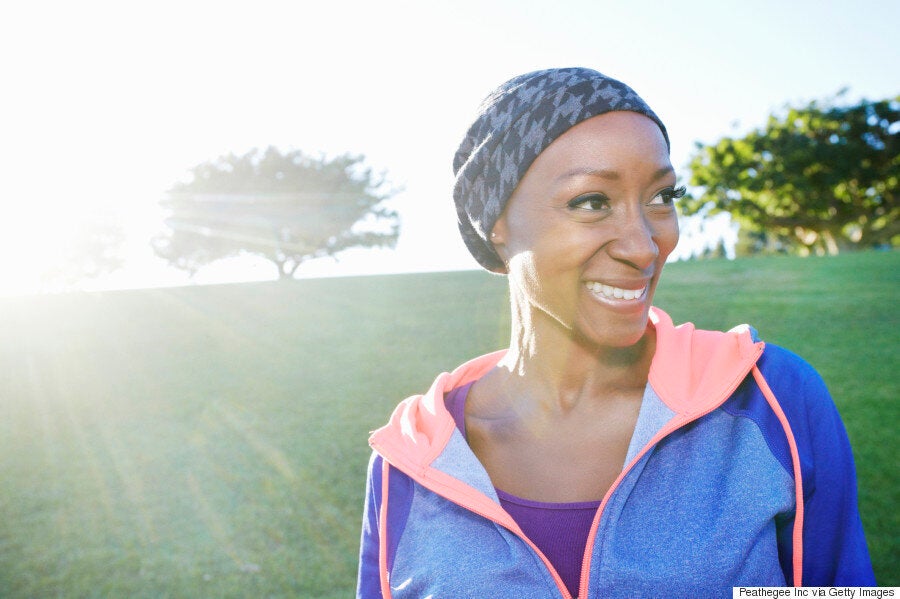 Look Good Feel Better is an international cancer support charity that provides practical support for women and teenagers struggling with the visible side effects of cancer treatment.
Their free skincare and makeup workshops and masterclasses are held all over the UK for people undergoing treatment for any type of cancer. They offer two-hour sessions led by trained beauty volunteers who share tips and techniques to help with eyebrow and eyelash loss and changes to the skin.
As skin will often be much drier during treatment, Look Good Feel Better recommend a skincare routine involving products suitable for sensitive skin like a gentle cream cleanser, followed by a rich moisturiser.
"Look after your skin," advised Look Good Feel Better spokesperson Carly Boyt. "It is under attack from chemotherapy drugs, the hospital environment, the hard time you are giving yourself and your stress levels.
"A full skincare routine is ideal, but if you don't have the energy, choose to do whatever you can."
The charity also advise that nails need extra care and protection when going through treatment, as they're 10 times more absorbent than skin.
"It's a good idea to carry a hand cream with you and make sure you apply it every time you wash your hands and before you go to bed," they suggested.
Jennifer Young, the woman behind the Defiant Beauty range and author of Beauty Despite Cancer, has a new book, Recognise Yourself, which offers a brilliant beauty guide for those going through cancer treatment.
Some of Young's advice for nail care can be found in the image below: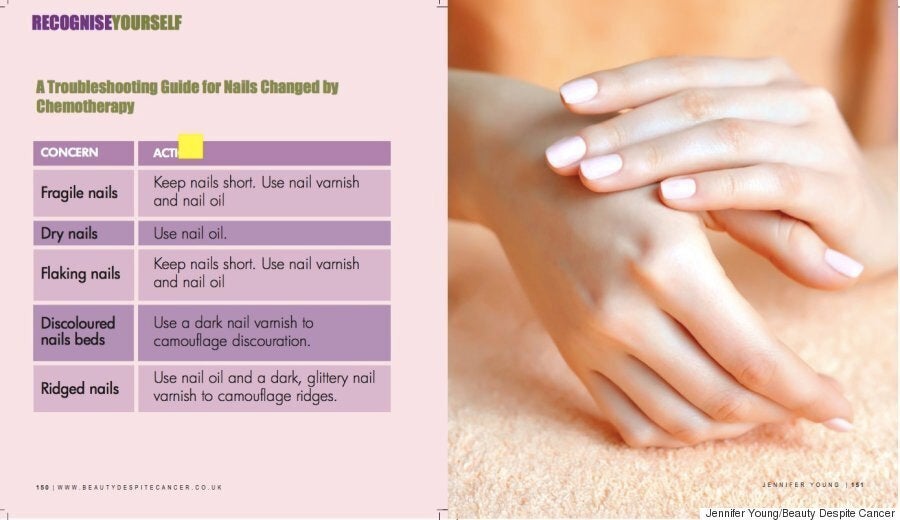 Young told HuffPost UK Style her top tip is to be kind to yourself during this difficult time.
"We all have a tendency to be critical of the reflection we see in the mirror and those going through treatment are no different. My number one tip? Give yourself a break," she said.
"Being self-critical is counterproductive. Be kind to yourself if you see your reflection (many of those going through treatment will avoid their reflection). Don't expect more than is realistic given your current circumstances."
Young's book, Recognise Yourself is available now from Amazon.co.uk.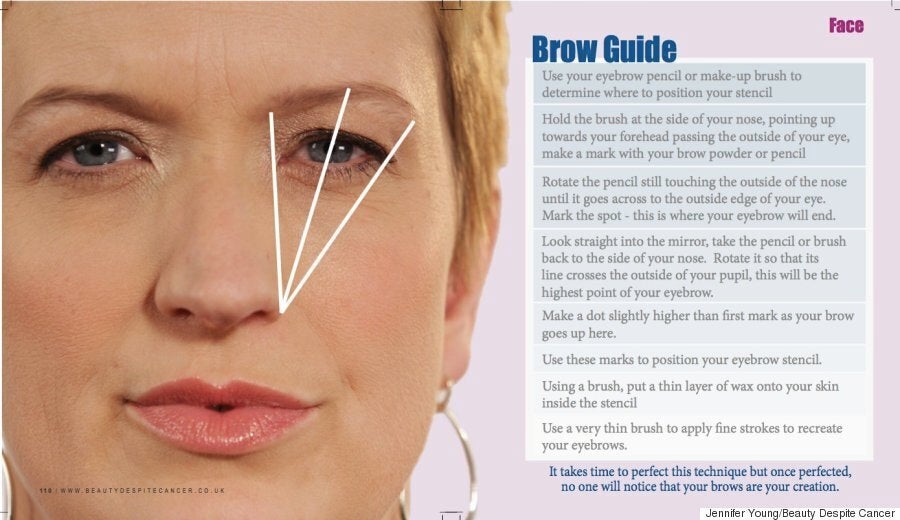 Brow grooming advice from Recognise Yourself by Jennifer Young
Makeup artist Andrea Pellegrini, who underwent chemotherapy for breast cancer, set up her YouTube channel Baldly Beautiful to help other women feel better about themselves.
Her beauty vlogs provide advice for "ladies having chemotherapy who want to look and feel glamorous", and cover everything from smokey party eye makeup to how to tie a headscarf.
"Whilst going through chemo your skin does actually look quite glowy, they call it 'chemo glow' and it looks really clear and smooth," she told us.
"However it can end up looking a bit red and puffy from the steroids or, like me, very sallow and yellow."
To counteract the high colour, flushing and blotchiness chemotherapy can cause, Pellegrini recommends using a green colour corrector.
"Boots No7 do a great one," she advises.
Apply a very small amount to effected areas before your foundation, and remember - a little goes a long way.
For sallow-looking complexions, Pellegrini uses colour correctors in more peachy tones, alongside skin brightening products, such as highlighters from Benefit, or MAC Strobe Cream, for a subtle glow.
1. Eyebrow pencil and powder.

My favourite products for creating brows are MAC Eye Brows, Maybelline Eyebrow Satin (a double ended stick with pencil on one end and a shadow on the other), Benefit Browzings or Barry B Brow kit.

2. A good bronzer.

To give life, depth and colour to cheeks. A bit of lightly applied bronzer can do wonders to sculpt puffy steroid cheeks too. Try Mac Refined Golden or Bourjois Maxi Delight Bronzer.

3. A cream or powder blusher.

To give sallow skin a lift, try a pretty pink colour applied on the apples of the cheeks. Bobbi Brown and Max Factor do great cream blush. Try MAC or Sleek for powder.

5. A high quality lip balm.

As your lips can get very dry. Try Forever Aloe Lips, MAC Lip Conditioner or Elizabeth Arden 8 Hour Cream.

6. A bright lipstick - orange, red or pink.

My favourite and absolute essential. Once the eyelashes go and the eyes are watery and irritated, the only thing you can do to brighten up the face is put on some bright lippy -always guaranteed to cheer you up. Try MAC, L'Oréal and Kate Moss Rimmel London lipsticks.

7. Water resistant mascara.

While you still have lashes, but your eyes are watering. Don't go for waterproof as these can be hard to get off and could take off what little eyelashes you have left. Great brands to try are MAC, L'Oréal, Maybelline and Chanel. Once the eyelashes are growing back, but are uneven and short, Younique 3D Fibre Lash mascara is amazing.

8. Water resistant liquid eyeliner pens.

eyeliner can help to define and shade the eyes, creating the appearance of eyelashes that may have been lost through treatment. You may want to use a cotton bud to blend the line, giving a softer effect. Mac and Maybelline make great ones.

9. Oily makeup remover.

To take off your eye makeup easily without breaking lashes. The best one I've tried is from Boots Simply Sensitive range, it's cheap too.

10. Black nail varnish.

To protect your nails from discolouring and coming off. Of course, for some people this doesn't always work but for most it does help. I found Sally Hansen excellent as their polishes are colour and treatment in one bottle.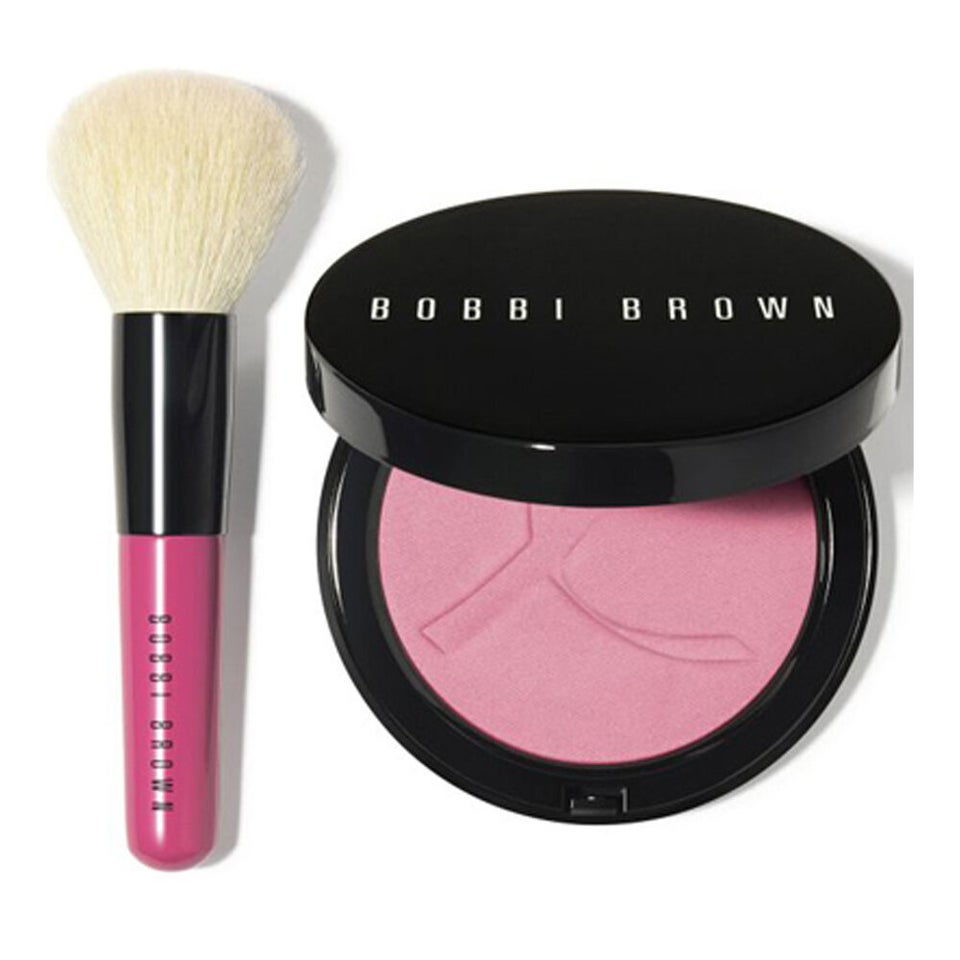 Breast Cancer Awareness Beauty Buys 2015
Popular in the Community