The tale of 'Doctor Foster' and her cheating husband thrilled 10 million of us this autumn, and fans will now be delighted to hear that a second series could be on the way.
Actor Bertie Carvel, who played adulterous Simon Foster on the hit BBC drama, has hinted that there may be more of the story to tell, after his character left his wife to start a new life with his pregnant mistress.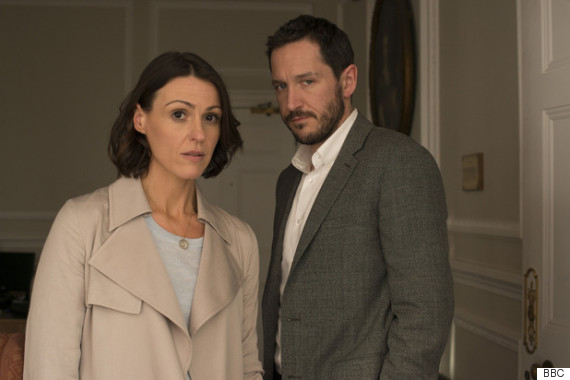 Surrane Jones and Bertie Carvel in 'Doctor Foster'
"I'm sure those conversations will be had at the Beeb, given the numbers," he told Digital Spy. "Whether or not [a second series] will come to pass, I don't know."
Of why the show resonated so well with the viewing public, having been the biggest new BBC drama of the year, he added: "It's an experience that I would imagine is unfortunately close to a lot of people, and so it's relatable, it's well-written, it's well-acted, it's brilliantly directed and it's made with huge passion by the producers.
"For all those reasons, I'm not surprised it's been successful."
The show also received a wealth of positive reviews from critics during its five week run, with Suranne Jones' performance as wronged wife Gemma particularly singled out for praise.
HuffPost UK's Entertainment Editor, Caroline Frost, also hailed the writing of the final episode, which saw Gemma reveal her knowledge of Simon's affair to him and his mistress at a dinner party hosted by her parents.
"After the Pinter-esque pain of the opening dinner party scene, where every single line threatened to pull another pin out of the grenade, writer Mike Bartlett gave us a thrilling, unravelling ball of revelations, one bombshell after another," she wrote.
"As for Gemma, well, she lost her husband and her friends, but she got to keep her son, her house, her GP licence and, finally, some dignity - which, after all the dramas, shocks and disasters of the preceding weeks, could be considered a victory.
"In opting for a calmer fate for all involved, with no boiling bunny for us to deal with, Mike Bartlett perhaps sensibly reminded viewers that, ultimately, the best revenge is moving on and living a good life."
LIKE US ON FACEBOOK | FOLLOW US ON TWITTER