A New Zealand rugby fan is being lauded for the lengths he went to in an attempt to bring good luck to his team ahead of last weekend's Rugby World Cup semi-final - living off only officially licenced All Blacks' products for a day.
In a "patriotic quest" not dissimilar to that of another Kiwi hero, Frodo Baggins, Calum Henderson set off to recharge his "essential passion for the fern".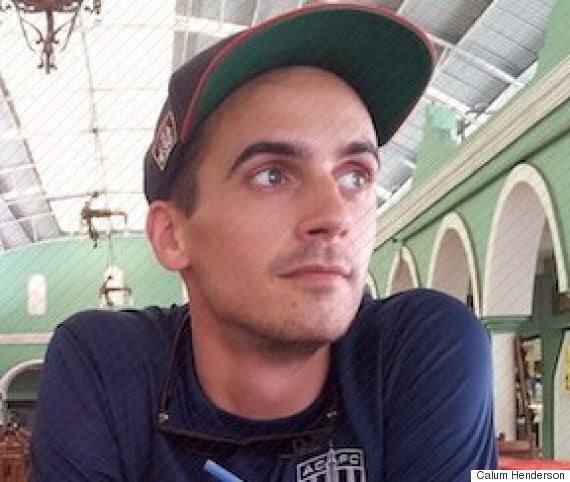 In an attempt to bring good luck to the All Blacks Calum Henderson spent a day surviving on only officially licenced products
In an article for The Spinoff Henderson opened up on how following the All Blacks 1995 World Cup loss a "cold indifference towards our national team took hold and embedded itself deep in my psyche".
In an exorcism of sorts, Henderson fully immersed himself in the brand - something that was relatively easy, as the team is often accused of being corporate puppets.
Before beginning his tribute, Henderson said he pictured himself "living lavishly, diving like Scrooge McDuck" into a fine array of AB's endorsed super-foods and drink. However, the reality was somewhat different. The All Blacks might have a mythological presence on the paddock, but the products that bare their name are sadly quite ordinary.
Henderson purchased the following items from his local supermarket - all of the All Blacks branded products available (other than All Blacks Rugby Nappy Prints which were surplus to requirements) - Whittaker's Peanut Slab (3-pack); Anchor Blue Milk (1.5L); Weetbix (750g box); New Zealand Kettle Korn (1 bag); All Blacks Micro-Figures (3); Powerade Black Storm (750ml); Steinlager All Blacks 2015 Edition Beer (12-pack, cans).
The journalist's day started with ASB bank's ABS Blend coffee, which it was giving away for free. Henderson delivered a cup to his girlfriend bedside. She noted it "smells quite bad, but it tastes quite nice". When she asked what it was, Henderson "beamed 'All Blacks'".
Unaware of his All Blacks themed shop she asked if there was toast for breakfast. There wasn't. However, Henderson told her there was Weetbix. The All Blacks have a long history with the brand.
After opening the All Blacks figures "to cheer myself up", at 10am Henderson opened the Weetbix and was delighted to learn its manufacturer, Sanitarium, still challenged its customers with the slogan, 'How many can you do?' - the punchline of a classic Kiwi commercial that featured former All Black star Tana Umaga.
In The Spin Off he wrote: "As a youngster I always found it massively empowering to know that I could 'do' at least as many Weetbix as an All Black, if not more."
Henderson downed five but felt he should of tackled the meal with more heart - pushing past fullness. In sporting terms he calculated, the effort would be considered "playing within myself".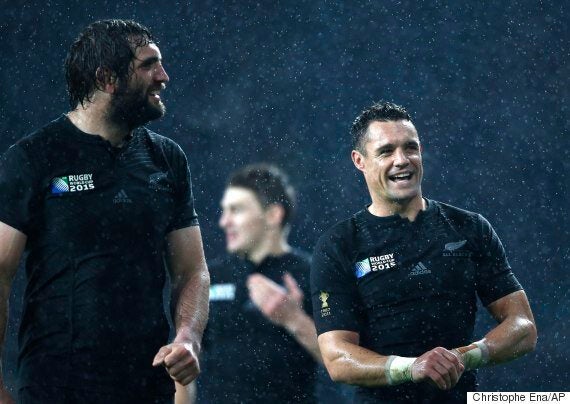 Daniel Carter, right, and Sam Whitelock leave the field after the All Blacks Rugby World Cup semifinal victory over South Africa
The breakfast was complimented with lashings of All Blacks-backed milk. Henderson chose a bottle with the number 9 on it which he took to be a tribute to halfback Aaron Smith who wears that number on his jersey.
"The bottle's muscular black design seemed, in some abstract way, to embody Aaron Smith's unique spirit," Henderson wrote.
By midday Henderson was down to a single Peanut Slab and the bag of kettle korn. His quest "beginning to feel like the 40 Hour Famine".
Two hours later Henderson was hungry again, but sidestepped his girlfriend's suggestion to go to a restaurant that offered "special black bread" noting that it seemed like some "rogue piggybacking on the sacred All Blacks brand".
Instead Henderson opened the Steinlager beer and watched rugby highlights. Six beers later and "too rarked up" Henderson yielded to his girlfriend's next suggestion - Wendy's - a fastfood chain - which had a black burger called the 'Kiwi Classic'.
Remorse soon set in. Of the burger, he wrote: "To put it simply, the Kiwi Classic was a disgrace. It was obvious that it wasn't an officially licensed product. The black brioche bun was more of a granite grey. The egg was revolting. The lettuce, a joke.
"No All Black would ever eat this."
At kick-off Henderson brewed the bank-backed All Blacks coffee to "to repent, to seek forgiveness from the official sponsors", and downed a full plunger. At half-time he made more, pausing a few moments to read the back of the milk bottle. A 100-word essay entitled 'Farming All Blacks" offered some sage advice - "possession is everything". At that stage the AB's were literally kicking away their World Cup chances out of frustration at not being able to break the Springboks line.
Perhaps Henderson's quest had paid off.