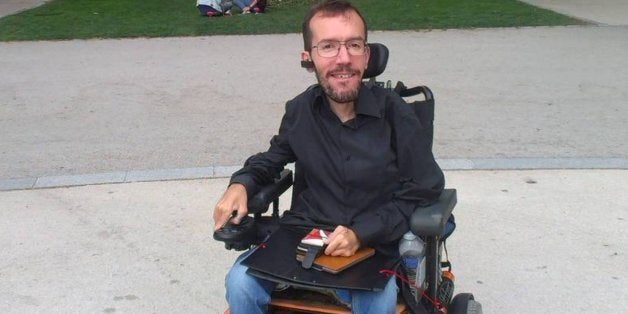 Leading scientists, artists and writers could be put off from visiting the UK because of how long it takes to get a visa, a disabled MEP forced to cancel a speaking engagement has warned.
Pablo Echenique Robba, who suffers from spinal muscular atrophy, was due to speak at University College London earlier this week.
The MEP, who represents left-wing Spanish party Podemos in Brussels, has to travel with his Argentinian-born wife as she is also his carer.
But the process for getting his wife, Maria Alejandra Nelo, a visa for the three day visit dragged on for so long he was forced to cancel the trip.
UCL also spoke out against the process, warning it could lead to a "great loss for academic life" in the UK.
Speaking to The Huffington Post UK from Spain, Mr Robba, who is a respected physicist, said: "I can't imagine that a guy who is going to give a talk for three days in London spending three weeks trying to get a visa.
"How do writers present books, how do artists present their works, how do scientists present papers?
"People that have choices to say go to a conference in London or go to Berlin, they wouldn't go through the process."
He added: "I understand the government might want to prevent people entering as a tourist and staying in the country. I understand. I can understand you might want to be careful about security risks. But I don't understand how this can be the solution.
"If someone is planning a terrorist attack in London these people are precisely the people who will go thought the whole process."
In a blog post, Mr Robba detailed the visa application process, and said he spent "endless hours" filling in a ten-page form – including detailing every trip in and out of your country of residence in the past ten years.
He wrote: "After this extremely important and exciting task (I estimate it took me at least a whole afternoon – and remember this is for a three-day trip, and I do have a day job), you must pay £85 (more than the price of my wife's Ryanair ticket) and book an appointment at your closest 'visa application centre'.
"Wait – a visa application centre? Yes, and in Spain there is only one. It is in Madrid, more than 300km from where I live.
"The whole thing - trip to Madrid included - can take up to three weeks.
"But only if you need to keep an eye on costs; if money is no object, then I have some good news: for a not-so-small fee, another private company can speed things up for you."
Ms Nelo would have required a Standard Visitor Visa in order to come to the UK, which in 98 per cent of cases takes 15 working days to process if applying in Madrid.
Dr Claudia Sternberg, Acting Deputy Director of UCL's European Institute expressed her concerns over the visa rules.
She said: "As a university institute, we are worried. If it is this difficult for academics or potential speakers of high calibre to get visas to come to the UK, they will go elsewhere to present instead. This would be a great loss for academic life and public debate in the UK."
A Home Office spokesperson said: "All visa applicants are considered based on their individual merits and in line with immigration rules."
Popular in the Community