Blackpool has been named as the worst place for dangerous drinking in England.
The popular stag party town tops a list of places in the UK where people are admitted to hospital due to excessive drinking.
Last year alone, more than 1,200 people per 100,000 in Blackpool needed treatment due to excessive alcohol consumption.
Stoke-on-Trent, Sunderland and Norwich also feature in the top five on the list.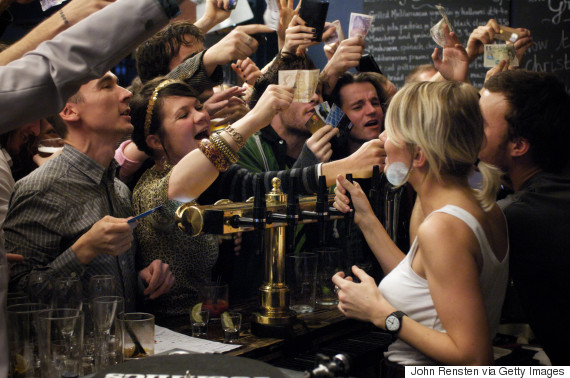 The startling figures were shared by Labour MP Liam Byrne.
"Booze abuse costs Britain a staggering £21 billion a year," said Byrne, according to The Telegraph.
"These shocking figures expose just where our problem's biggest. We've got to now make sure councils and health chiefs have proper plans in place to put treatment in reach of drinkers needing help," Byrne added.
"No one should suffer with alcohol addiction alone."
SEE ALSO:

Study Investigates What Happens When You Quit Booze For A Month

New Guidelines Say You Should Ditch Alcohol To Reduce Dementia Risk
Binge drinking is a huge problem in this country. According to a report issued in 2014 by the World Health Organisation, Britain is among the worst in the world for binge drinking.
Out of 196 countries examined for heavy drinking, Britain came 13th ahead of Estonia, Ukraine and Hungary.
The government advises that men should not regularly drink more than 3-4 units of alcohol and women should not drink more than 2-3 units of alcohol.
Binge drinking for men equates to drinking more than 8 units of alcohol – or about three pints of strong beer - and for women it equates to drinking more than 6 units of alcohol - equivalent to two large glasses of wine.
According to DrinkAware, getting drunk can affect physical and mental health in many ways.
Accidents and falls are most common because being drunk affects balance and co-ordination.
"In extreme cases, you could die. Overdosing on alcohol can stop you breathing or stop your heart, or you could choke on your vomit," reads the site.
Binge drinking can affect a person's mood, memory and can lead to serious mental health problems. It's also associated with anti-social, aggressive and violent behaviour.
The top 50 towns and cities for dangerous drinking in England are:

1. Blackpool

2. Stoke-on-Trent

3. Sunderland

4. Norwich

5. Middlesbrough

6. Gateshead

7. Salford

8. Nottingham

9. Barrow-in-Furness

10. South Tyneside

11. Burnley

12. Newcastle-under-Lyme

13. North Tyneside

14. Chesterfield

15. Wakefield

16. Kingston upon Hull

17. Wigan

18. Manchester

19. Torbay

20. Wirral

21. Wolverhampton

22. Newcastle upon Tyne

23. Tameside

24. Hartlepool

25. St. Helens

26. Halton

27. Coventry

28. Liverpool

29. Gloucester

30. Derby

31. Islington

32. Redcar and Cleveland

33. Knowsley

34. Blackburn with Darwen

35. County Durham

36. Bradford

37. Stockton-on-Tees

38. Dudley

39. Doncaster

40. Bristol

41. Lancaster

42. Oldham

43. Darlington

44. Ashfield

45. Corby

46. Rochdale

47. Hyndburn

48. Sandwell

49. Carlisle

50. Amber Valley