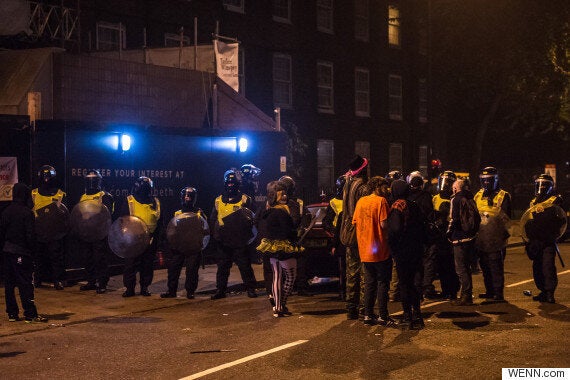 Hundreds of riot police guard the streets after the disorder in Lambeth
Bangers were also thrown, a male was seen letting off a fire extinguisher and bins were set alight on some surrounding streets.
Riot police, with dogs and shields, were seen drawing their batons against a charging crowd.
Rubbish bins and a fridge were also set ablaze.
Four officers were treated at the scene for injuries and a number of arrests were made.
The Met Police said in a statement: "The disorder and criminal damage around the venue has stopped.
"There are no further reports of officers injured at this time. There is one report of a member of the public, a man, being treated by London Ambulance Service."
The event had been advertised on Facebook with 4,000 people saying they would attend.
The rave was finally closed down at 6am and while police said disorder had stopped they remain at the scene moving people on from inside the venue.
Crowds first gathered on Black Prince Road at Albert Embankment before midnight, before dispersing down Lambeth Road on to Lambeth High Street and nearby Whitgift Street.
Police said they had posted officers at junctions to Whitgift Street to "to prevent any escalation" of the trouble.
But footage from the scene showed an angry mob throwing chairs, bottles and an object reported to have been a petrol bomb at police lines as they chanted "scum" and "pigs".
In a warning on Wednesday to those due to attend, organisers Scum Tek said: "This party is going ahead, stay peaceful, stay calm. Patience and numbers is in our favour. Do not antagonise the police. We don't need to. At the end of the day we want to leave them remembering our good attitudes, we just came to dance, we are not their enemy."
A post encouraging people to "keep coming" and "don't give up" appeared on the Facebook page at around midnight when trouble flared, but police advised people not to go to the area.
The Met tweeted: "We would discourage anyone still thinking of attending the illegal rave in Whitgift Street from coming to the area due to ongoing police op."
Residents in Lambeth told of their frustration at the disruption overnight into Sunday.
Rhodri wrote on Twitter: "They're now gathering on my street. There are families here with young kids that don't deserve this disruption."
Christopher Kilby said: "I won't be getting much sleep tonight. Chants of 'we want scum' still ringing loudly as protesters continue to confront police."
Two hours later he added: "I'd really like to go to sleep now. Could the rioters please just give up and go home?!"