A commuter asked a pregnant woman "where is the baby?" in an argument over priority seating on the London tube.
Mother-of-one Raayan Zafar said she was left "really, really embarrassed" after the confrontation on the Victoria Line Tube in Stockwell.
The 32-year-old who is the "early days" of her pregnancy said an irate man in his 40s confronted her after another man gave up his priority seat for her on Wednesday.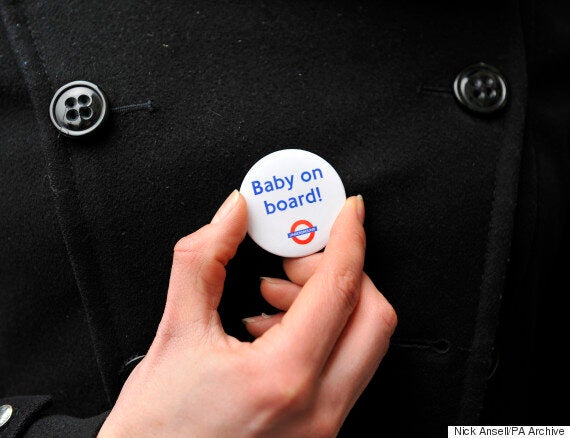 Raayan Zafar claims a man demanded to know where her baby was when she requested a priority tube seat while wearing a 'baby on board' badge
Zafar explained that after requesting a priority seat the "gentleman" that was sitting there got up, but a lady standing nearby then tried to take the seat. When Zafar, who was wearing a 'baby on board' badge, got the woman's attention she let her have it, but a man sitting next to the now vacant seat was not happy about it.
Zafar, from Tooting, told the Evening Standard: "The person sitting beside it started arguing with me, saying the lady wanted to sit there and asking: 'Why are you taking the seat?'
"I showed him my 'baby on board' badge and he then rudely asked me: 'Where is the baby?'
"I was shocked – is that the way to speak to a pregnant lady? Do I have to carry my maternity notes with me all the time?"
Zafar said she needed the seat because she suffers from severe morning sickness and often feels dizzy and out of energy which makes standing in the Tube "quite difficult when there is not enough ventilation".
Zafar said she believed her experience was not uncommon.
She told the Standard that she often sees pregnant woman standing on the tube, saying: "I don't see that people are more considerate towards them. People see the badges and just ignore them.
"I think we need to educate people more about this. People know about disabled people and they are more considerate because they can see it, whereas with a pregnancy they can't see it at a certain time so they think everything is fine.
"As a nation we are losing our etiquette."
The "baby on board" badge launched in 2005 and is intended to let commuters know a woman is pregnant and eligible for a priority seat.